There were some products that I reviewed this year that may have not been in my top list but I still wanted to mention because they did impress me and I wanted to share them with you. Also later on in the post I comment on some President's Choice products I went out to test all on my own with my own cash for the holidays.
First is just a general comment on the store Cucina Moderna, photographed above. I love going to this store! People are always friendly and there is so much to look at and consider buying. As a result, I go in there with a budget in mind and have come out with some cool treats! I have got my ice cream scoops there, my "Chooper" which I use every day, the autumn cookies cutters I bought for a giveaway two years ago, my cookbook holder and they even donated one for a giveaway last year too. If you live in the HRM, there is a good chance there is a Cucina Moderna near you!
Sun-Maid Cinnamon Swirl Raisin Bread was wonderful to indulge in and made such fantastic French toast. This is a product that really pleasantly surprised me with its flavour and all those yummy raisins. Not something I would buy every week but for holiday French toast I can make it in a snap and not wait until I have time to make my own raisin bread? You bet!
PC Big Box Chocolate and Toffee Collection went on forever! Honestly, Reg and I snacked on these throughout the entire holiday and only just finished them. Which probably is not a good thing considering how many chocolates you get in that huge box for $9.99! This has got to be one of the best holiday deals ever.
So Nice For Coffee is creamy and dreamy! Especially for those who are not able to have dairy, what a treat! I know that when I was going through my almost-vegan-phase I would have bought this on a regular basis. Most soy products completely disintegrate in hot liquid. This one was not perfect but it was pretty damn close.
I must admit my expectations for the cookbook Eva's Kitchen by Eva Longoria were not very high. Celebrity culture annoys the hell out of me but wow, Eva really is passionate not only about food but about those who harvest it and eating healthy and well. She is very politically-motivated about food and continues to impress me with her activism! This is absolutely reflected in her cookbook which is beautiful and full of new and interesting foodie ideas.
Under Cover Shopper & Reviewer
Most of the products you see me testing on my blog are the result of a company sending them to me. Right before the holidays during a fever-inspired shopping extravaganza, I picked up some new products for me to try that were not on anyone's "must try" list.
The first is President's Choice Organics Atlantic Salmon, skinless boneless fillets, which do not appear to be on their site. You get two vacuum sealed salmon fillets for $9.99. Yes, I can buy fresh Atlantic salmon but I know many Canadians can not which is why I bought it. I made it with my version of Michael Smith's Maple Mustard Grilled Salmon recipe (super easy for this sickie) and it was delicious. Super flaky, moist and beautiful. A little expensive but the quality was excellent. I give this product four out of five wooden spoons.
When Reg saw my status on Facebook saying that I was going to have to make plain apple cider for Christmas Eve because I ran out of cranberry juice, he went out and got me this new cranberry cocktail from President's Choice (which also doesn't appear on their site!).
I have to say, this was the best Crockpot Cranberry Apple Cider I have ever had, let alone made! It is also great for adding flavour to drinks. For example, we had raspberry ginger ale and I love cranberry and raspberries together so I added it! Wow, is it ever tart though. This is good quality cranberry juice that has not been sweetened. I added it to some cranberry pop on New Year's Eve and it was awesome! I give this product four and a half out of five wooden spoons.
I was super excited to see that I could pick up Meyer lemons at the Superstore! How many times have I heard chefs talk about these lemons as though they are so superior to regular lemons and I could not try them! Then one day, they were there!
I picked up a 1 lb bag of them for $3.49 and used them in salad dressings, the above fabulous cranberry apple cider and our mango smoothies. My conclusion? I agree with Ava, they are weird! There is something alien about them, they do not look normal to me and I am sorry, I do not see how they are so much more evolved than the ordinary lemon at all. No rating here since I just do not see what the big deal is. They are not bad but I do not think they are superior.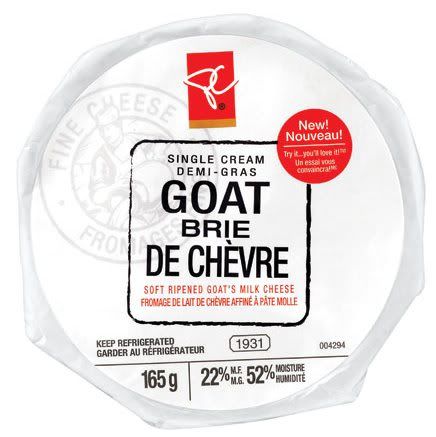 I also picked up PC Single Cream Goat Brie which was my big indulgence. A tiny little circle of cheese for $8.99 was a bit steep for this shopper but I wanted to try it on New Year's Eve. I left it out at room temperature and it got all nice, soft and gooey the way brie should. It is just lighter in colour than your traditional brie and if you know goat's milk and cheese well like I do, you can taste the difference from regular brie, but it is lovely. A big hit at our house with our friends too! A thoughtful alternative for those who can not eat traditional dairy but are OK with goat products, throughly impressed me. I give this product four and a half out of five wooden spoons.
THAT'S IT!
I am done with product reviews for now and once I find strength and some energy I will be back in my kitchen making real food. Hope you enjoyed the 2011 overview and I am looking forward to lots of homemade food in 2012.