From elegant crackers and cheese for parties, to a quick spaghetti dinner to a slow-cooked pot roast… President's Choice has you covered for the holidays. Make sure to also check out my other reviews: Part 1 and Part 2 of their Holiday Insider's Report!
Sea Salt Crackers: Elegant Scalloped Edges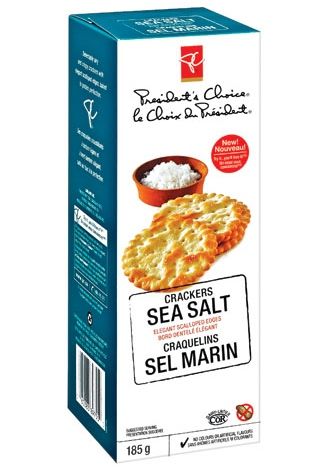 The Sea Salt Crackers: Elegant Scalloped Edges are lovely but many of mine were crushed. Now remember, they came in a giant Christmas box:

(My PC Holiday Box Video Unboxing)
So that might be the cause of the "crushage" going on with the crackers.
Regardless, they are elegant and lovely. Thin, delicate and beautiful… For only $1.99 these would be my crackers of choice this holiday season. I have come to the conclusion that I personally would prefer less crackers of better quality. Due to their delicate nature, I would use these as "plates" for appetizers and not for thick dips.

I give them four and a half out of five wooden spoons.
Triple Cream Mini Brie comes in a pack of four for $5.99.
Which is very clever because it allows you to be creative with these four adorable wheels of cheese.
Which I did end up doing (more to come on that later) but to really taste test the cheese, I also went old school. Brie on crackers, the way I like to eat it.
Oh Brie! What a treat. Creamy, fatty and the perfect way to indulge during the holidays. I did like it (I mean, it's Brie, right?!) but my one complaint is the smaller the wheel, the more rind you are going to eat. I do not like the rind, especially how it impacts the melty texture of the cheese.
For a puff pastry buddle it would not matter because it would be all melty but with just crackers, I noticed it. So if you decide to buy this treat, take that into account. I give this product three and a half out of four wooden spoons.
Black Label Tomato Basil Pasta Sauce
I was beyond excited to see that there were Black Label products included in my gift basket! I LOVE these products, they rarely let me down. The only issue is so many have disappeared from my store, including the Truffle Aioli. Weep!
I used the Black Label Tomato Basil Pasta Sauce to make a spaghetti and meatballs dinner. I am very picky about spaghetti sauces, I usually find them too boring and was worried that one that was so simple just would not be enough.
For my backup plan, I made super delicious meatballs to go with the sauce instead of just using fried up ground beef.
I added some of the sauce to the pasta to make sure it was coated in the flavour of the sauce.
Added some meatballs and sauce. So how was it? Well, I asked Reg.
"Damn, that is one delicious meatball!"
"Thanks honey, I'm so glad! What do you think of the sauce?"
"OMG, the meatballs are amazing…"
OK, it made me laugh but I WAS paying attention to the sauce. It was lovely. Tasted very authentic and seemed to have that Italian magic of using very basic ingredients in the best way possible, making something seemingly simple taste complex. My only complaint is there was quite a bit of oil in the sauce but it is olive oil so for me that is acceptable.
PC has a lot of choice for pasta sauces at $6.99 which is kind of steep but I must admit, I am curious about the Puttanesca! I love having what tastes like a gourmet meal in so little time. I could put my effort towards making the kick-ass meatballs and have a fabulous dinner in no time. I give this product four and a half out of five wooden spoons.
As soon as I saw the Pot Roast Cooking Sauce I thought to myself, very clever PC! Now I have to go out and buy a roast, LOL. The good news is I needed to buy one anyway to test my Crock-Pot.
Unlike most products, this one came with a recipe for the "Perfect Pot Roast" complete with carrots, turnip… I absolutely appreciate that. Most of the time I look at sauces and say, "What do you want me TO DO with this?!" This time I was provided the information… which I ignored completely, LOL.
I slathered a roast with the sauce and slow cooked it for six hours.
Absolutely fall of the bone! I defatted the sauce, heated it up on my stovetop until simmering, put 1 tbsp of cornstarch into 2 tbsp of cold water, stirred it in and had a quick gravy.
Now I did not look at the list of ingredients until the next day. I could smell quite a lovely wine in the sauce and turns out I was right. There is burgundy wine and red wine extract! Not to mention roasted portobello mushrooms and tons of spices. This is not your average brown-and-boring pot roast, by any means. I am so happy it is only $2.49 because the next time I am making a pot roast, I will buy a jar and make it the way they suggest. Promise!
I give this product four and a half out of five wooden spoons.
Just one more post of reviews left to come! How have you been enjoying their holiday treats this year? Is there something I missed that I have to try?