Thanks to you, this is my birthday foodie t-shirt! I ordered it on Thursday, they said that it would be put in the mail within 24 hours so I hope it arrives next week so I can do some product testing for you and see if it is worthy of my foodie friends. You know how picky I am! I promise not to hold back.
Feedback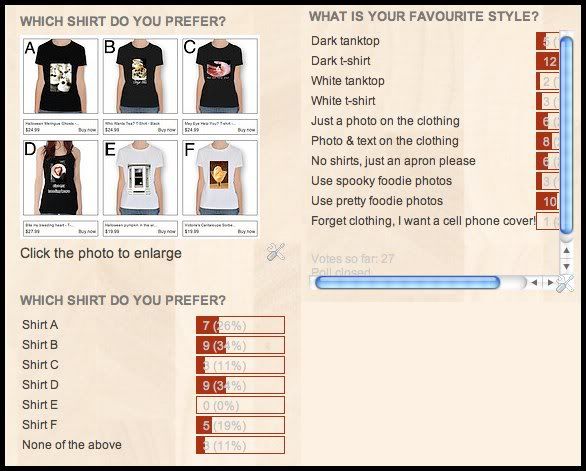 I took everything into account. The comments left on my post asking for your help and the two polls I put up on my blog. It was fascinating that the people who left comments liked the dark and spooky images but in the poll, a lot of people wanted pretty foodie photos.
That is why I chose D. It is kind of both. I also made it into a t-shirt rather than a tanktop because that seems to be what people prefer and it is quite clear most people like dark shirts which is why I hope this company works out. They are one of the few who lets you make your own shirts on black fabric.
Thank you all so much for my birthday present! You helped pick it out and now I can't wait for it to arrive. OK, I am outta here!!!