Subscribe to my newsletter to find out about my giveaways ahead of time!
I was so happily surprised when Architec Housewares' Original Gripper Cutting Board, Recipe Rock and Gripper Bamboo Cutting Board showed up at my door! And even more pleased that I was given the opportunity to do a holiday giveaway to one of my readers!
Product Testing
The Original Gripper Cutting Board is naturally BPA Free, dishwasher safe, does not dull knives and is food grade. See all those bumps on the bottom of the board? That is what makes it grip to the kitchen counter.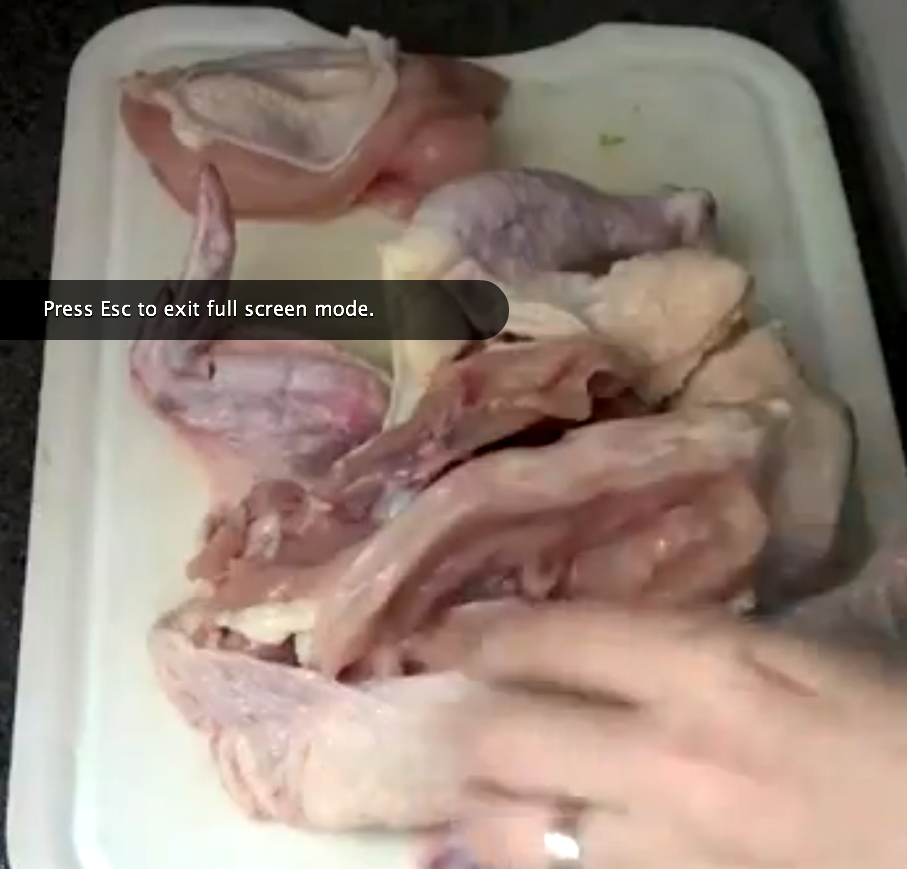 It made me wonder if they had watched my video on making chicken broth and seen me trying to keep my cutting board from sliding all over the place?! LOL.
One ingredient that is so important for safe chopping is onions. The Original Gripper Cutting Board did a great job, did not move at all!
I was going to try and chop a chicken on it but the one I have is just a little too small. Great for slicing a couple of chicken breasts though!
It goes through the dishwasher just fine and I tested how non-absorbant it is by slicing beets for a soup (recipe to come) on it. The beet juice (which stained my hands) did not stain the board. Impressive!
The Gripper Bamboo Cutting Board is so cute! This one is 5″ x 7″ and the bottom of the board has the same "grippy" plastic bottom but this board is not dishwasher safe. I wash it with a very gentle cleanser and wipe dry.
Because of its small size, I was not sure what to use it for in my kitchen. Then I realized I am always in the middle of dinner, my main board covered in chopped shallots and garlic… and I need some fruit for my salad! Now I use this adorable cutting board to slice fruit (and it never budges) for my salads. Very helpful and keeps my fruit from tasting garlicky.
At first the Recipe Rock totally confused me. What the heck is this thing really?!
This little guy can hold printed recipes?
Yes, thanks to the base and magnetic ball they say you can have up to 8+ pages held upright for you instead of using a giant cookbook holder.
Well I personally would only put a few pages in there myself and one thing that became a unique problem for me is, I have a ton of electronic equipment I keep in my kitchen. I kept telling myself to just keep it all away from the Recipe Rock but I continually put my camera near it or my camcorder or my iPad… The anxiety this created made the Recipe Rock not a good fit for my kitchen but then many people would never have this issue at all.
Foodie Conclusion
These products are high quality and perfect for most kitchens. I have very few complaints but have to take the issue with the Recipe Rock into consideration. I give this package of products four and a half out of five wooden spoons.
The Giveaway
1. Contest is open to anyone in Canada
2. You must leave your email address
3. Please become a follower of my blog if you aren't already. More followers = more giveaways!
4. To prove you are not a robot, leave a holiday wish in the comments (i.e. good health for your family, prosperity… Doesn't have to be for me!)
4. Winner must respond within two days of notification
Good luck everyone! Contest closes Friday December 14, 2012.