I have been saving the best (AKA my favourite) for the last. First, let me introduce you to Nadia G's Mocha. Divine! OK, I will get to that in just a sec.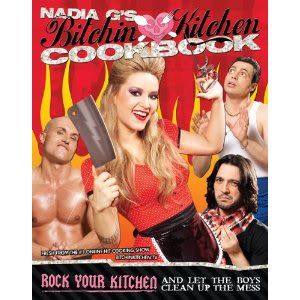 Here is her cookbook: Bitchin' Kitchen Cookbook: Rock Your Kitchen–And Let the Boys Clean Up the Mess. Which I LOVED! I bought this as a birthday present for myself and Nadia G. graciously agreed for me to do a giveaway on my blog for a lucky reader. This is the last of my blog bday giveaways!
Since I bought this cookbook I have been putting it through my test kitchen. I made her fantastic home fries and she helped me recreate my mom's traditional turkey noodle soup.
I had some technical issues with the fettuccine rose with shrimp (but it was still so good) and her blue cheese burger was out of this world delicious!
I had to try one of her desserts so I made the pot au chocolat which were classy and fabulous.
It has still been so dark, cold and dreary here I had to make one last treat by Nadia G… her mocha! One of my favourite flavour combinations: chocolate and coffee! This recipe is in her "One-Night-Stand Breakfasts" chapter: "This breakfast is reserved for the scragglers, the ones you want out fast."
Not sure why Nadia G. because this drink would make me want to stay forever!
Into a jar throw in 2 tbsp cocoa powder and 2 heaping tbsp brown sugar. Add 1/4 cup of milk (she suggests whole but I used skim). Seal the jar and shake vigorously for one to two minutes:
I tried but mine did you get super smooth but I did OK.
Heat a small saucepan on medium low heat and then add the cocoa mixture. Add an additional 3/4 cup of milk. Warm through, don't boil.
Add two shots of espresso in each drinking bowl. I made some decaf espresso and just poured it right into the hot chocolate on the stovetop. Nadia G. suggests sprinkling with cocoa powder but I used icing sugar instead.
This was one of the best mochas I have ever had! The second time I made it I replaced brown sugar with regular granulated sugar and it was even better. No sharing, I drank this whole batch myself. Five out of five wooden spoons!
Now when it comes to reviewing the cookbook, I have to say that if you are conservative and only want traditional cookbooks then stay the hell away from the Bitchin' Kitchen Cookbook. Seriously, you are just going to be offended and hate it. If you are looking for something different, edgy, hysterical, outrageous and downright sexy, this is the cookbook for you.
On some pages there are shirtless men slathered in chocolate or striking a pose but nobody shows more skin than Nadia G. herself. This is her show, this is how she likes to rock it and I have total respect for that. There are many pages without recipes, lots of photos of her and her crew instead so some may find it self-indulgent. I find it hysterical and inspiring. With this book you get so much more than just recipes (which are also amazing). This book constantly makes me laugh and I keep going back to it for fun.
Bitchin' Kitchen Cookbook is unlike any you have ever seen before. Some will find it offensive. For example, in the introduction to the first chapter dedicated to being single Nadia G. writes:
Now I know that cooking-for-one complaints are common: "Nobody is there to share it." "Nobody is there to chat." "I don't like hamsters." I hear you; but if you really think about it, who deserves a homemade feast more than you? Not only do you pay the bills, you're the only one who can give yourself an orgasm in under thirty seconds. 'Nuff said.
As I said, some people will be offended. Me? I want more! I love strong women. I yearn for role models like Nadia G. She is tough, funny, makes fabulous food and is out to redefine the domestic woman as someone who kicks ass and wears leather. It's a riot! I never get bored of this cookbook and I want to make everything. This cookbook is not for a traditionalist, they would hate it. For me, someone who loves all things edgy and foodie, I give it five out of five wooden spoons.
At the moment it is my most-favourite cookbook. A real treasure in my kitchen. I am so thrilled one of my fabulous readers is going to win a copy!
CONTEST
Contest is open to those in the U.S. and Canada.
Only those who have not already won big prizes can enter.
If possible, please follow my blog.
You must leave contact info if you do not have a profile or a current blog, otherwise you will be disqualified.
Tell me why this unusual cookbook would be a good fit in your kitchen: you love to play with knives, you secretly wear leather in the kitchen, you may look all sweet and nice but deep down inside you're a bitchin foodie perhaps?
Contest closes tonight so enter now! Good luck everyone!