My newsletter readers knew this giveaway was coming and yes, it is time! Twenty dollars worth of Green & Black's Easter products is up for grabs! This chocolate is famous and right now they have a lineup of chocolate eggs just in time for Easter. Green & Black's gracious donated this prize to my blog bday giveaway to a lucky winner!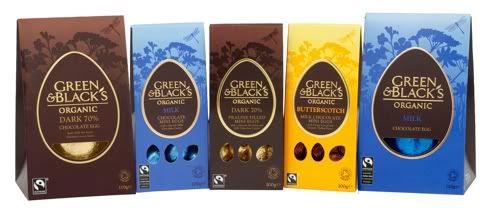 Made with organic, ethically sourced ingredients you can get dark 70% chocolate, milk chocolate and mini eggs that come in milk chocolate, dark chocolate and butterscotch! Yum!
I was so excited when this fair trade chocolate showed up at my door. I had heard about it like it was some mythical foodie treasure and now I was finally going to try it. I was sent the milk chocolate eggs which was perfect! I actually adore milk chocolate.
The whole peeling the Easter egg experience was so much like when I was a kid except when I tasted it, OMG, so much better! These have a soft milk chocolate center so instead of breaking your teeth biting it apart, this chocolate egg is soft and dreamy. Instead of cheap powdery and hard chocolate of my childhood I had to hold myself back from eating the entire box in one sitting. I love it when you can taste quality and feel good about eating it.
THE CONTEST
This contest is open to all Canadian residents. There is only one prize to give away and from now on, all prizes will be open only to those who have not won big prizes so far. Coupon winners can still enter. Please leave a comment about chocolate. What kind do you prefer? Do you have a funny story about hunting for Easter eggs? What does chocolate means to you?
Please also consider following my blog. The more followers I have, the more giveaways I can do and you know I love to spoil you all so much! Make sure to leave contact info if you do not have email associated with your profile! Thankfully most of you are now. Last time I only had to disqualify one person so thank you for that. If you do not win this product, you can find these eggs in Shopper's Drug Mart, Whole Foods, London Drugs and natural health food stores across Canada.
Contest is open until the end of today so comment ASAP! Winner will be announced Wednesday morning. Good luck everyone!