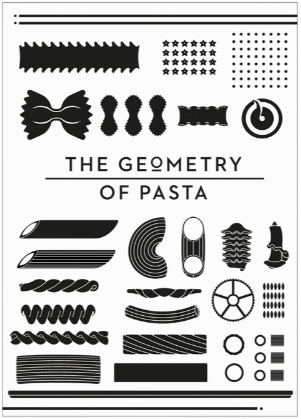 I have been reading and testing recipes from
The Geometry Of Pasta: The Perfect Shape + The Perfect Sauce
written by Jacob Kenedy and illustrated by Caz Hildebrand, published by
Quirk Books
for quite a while now. I have to say, this is one very cool cookbook. They have taken a graphic design approach to illustrate the pasta in an artistic way rather than do a typical cookbook with glossy colour photos. There is not one announce of colour within the pages of this book: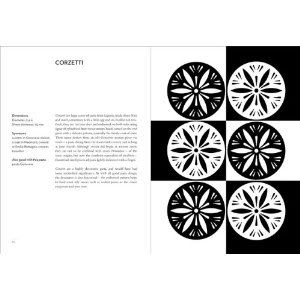 This may be disappointing to some people, we love food photos don't we? Yet I did not miss them. For the most part, a lot of the recipes are straightforward enough that the typical home cook with some experience under her belt will be just fine without.
In fact, I found the illustrations and descriptions of the pasta to be quite fascinating. This book was obviously put together by people who are potentially obsessed with pasta. Jacob Kenedy is the writer and author of the recipes and the idea came from graphic designer Caz Hildebrand. It took five years to go from concept to print and this book was obviously a labour of love and passion.
The simplicity of the recipes in this cookbook is genius and liberating. I have been looking for a book that offers easy-to-make recipes that really have the beautiful pure flavours of Italian cooking. Usually I am wary of simple recipes, for the most part they usually lead to boring food but I was thoroughly impressed by their recipe for Ravioli Con Le Spugnole.
The adaptability of specialty ingredients within the context of a recipe is important for me test in my kitchen. There is no way my store is ever going to carry morel mushrooms so I made their Ravioli Con Le Spugnole with ordinary white button mushrooms.
Olive oil, onion, garlic, butter, heavy cream, Parmesan… Divine! The white button mushrooms worked great and if I could actually buy morels, this dish would be out of this world. This was by far my favourite dish from the cookbook and it was my first!
The next dish I made was
Farfalle Con Broccoli E Alici
which was once again very easy to make and super flavourful! As I wrote in
my recipe review
, the broccoli did totally fall apart but maybe it was supposed to? Either way, it was delicious and not hard to make at all.
For the pasta bake I had to make their Medium Tomato Sauce from scratch which took quite a while. I found this passage in the book a little odd, "This sauce, of the 3, is closest to one you might buy at a shop. It is my least favourite, but is useful in a number of dishes…"
The book is full of personal admissions and comments which I thoroughly enjoyed and appreciated. It gave a book which may come across as clinical loads of personality. Unfortunately, I agreed with him, not a great sauce.
I utilized the sauce in Penne Al Forno which is baked pasta. I choose it because it seemed so simple, there was no way I would find it interesting. Sadly, I was right. All I could taste was the basil. There just was not enough sauce and I added double what the recipe called for, just in case it ended up being too dry and it still was. They also said to put the pasta into a 5″ x 8″ baking dish and I had to use two of them which I found confusing.
The Geometry Of Pasta is not a perfect book. For simple recipes, sometimes they are confusing. For the Farfalle Con Broccoli E Alici recipe it says to turn off the heat and add various ingredients. Then later on you are supposed to return the pan to the heat. When did it leave? I got the sense that you were supposed to do both turn off the heat and remove it from the heat to avoid burning but it was unclear.
No cookbook is perfect and there are going to be recipes you are not going to like. Taking that into account, I thoroughly enjoyed my journey to Italy through The Geometry Of Pasta and learned a lot. In fact it has inspired me so much I am now seriously considering making my own pasta from scratch. Most of the recipes are simple but there are ones I will have to work up the courage to make such as working with oxtail and others I will forego like using calves' brain in Agnolotti.
If you want authentic pasta dishes and to learn everything you can about which pasta works best with which sauce, The Geometry Of Pasta is the book for you. I give this book four out of five wooden spoons.