The Location
My dear friend Pepper invited me out to lunch at Deacon's Corner at 101 Main Street in Gastown/Vancouver's East Side over the weekend. Well you know how much I love going to diners and this one has a southern style to it that sounded too awesome to pass up.
The People
It has the perfect balance of old school diner meets contemporary cool foodie hangout. Do not let my photographs fool you. There were always people coming in and out of Deacon's Corner with smiles on their faces and a nice thing to say. (I just like to try and respect people's privacy when I can.)
In fact the serving staff were so super friendly and cheerful, you can not help but be in a good mood when you visit.
The Look
One of the guests told us that before their recent renovations the place truly looked like it had been plucked out of the 60s, but with all the wear and tear, so the changes were great improvements. I loved it. A perfect blend of retro and modern.
The Food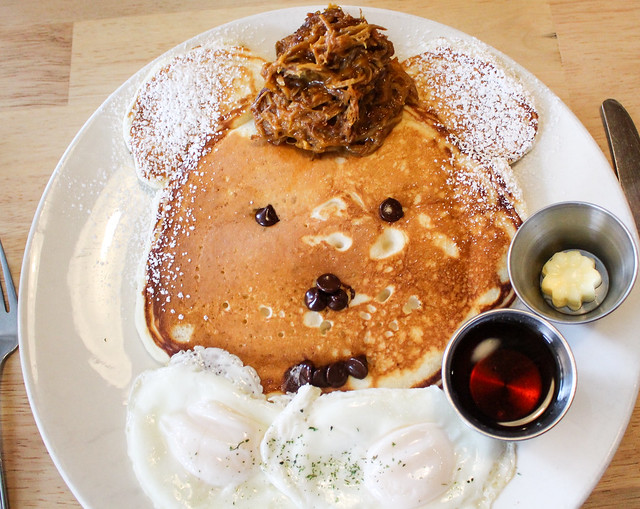 Pepper and I both ordered the Carolina Pulled Pork and Pancakes but got the mini (yes, that is the small portion) which Chef J. C. (Juan Carlo) used his creative and artistic foodie talents to make extra special for us! Oh my goodness I could not stop laughing when this adorable plate came to our table!
And wow, WOW, it was so good! The eggs were butter-basted, the pulled pork sweet but not too sweet, absolutely delicious, and I think those were the fluffiest pancakes I have ever had. I have not stopped thinking about this delicious brunch since I indulged…
The Company
It really is impossible not to enjoy yourself when you have such great company and food at a fabulous location.
Deacon's Corner may not have been around since the 50s (they opened in 2009) but it has to be one of the coolest diners I have ever visited.
Its location bridges East Van and Gastown so its setting is a little rough around the edges but the customers and staff make it feel like home.
Seriously, could it be cooler?
I don't think so.
Foodie Conclusion
It was the perfect brunch. Everything was charming and the food? OMG, the food was so delicious. I MUST go back!
I give this foodie experience five out of five wooden spoons. 
SaveSave