Our last class was making homemade éclairs!
Why become one of the delinquents at the cooking school? #1: No rules. #2: No teachers. #3. Take your skills to the next level for FREE! #4: See me make an ass out of myself. #5: Hear me swear a lot.
Giveaway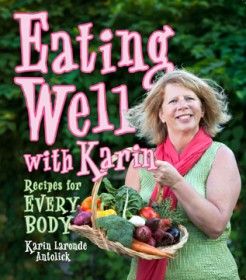 #6: You get to enter a giveaway for the cookbook Eating Well with Karin: "Karin Antolick brings her experiences from her catering and farmer's market business to the page…"
The Rules
You must be a student at the cooking school to enter
You must leave your email address so I can contact you
You must leave feedback about the cooking school experience so far. For example, are the videos too long, short? Do you want more than one lesson a month? Would you prefer more classes but shorter ones? Do you want more basic tutorials than fancy classes? Do you like being surprised and just see what I come up with? Are you taking the classes to learn or be entertained?
Contest is open to everyone, everywhere.
You can become a student right now, watch my videos and still enter the contest!
The Classes
Just click on the photos to go watch the videos. You can also find the Cooking School for Deqlinquent Playlist here.
Become a Student – It's Free!
Good Luck!
I put a lot of effort into my cooking classes and I am having a blast doing so. My kitchen has never looked so high tech! That said, your feedback is invaluable to me. I really need your help so I can figure out if I want to change anything for 2013 so please, let me know what you think.
Contest is open until December 24, 2012.