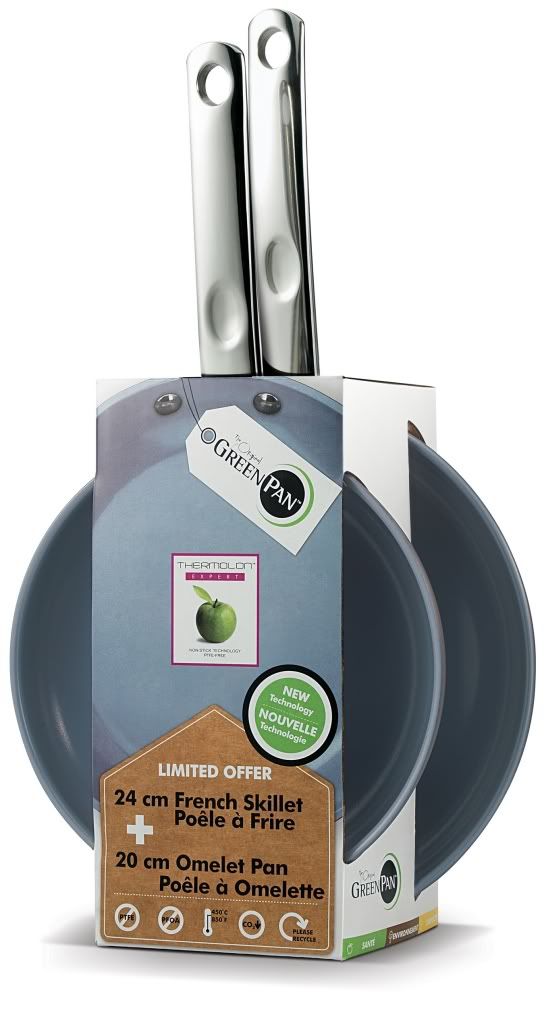 I will admit, when these Thermalon ceramic-based coated GreenPans showed up at my door, I was a little nervous. For health reasons I usually only use stainless steel pans. These particular non-stick pans contain no PTFE or PFOA which is impressive. Unlike a lot of non-stick pans they are high heat resistant and are oven and stovetop safe up to 450F.
I was still wary but then AvaDJ sent me a link that made me feel more open to trying out this product. Turns out Dr. Oz cooks with them! That made me feel better and no matter what, I am always up for a foodie challenge. I am here to do the product testing for wary customers like myself. So let's heat up those pans!
I knew the first thing I wanted to make in one of the GreenPans was eggs. I get so upset when eggs stick and even with most non-stick pans you still have to use quite a bit of butter. Well not with GreenPan at all, I was so surprised! These pans really do not absorb any fat at all and everything just glides off.
OK, OK, so a non-stick pan that does eggs well. That is basic. How about browning mushrooms with very little fat? As you can see, when I sauteed these mushrooms for Martha's mushroom and shallot quiche they were perfect. After I tested mushrooms I moved to chicken and again, golden brown. Was I ever surprised. In fact I loved being able to toss the pan into the oven to finish cooking the chicken.
You get not only a French skillet but an omelette pan which I took full advantage of. Now I can make a healthier and smaller omelette than I was before. My frying pan was so big that my omelettes had to be huge! Now I can make a small one filled with Havarti and sundried tomatoes, just for me. Petite and full of flavour with less guilt.
Since I got these in the mail I continuously make my weekend brunches in them, especially when it comes to eggs. So far they are holding up well but a little birdie told me that her pans were great the first year and then stopped being so perfect. As a result, I am extra careful with them. I want these to last! I protect them with tea towels when I put them away and only wash them by hand, just in case.
Exclusively for Earth Day, the sizzling eco-friendly Bali series of GreenPans will be available at Sears, London Drugs and gourmet shops across Canada from April 15 to 30 for $39.99 (regularly approximately $80).
CONTEST
To celebrate Earth Day, GreenPan has agreed to give away one of these sets to a very lucky Canadian reader out there! To enter, tell me what Earth Day means to you. Make sure to include contact information and if you could start following my blog, I would appreciate it. The more followers I have, the more cool stuff I can give away! Open only to those who have not won big prizes so far. Coupon winners can still enter.
Winner will be announced tomorrow on Earth Day so enter right away!
I was very wary of this product and now I don't know how I can live without it. Whoever wins this prize is a lucky individual! You are going to love these pans.