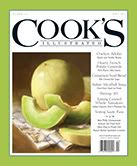 I found out about Cook's Illustrated from a friend of Reg's (thanks Peter!) last year. He insisted I pick up a copy because it not only has recipes but each one includes a story behind the recipe and the testing they do to come up with the perfect version. He emphasized how much he learns each month about food and cooking. I was intrigued!
I had sold many copies of this magazine when I worked at bookstores years ago but it seemed so simple. Basic colour cover with just black and white pages on the inside, hand drawn illustrations…. Back then I could not care less about food but now, well, it is my passion! I paid $6.95 for a copy, went home and fell in love. No advertising, just information that was entertaining and educational. So inspired, I tried the first recipe in the April 2012 issue but with a twist.
My version of Cook's Illustrated's Filipino Chicken Adobo
The big challenge with their fairly simple recipe is Reg does not like dark meat. Not only that, he really doesn't like chicken with bones in or skin on. As a result, I picked up these PC Free From (no info online that I can find but the chickens are antibiotic free) boneless, skinless chicken thighs and got my thinking cap on.
Filipino adobo is a braised dish with a vinegar and soy sauce base flavoured with aromatics. I found that fascinating! I had no idea if we were going to like it. Cool!
Toss 8 skinless, boneless chicken thighs in 1/3 cup of soy sauce in a large bowl. Marinate in the fridge for at least 30 minutes.
While it was in the fridge I got to work preparing elements for the sauce: 1 13 1/2 oz can of coconut milk, 3/4 cup cider vinegar, 8 garlic cloves peeled (and I chopped by accident), 4 bay leaves, 2 tsp of black pepper and I added thinly sliced shallots.
Remove chicken from soy sauce, allowing excess to drip into the bowl. Now because mine was skinless, I created a false "skin" by dredging them in flour before browning.
I place chicken in a large skillet over medium-high heat with olive oil that has been heated for a while.
If you want to make it with skin on and bone in, place the chicken skin side down in a cold pan. Then turn skillet on medium-high and cook until chicken is brown.
Whisk the sauce ingredients into the leftover soy sauce. I guess the whole not using a marinade in a sauce danger alert is over now?!
After the chicken has been browned, remove from pan.
Add the sauce and and bring to a boil. If you are using the skin-on, bone-in chicken you can return it skin side down at this point, reduce heat to a medium-low and simmer uncovered for 20 minutes. Then flip to have skin side up for 15 minutes.
I added my chicken back into the sauce a little too early.
It took quite a while for the sauce to thicken and so the chicken was a little overcooked. Still, it almost looks like chicken with its skin on, doesn't it?
Foodie Results
Before we had a chance to eat Reg said, "Wooh! Someone is cooking with vinegar tonight!" He was right. The house absolutely filled up with the smell of vinegar despite me running around with an Air Sponge trying to soak up the ridiculously sharp and powerful smell. If you make this, make it when you can open your windows!
So yes, I was right, the meat was overcooked but the sauce? What a wild ride for the tastebuds! Sharp but earthy and yet… it kind of tasted like seafood. Reg thought so too and I was surprised (and quite proud) that he ate the entire dish.
I will not be making this dish again because even for me, it is just a little too sharp despite the mellowing of the coconut milk. Still, it was fascinating and a lot easier than I thought it was going to be.
I loved the article about the recipe and learned so much, despite not being able to reproduce it 100%. This publication is truly about finding the perfect method to make a quintessential recipe and I can not wait to go on more foodie adventures with Cook's Illustrated. Maybe next time I will be able to stay on the foodie map?!