Back in December FoodSaver sent me their FoodSaver Vacuum Food Sealer Packaging System which has intimidated, inspired and delighted this foodie.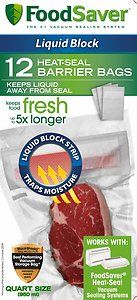 Then they sent me their FoodSaver Liquid Block Heat Seal Bags and have I ever had a blast tested them!
Kitchen Test 1
I bought some chicken breasts on sale and sealed them up for making a BBQ crockpot chicken one day.
There was absolutely no leakage and it was way easier and cleaner than most frozen chicken that I just toss in a plastic bag and put in the freezer. The BBQ crockpot chicken was terrible BTW. Problem with the recipe, not the product.
Kitchen Test 2
Of course I had to try the product with ground beef! Which was a messy job, getting it in there, as it always is! But the vacuum sealer sucked out all the air and as you can see, the barrier did prevent spillage and fridge/freezer contamination. Sweet!
Kitchen Test 3
I wanted to try using it just for marinating to make my super-easy chicken curry.
It successfully sealed it. So far so good!
It was working so well I had to take it to the next level and push the chicken up into the seal. The seal did absorb all the juices but it did take some work to get it to the edge.
Thanks to the heat seal, no leak happened even after I pushed past the barrier. Absolutely impressive.
Kitchen Test 4
I bought this amazing roast to make my own Italian sausages with and then ran out of time. I did not want it to go bad so I put it in one of the Liquid Block Heat Seal Bags.
I have to say I love watching the vacuum sealer in action! When it thawed, instead of having a soupy mess in there it was much drier and so much easier to handle with less goo.
Kitchen Test 5
When chicken thighs go on sale, I want to make homemade chicken broth.
If you want to learn hot to make homemade chicken broth, check out my tutorial here. You will see it is MUCH easier to use chicken thighs than it is to cut up a whole chicken, LOL.
Whenever I have leftover pieces of veggies I think will be a good contribution to a broth I throw it into a bag and put it in the freezer.
Wow! Look at all that moisture loss! OK, guess I am going to start vacuum sealing those too.
Homemade chicken broth is liquid gold and sacred to me. It was definitely vacuum-sealer worthy so I froze it in an ice cube tray and put it in a FoodSaver Liquid Block Bag for future use.
Foodie Conclusion
These bags hold their moisture in! Whether it is ground beef which is notoriously icky or homemade chicken broth, this product works. If food quality, safety and cleanliness are at the top of your list of foodie priorities, this is a great product that does exactly what it promises.
I love the convenience of these bags and using them was easy. Too easy! I went through the box of 12 was so fast and now I need more. For those messy freezer jobs though, it is worth the money.
I give this product five out of five wooden spoons.