When I made homemade puff pastry for my Cooking School for Delinquents (which is free BTW), it almost killed me. I made it while it was still cold so rolling it out was hell.
It did make a general amount of puff pastry and I did not want any of it to go to waste. I turned to my FoodSaver Vacuum Food Sealer Packaging System for help.
The Product
Because the additional rollers are so expensive, I have only been using them for very special foodie situations.
Product Testing
In my heart I know I probably will never make puff pastry from scratch again since it was such torture for me so I wanted it to be protected and to last as long as possible in my freezer.
It had been a while since I had used the sealer but most of it came back to me very intuitively. I measured out the length of the pastry and used the slider to cut the plastic.
I remembered how to heat seal an edge. Yay me!
Then I started the air-sucking process… Um, and, uh, started to get worried…
The pieces of puff pastry were suctioned together! They ended up being sucked into one pick block together. I was beyond exhausted at this point. I just threw it in the deep freeze and yes, it is still one frozen block of puff pastry.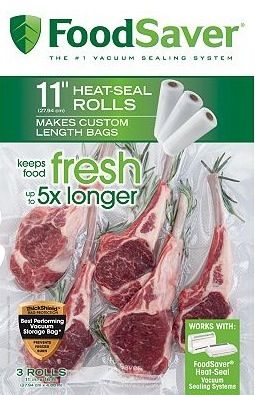 Maybe I did something wrong? I mean, these pork chops were individually frozen? Perhaps there wasn't enough space in the roll?
The Good News
The puff pastry turned out awesome! I used it to make turnovers which I will share on my blog with you soon.
Request for help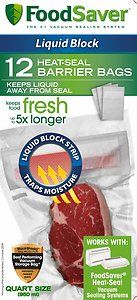 FoodSaver now has Liquid Block Heat-Seal Barrier Bags and I want to do them justice. Yes, meat is the perfect product tester and I will do that and may even cook something sous-vide but I would love to hear if you have any other ideas for me to try for product testing. I have a feeling life is about to get a tad messier!