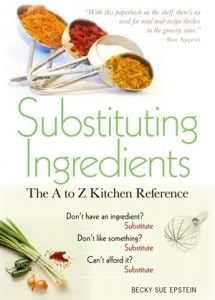 Thanks for all the entries! Contest is now closed. Winner will be announced Wednesday September 1st!
As a food-lover, Becky Sue Epstein is always ready to explore new recipes and create new dishes, which is why she started collecting the kitchen substitutions that eventually turned into the book Substituting Ingredient.
I am so happy to announce I am giving away a copy of Becky Sue Epstein's book Substituting Ingredients to one of my lucky readers! All you have to do is leave a comment and make sure that there is a way for me to contact you. If you do not have a profile or blog, you must leave your email address to enter.
Those of you who subscribe to my newsletter were given the heads up on this contest and many of you sent me questions for Becky which she was happy to answer.
Cumin: use a combination of caraway and anise, or add fennel seed.
Cardamom: can be replaced with some cinnamon, or a little mace.
Black peppercorns: are usually a bit stronger than white peppercorns, so use less.
Nutmeg: use allspice, cloves or mace.
Bacon:
to use as a flavoring = smoked ham, ideally. Or plain ham, if that's what you have. You can crisp it up in a frying pan before adding it to your dish.
White wine: For a marine: 1/4 cup vinegar + 1 tbsp sugar + 3 tbsp water (I looked this one up in the book!)
Liqueurs: there's a list of similarly flavored liqueurs. You may have one of these around, so you don't have to go buy a new bottle for each recipe. For example, orange-flavored liqueurs include Grand Marnier, Triple Sec, Curacao and Cointreau.
Cheeses: there are lists of all types of cheeses to make it easier to substitute one for another. Here's a list of blue cheeses: Cambozola, Gorgonzola, Maytag, Roquefort and Stilton
Fresh grated ginger: if you don't have it, you can use about 1/4 the amount of powdered ginger, with a dash of white pepper and lemon juice to liven it up. If you have candied or crystallized ginger, you can simply wash off the sugar and mince it up.
Celery: if it is crunch you are after, then you can use all sorts of vegetables like green pepper, jicama, bean sprouts, Belgian endive, fennel or lovage stalks. For celery seed, dill seed is a good substitute.
I'm the opposite of a picky eater. Show me a menu with something I've never heard of, and that's what I'll order. But I am a bit squeamish about some things, so sometimes it's better if the unknown dish is in another language, and I am given the translation later.
I do travel a fair amount, in case you haven't guessed. When I'm home, instead of shopping for everything right away, I like to make what I call the "Available Materials Dinner" which is exactly what it's called. So if I don't have an ingredient, I must substitute. Early on, I learned to do this in baking, where it's simple to make a substitute for baking chocolate from butter and cocoa.
When I started cooking a lot after college, I would try to figure out the best substitutes. Sometimes I'd note them on a recipe in a cookbook. I started wishing all the substitutions could be found in one place. When I learned there was no such place, and friend and I created it: the original Substituting Ingredients book, back in the last century. This new book is a huge update.
I collected ideas from my own cooking, from travel, from chefs, from recipes, from articles about food across the country and around the world. Now Substituting Ingredients has 1,000 kitchen substitutions including lists of greens, grains, pastas, cheeses, fish, and more. And formulas for all sorts of condiments, spice mixes, marinades and sauces so you don't have to run back to the store, or buy a small container of something for $9.99 you're only going to use once.
So remember, just comment with contact information to enter. Contest closes tomorrow night.