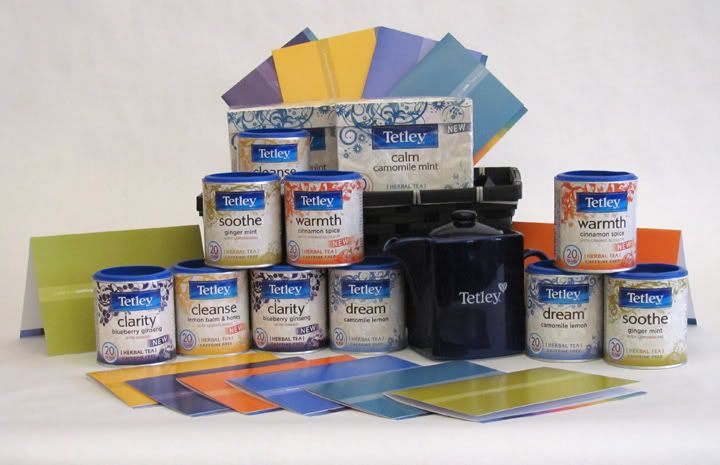 Contest is now officially closed. Winner will be announced soon. Entrants who did not leave contact information will be disqualified. Please always remember to include your email address if you do not have a blog OK? Good luck everyone!
In our house we love Tetley Tea so it was so exciting for the company to contact me about their new colour therapy line of teas! The premise? That colour can impact our lives for the better and how you can influence your mood by selecting a colour corresponding to one of their herbal teas. They even agreed to do a giveaway for approximately $70 worth of their product! This particular contest is open to residents of Canada, excluding Quebec.
According to their quiz, I was in need of Warmth. Considering it is winter in Canada, this makes sense! I even did the quiz twice on two different days but nope, I still needed the warming of cinnamon spice with orange blossom. Tetley sent me a sample of their Warmth tea and on a cold day I brewed a mug with some honey. As you can see, the colour is like amber and did warm me up just by looking at it.
As I drank it, I felt transported away, not just by cinnamon and spice but there was something else that made me connect with a faraway place. Sure enough, I checked the ingredients and found out there is roobios in this tea which gives it that other-worldy warm and sunny flavour of South Africa! Sometimes roobios can be overpowering but with the other ingredients, this tea was balanced perfectly. They were right, this is the tea I need right now to get me through winter.
So one of my lucky Canadian readers is going to win that cool colour therapy basket worth around $70! How do you enter? Just leave a comment and I would love to hear about your favourite kind of tea if you don't mind sharing. Contest closes Thursday December 16th and make sure to leave contact info please!
Good luck everybody!