Happy Early-Anniversary to Sun-Maid who will be celebrating their 100th Anniversary in December! They sent me a package of goodies to celebrate and a recipe to try with their fantastic raisin bread.
Celebrating Online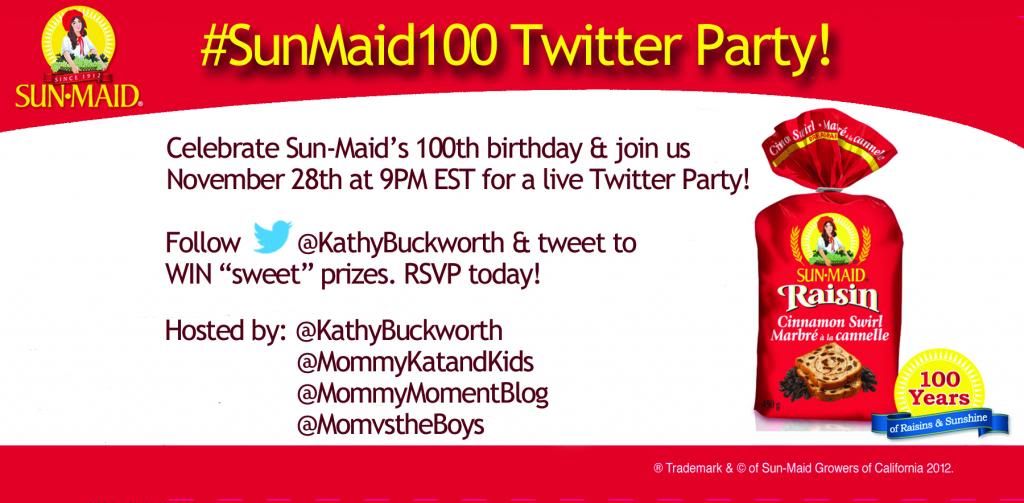 Tonight is going to be a Twitter Party with prizes to celebrate! #SunMaid100 Twitter Party from 6pm-7pm PST / 9pm-10pm EST. Sun-Maid will be giving away 11 amazing prize packs including limited-edition Sun-Maid merchandise, $50 Visa gift cards and coupons for Sun-Maid Raisin Cinnamon Swirl Bread! Also, you can download their online 100th Anniversary Cookbook for free right now!
The Recipe
I chose their French Toast Bake recipe to for a weekend treat. It was supposed to be stuffed with bananas but all mine were in the freezer in big chunks. As a result, I decided to just leave them as-is for weekend French toast.
I was surprised when I read that four slices of raisin bread would fit in a 9″ square pan and realized they were right! I did two layers with nothing in between but if you want, add fruit like banana slices.
Blend 1 cup milk, 4 oz softened cream cheese, 3 eggs, 1/3 cup sugar, 3 tbsp flour and 2 tsp vanilla extract in a blender. Do not use a food processor like I did unless it is very big. Mine overflowed.
Blend until smooth…. Um, mine would not get smooth. I had chunks of cream cheese that refused to break down.
Pour over the bread and let stand 5 minutes. You could make this ahead of time and let sit in the fridge overnight.
In a preheated 350F oven bake 40 to 45 minutes (unless you let it sit overnight, then bake 50-55 minutes) until set and toasted. Let stand 10 minutes.
Oh dear, the top was still covered in cream cheese chunks…
It was quite eggy on the bottom with those bits of cream cheese on the top. I think I would recommend skipping the cream cheese altogether. Still, it was very tasty and made a nice weekend brunch.
The Giveaway
I decided to share the love and do a giveaway for the coupons and the apron. All you have to do is comment something like "Happy Anniversary Sun-Maid!" so I know you are not a robot, become a follower of my blog if you aren't already and please remember to include your email address.
Contest is open until Saturday December 1. Winner will be announced early next week!