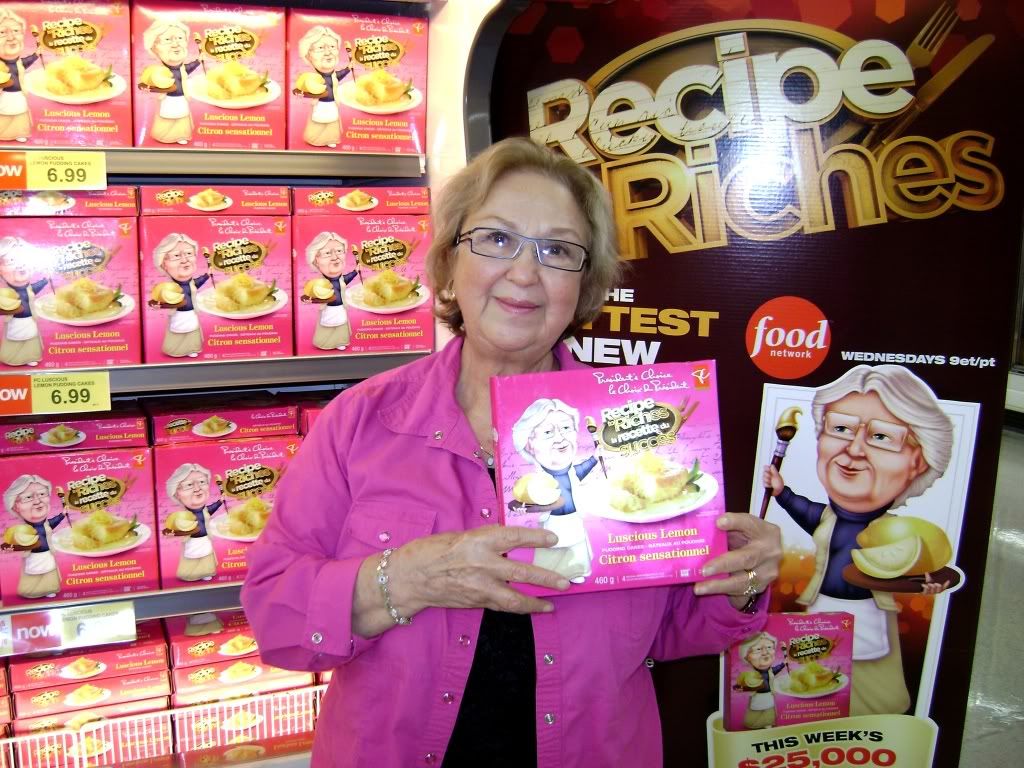 I had the opportunity to interview Recipe to Riches sweet pies category winner Glo McNeill. She told me about the audition for the show and also shared a little about her life as an artist in Lunenburg, Nova Scotia. As we spoke, I was thrilled to discover there is a bit of mystery behind her $25,000 award-winning President's Choice Luscious Lemon Pudding Cakes.
Glo found out about the audition from her youngest daughter. She assured her mother this contest had her "…written all over it." The only real question was, which recipe would Glo pick to enter? Her daughter purchases President's Choice products on a regular basis and told her mom there was nothing like her lemon pudding cakes on their shelves.
Glo thought about her recipe. People would ask her what her lemon pudding cakes are like cold and she would tell them she had no idea. There was never any left after she served them! She decided it could be a contender. She described the cakes as a non-threatening, not-too-fancy treat. She thinks this is why one of the judges referred to it as a "little black dress of a dessert." You could dress it up with whipped cream and berries or enjoy it as-is.
On a cold day in March 2011, she got into a car with a group of her friends and drove to Halifax to audition together. So many people had fancy desserts. She had brought whipped cream and pomegranate seeds for an easily transportable and clever garnish. I asked her what it was like to be in front of the panel for the audition and she said, "the judges were wonderful, so warm and friendly." By the end of the process when she received her gold ticket she was on cloud nine. The hard part? Not telling anyone!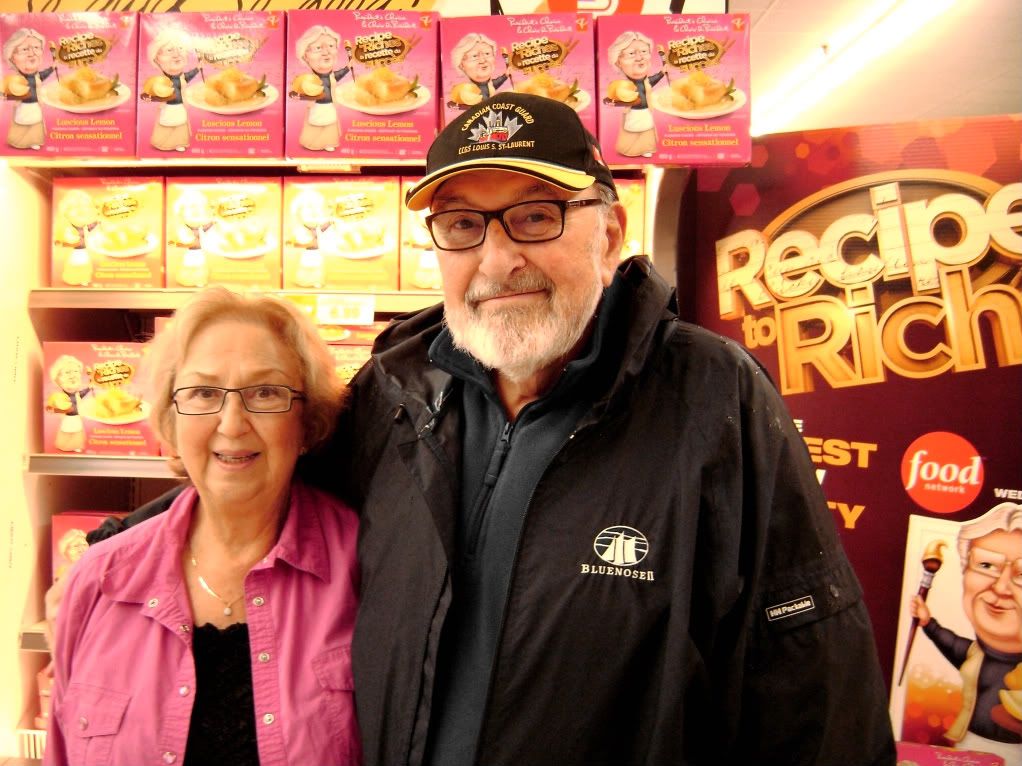 Years ago when house-hunting to retire in Nova Scotia, Glo and her husband stayed at a bed and breakfast in Lunenburg but were seriously considering moving to outlying areas. During the house hunt, Glo realized she had lost her grandfather's gold and tiger's eye tie tack off her scarf. Devastated, she went looking for it.
A woman on the street asked her what she was looking for. Glo shared the description with her. The woman later called her that night to tell her she had been out searching for it with a flashlight and had found it at the base of a tree. In the dark! Glo said to her, "If you are the kind of person who lives here, I want to live here." She has been strongly connected to the community ever since.

My photograph of Lunenburg taken in October, 2011
It is amazing to me that a woman of her vintage went to Toronto with seven changes of clothing and the components for her dessert to work five 10-hour days for the big baking challenge. She told me the people on the show were incredible and so supportive. Although her episode was the first to air, it was the last to be filmed and her support kitchen staff were grateful to work with such a simple recipe.
During the show, I was impressed with Glo as she worked with giant tools in the kitchen. She had to increase her recipe output from a few cakes to a couple hundred. She clearly knew how to make the cakes well enough to adapt. "If you know the technique, there is nothing to it." The cakes were made so quickly she finished baking first!
Her recipe only contains ingredients a grandmother would have. There are no chemicals in it. As Glo puts it, it is "normal food." I mentioned her dessert tasted completely natural to me. She said it is so natural, it has a limited shelf life. She does not even add salt to her recipe. The salt content is a result of, believe it or not, the eggs. I had no idea eggs naturally have sodium in them!
The dessert was a bit of a mystery to me. It appeared to be a cake with a naturally occurring sauce. Glo said the closest comparison she could make would be chocolate lava cakes but still, so very different. The cake is fully cooked but she could not account for the science behind the "sauce" process. Her suspicion is it may have to do with the long baking time in a waterbath and because the cake contains very little flour. I love a good foodie mystery!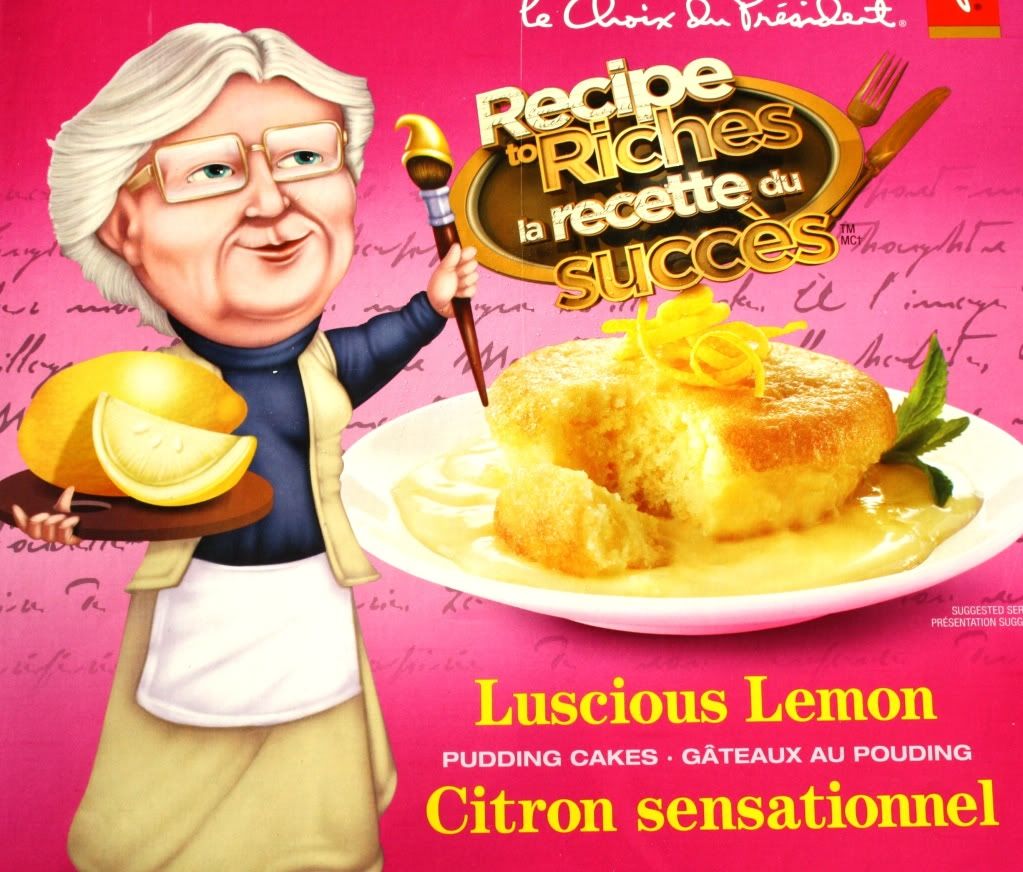 I could not help but ask Glo about the marketing group's suggestion for her to go by the brand name "Grandma Glo". It was clear to me this idea did not resonate with her. I told her I was relieved they had dropped it. Even more, I was thrilled that the drawing they used to portray her included a paintbrush in her hand, focusing instead on her being an artist. When I asked her about it she said, "Nobody calls me Grandma." When she was a child she had a hard time saying her own name and called herself Goggy. Now, that is what her grandchildren call her.
When the show aired, her son (who is in the Coast Guard) was on an Arctic patrol. The captain of his ship connected to the show via satellite. When the Atlantic region store manager found out the cook on the ship wanted to try making the dessert, he brought two cases of the cakes for them when they docked in St. John's, Newfoundland. One for the ship her son had been on and the other for the ship her son had been transferred to!

My photograph of night descending in Lunenburg, September 2009
Unlike many artists in Lunenburg, Glo does not paint lighthouses or ships. She paints moods and atmosphere. If she wins the contest she can move from acrylics back to oil paints and commune with the colours of this special town. Nolwenn from Facebook wanted to say she hopes the money she won will serve her and her husband well for the rest of their lives in Lunenburg and that she will continue to create paintings inspired by her town. I do too.
Glo is just as lovely in person as she appears on the show Recipe to Riches. She had me laughing as we spoke but I was also entranced by her stories. She is a woman who has had many different paths. I promised her the next time I was in Lunenburg we will get together for tea. I know we will have a lot to talk about!