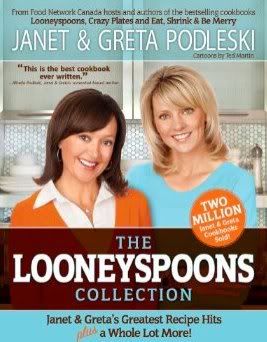 Two of my favourite foodies in the whole wide world are Janet & Greta Podleski. Two sisters who had a vision for their cookbook and, despite all sorts of challenges and naysayers, made it happen! Not only that, their cookbooks were the first cookbooks I had that not only made food make sense to this particular foodie novice, they made me laugh and not take it too seriously. I also learned so much about nutrition and the power of food along the way.
Recently I had heard there was something about their new/updated The Looneyspoons Collection
that I just had to see. I heard about it on Facebook and Twitter but being a house-bound foodie with no bookstore in sight, I had no way of verifying what the heck people were talking about. Turns out "Suzie the Foodie" was in their list of loyal and enthusiastic fan base in the Acknowledgements! What a huge honour! I still can't believe it. I only found this out because when they discovered via Twitter I had no clue what people were referring too and that I had pneumonia, they sent me a copy of their cookbook! What absolutely sweethearts. Have I mentioned that I adore them?
Over the years I have followed their blog, watched their TV show, celebrated when they joined Facebook and have been writing to them over the years with questions and kudos. I would not be a foodie without these hysterical and wild women's influence in the kitchen. I have the beaten up cookbooks to prove it!
Skinny Dipping Tzatziki
As promised a while ago, I will share their recipe and technique for making their low fat tzatziki! At first I choose it to help cool down the PC Jalapeno Popper Potato Chips I was testing but I also used it for so much more!
Peel, seed and finely chop 3/4 cup of English cucumber.
In a bowl add the cucumber and 1 tbsp freshly squeezed lemon juice, 1 tbsp minced fresh dill, 1 tsp minced garlic, 1 tsp granulated sugar, 1/2 tsp salt and 1/4 tsp of freshly ground black pepper. I love that they include very specific measurements for salt and pepper, so helpful for new foodies.
Also add 1 cup of low-fat Greek yogurt. I used PC's but I find when it comes to plain Greek yogurt, they are all quite good so I pick up whichever one is on sale.
After combining in a small bowl, make sure to cover and refrigerate for at least 1 hour before serving. Amazing that in a 1/4 cup there is only 0.1 total fat but you get 3 grams of protein! Not to mention, it is delicious! Strong, flavourful but not overpowering… yum!
I absolutely loved this tzatziki and enjoyed it not only with the few smokin' hot jalapeno chips I ate but enjoyed it with fresh veggies too. The best was making a Greek chicken wrap and slathering the grilled chicken with this creamy sauce before rolling it up in a tortilla with lots of greens. I give this recipe four out of five wooden spoons.
I love it when food is healthy and tasty! That is what the Podleski sisters do best. Thank Janet & Greta! We are off to a great start!