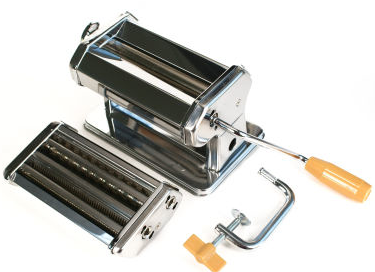 My pasta machine has arrived! Thanks to your votes, I am going to be making homemade pasta in my kitchen. I must admit that due to some technicalities, I ended up getting a different pasta machine than I had originally intended: Fox Run Craftsmen Steel Pasta Machine at CSN Stores. Wow, is it ever heavy-duty!
Now I know there must be other people out there with a pasta machine gathering dust so if you would like to join me in making homemade pasta, please do! A Facebook friend suggested Ricardo's recipe for fresh homemade pasta so that is what I will be making. She said it was fool-proof and turned making pasta from being a frustrating experience to a delicious one.
I am going to try and get around to making and testing out this pasta machine in the next week or so. I hope you join me! I would love it if you took photos as you make it or of the final dish. Just email them to me at sueridler (@) gmail dot com. My friends Fran and Nolwenn are going to be joining me, I hope you will too!
Deadline? Oh I hate them but I know others like and need them so let's say by April 1st.
No pasta machine but want to participate? Feel free to buy some fresh pasta like Olivieri and make your own sauce for it. Just play with pasta and email me the photo!