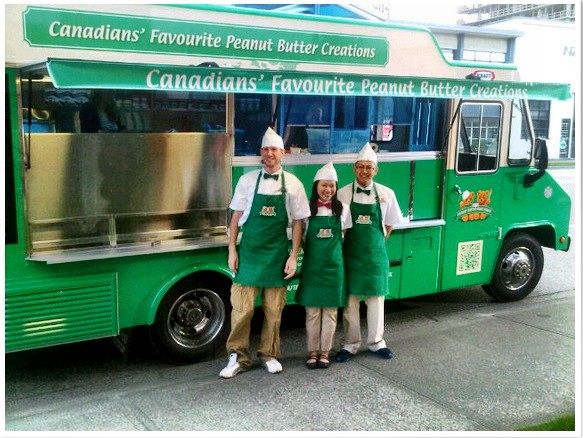 On Saturday August 4, 2012 at the Halifax International Busker Festival you will be able to check out a new food truck hanging out downtown. Kraft Canada will be celebrating some Canadian classic peanut butter treats so make sure to walk up their 27-ft vehicle covered in classic Kraft PB colours and ask for your favourite.
Lucky me I got to check out some of the treats ahead of time!
From the comfort of my very own home no less.
Samples?! I LOVE samples!
The Treats
I began with what appeared to be a classic peanut butter banana sandwich that is actually called the PB-Choco-Chip Banana Bomb. It is made on brown bread with Kraft all natural crunchy peanut butter, sliced banana, cinnamon and chocolate chips.
They totally had me with this one until I tasted the cinnamon. I am not a fan of the peanut butter cinnamon combo but it was interesting update to a traditional sandwich. Love the addition of chocolate.
There were no name cards at all so I was eating everything totally blind. This one shocked me the most. That was not just peanut butter in those little containers for dipping carrots in. In fact it was the PB Thai Taster, made with Kraft Asian Sesame Dressing and Kraft Whipped Peanut Butter. Yowzaa! Definitely not a boring treat, lots of flavour but be prepared for it!

PB & Pretzels are made with Thinsations 100 Calories Chocolate Covered Pretzels and Kraft Smooth Peanut Butter and absolutely were our favourite. Reg was so sad we did not have more. Crunchy, peanut buttery and chocolatey… These rocked!
PB S'More made with Honey Maid Graham Wafers, Jet-Puffed Marshmallow Crème, milk chocolate compound wafers and Kraft Smooth Peanut Butter was surprisingly good.
I am not a big fan of graham crackers but with the peanut butter, it took that overly-sweet edge away. Using what is probably marshmallow fluff was so smart. Made it feel all melty like a real S'more. This treat was genius.
The "Grammie Time" consisting of two graham crackers, Kraft Crunchy Peanut Butter and raisins was OK. Again, loved the peanut butter with the graham crackers but barely noticed the raisins.
PB Belgian made with a waffle, Jet-Puffed Marshmallow Crème and Kraft Crunchy Peanut Butter was pretty darn decadent and awesome, I have to say. The waffle was still crunchy so having that ooey-gooey marshmallow with the crunchy peanut butter on the inside was pretty fabulous.
It almost beat everything else but in the end, PB & Pretzels won.
Saturday August 4, 2012
I have been eating Kraft Peanut Butter most of my life. It is my favourite peanut butter and we eat it in our house all of the time. I am also a huge fan of the food truck movement and think it is just the coolest that Kraft Canada is taking this truck on tour to five cities to share these fabulous treats. To find out more, follow them on Facebook.
Stay tuned this Friday for some more peanut butter fun in my kitchen! Discover the dessert that almost did not get photographed because it was disappearing at such an alarming rate. It was that good.