In my post Krisda: Premium Stevia Extract Part I I tested Krisda Cafe Vanilla and Krisda Sweetener. I liked the coffee sweetener with flavour but not the general sweetener.
The Product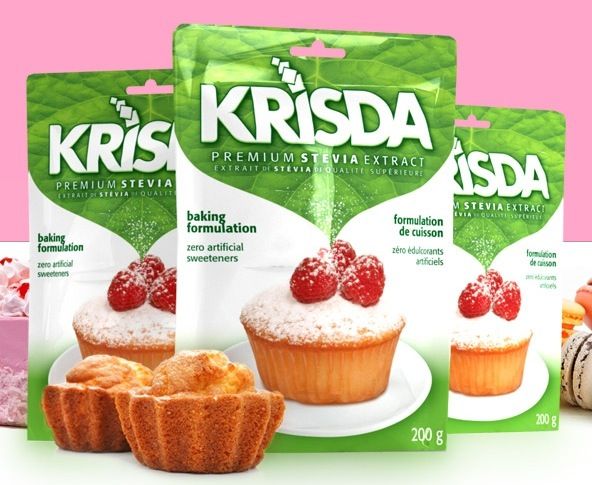 As a result, I was a little nervous baking with their Baking Formulation using Stevia Extract. That, of course, did not stop me!
Product Testing: Phase I
The powdered Stevia is very light and almost dusty. I decided to test it in my mocha cookies which are my favourite cookies of all time. Most of the cookie is sweetened with brown sugar but there is some white sugar too.
Well these were gone in a flash! And… they were the best batch I have ever made! They seemed a little crunchier on the outside and fluffy as a cloud on the inside. I was totally blown away.
Product Testing: Phase 2
So it worked in cookies but will it make dough rise? I chose T.J. Cinnamon's Cinnamon Buns which are my favourite treat ever! I have been making them for years.
I replaced the sugar in the dough with their Krisda's Baking Formulation.
The dough did rise! It had these odd bumps throughout it after the first rising, like the yeast didn't completely dissolve (I did a breadmaker version) but hey, they poofed up!
Foodie Results
The dough was light, airy… just like my regular cinnamon buns. I also put some of the Baking Formulation in the filling and I could taste the "Stevia" taste but it wasn't bad. Reg did not notice it at all. I thought this was such a success I sent a batch to my dad for his birthday and they were a hit!
Foodie Conclusion
The Baking Formulation of Krida is totally impressive. Yes, it is $9.99 at my store for a small-ish bag but this is an all natural sweetener that can be used safely for Christmas treat for those with sugar issues! I may not have liked the stevia in my coffee but in baked goods? I am shocked. It did so well.
This product has the potential to really help improve some people's lives. Taking everything into consideration, I give their Baking Formulation four and a half out of five wooden spoons. Well done!