Thanks to Les Chocolats Sexydelice I had the opportunity to create my very own chocolate bars! For me, it was like the best Halloween treat idea ever. For those who have been looking for unusual chocolate bars, this will be right up your foodie alley too.
The Store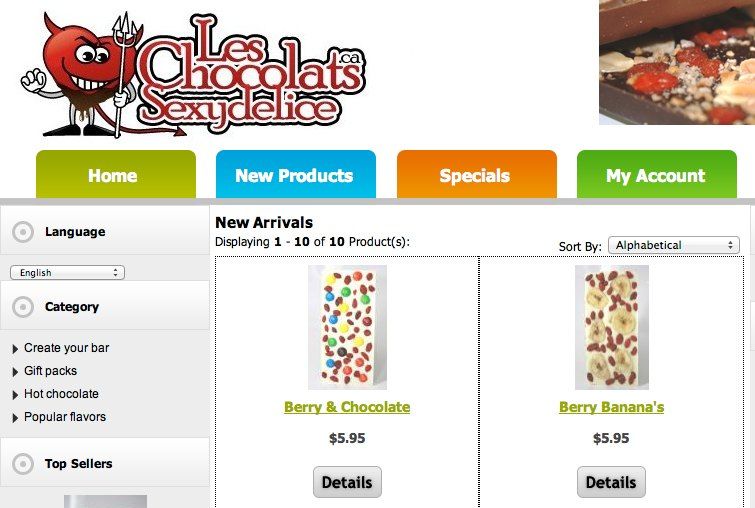 Stephane Laviolette is the owner of Les Chocolats Sexydelice. He offers his customers the opportunity to create their ideal chocolate bar.
You start by selecting your chocolate base, 100g's of either white, dark or milk then add up to 5 toppings of your choice! All bars are handmade and only contain the best quality ingredients.
The Product
These are my very own chocolate bars. Are they not gorgeous?! And of course I am very intrigued as to how they made these bars exactly, to get them so smooth and perfect.
I was highly impressed by the visual representation from the start. There was a small crack in one of the bars but other than that? Perfect!
I ordered one milk chocolate bar containing hazelnuts, salted mini pretzels and mini marshmallows. I thought that was a pretty wild combo that would not hide the quality of the chocolate too much.
I love dried fruit and nuts in dark chocolate so I ordered the mango cubes, caramel pieces and macadamian nuts. It kind of looks like there was coconut flakes added to my bar but they are actual shavings from the macadamia nuts. No waste, I love it!
Too mundane for you? You can order Goji berries, cinnamon, cayenne pepper, Smarties… There are tons of options to choose from.
Foodie Results
Les Chocolats Sexydelice is good chocolate. I enjoyed both bars immensely and was very impresed with the quality of the actual chocolate.
I would like to note that their macadamian nuts must have been raw because Reg had a slight reaction to them. I was hoping for the crunchy pieces like the nuts and the pretzels to be a little crunchier than they were. The flavours were there though and wow, pretzels and chocolate really do go well together.
This is such a fun and cool foodie idea for a business. Yes, we had some minor issues but to start with a high quality $4.25 and get to add up to 5 extras for your very own custom made chocolate bar without having to knock on Willy Wonka's door? I love it. You just sit at your computer and go.
I think these bars make excellent gift ideas for your favourite foodie who is looking for something different and made just for them. Stephane is a wonderful person to connect with, a total sweetheart. My experience working with him to find out more about the company and the product was a joy.
I give this product and the company four and a half out of five wooden spoons.