Happy Chinese New Year Everyone!!! As I write this in my Vancouver apartment, the firecrackers and hollering have just begun in celebration outside. Where we live is like a little Chinatown and for weeks I have seen decorations go up in the markets. I took the photo above at my Superstore!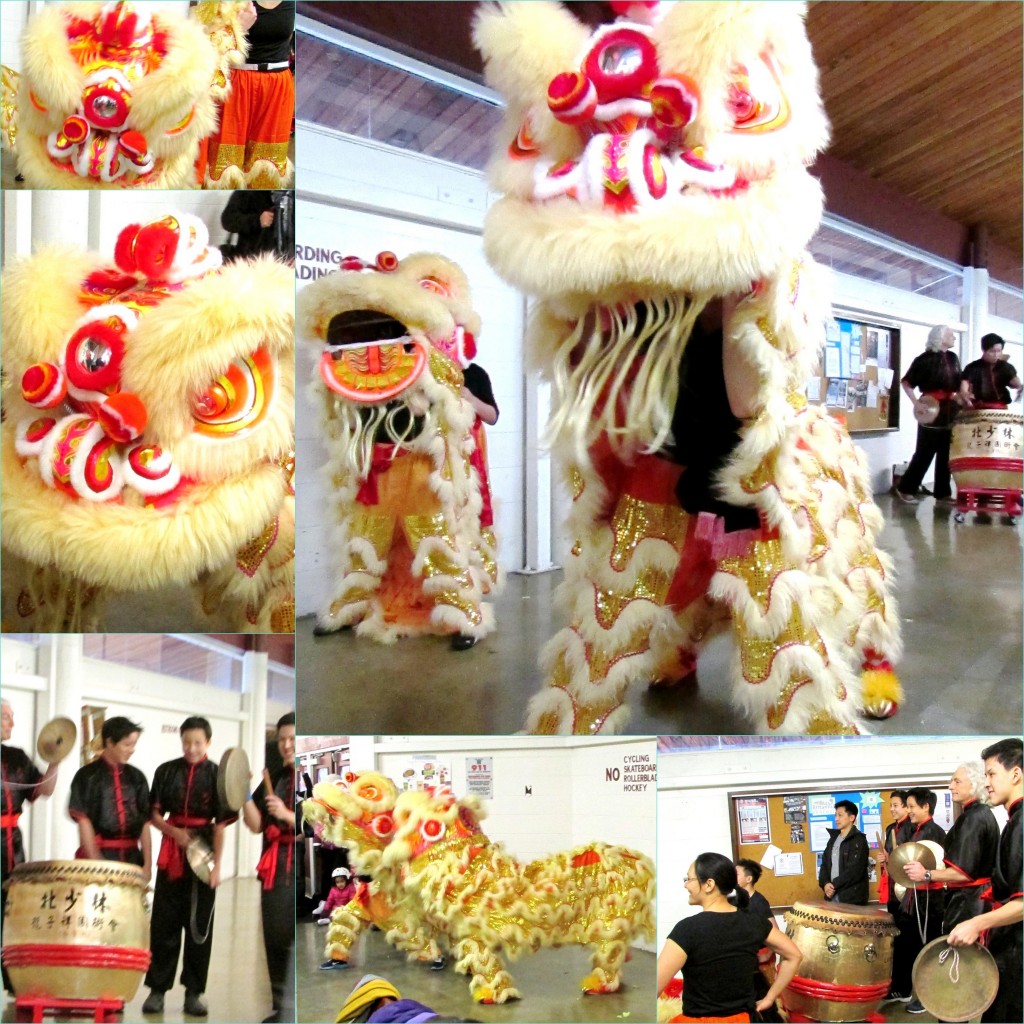 Even Reg earned some lucky money performing the cymbals at his Kung Fu's School's Lion Dance.
Learning about dumplings
I have been slowly but surely making my way through the Craftsy class: Favorite Asian Dumplings from Scratch with Andrea Nguyen. I just do not want this class to end!
Recently I learned in this class that most dumpling restaurants use a traditional steamer ring which goes on top of a huge pot of hot water and then you place the bamboo steamer on top of it. For home-use, Andrea suggests you use an aerated pizza pan to make it fit. So clever! Gotta find one of those.
Celebrating The Lazy Way
But I indulged instead! I have made my own dumplings a lot and so I am having a blast picking them up in the frozen section of my Asian markets for lunch. This one is Amoy's Shrimp Dumplings (Shaomai).
They cost me just $2.99!
In the package you get 10 frozen shrimp dumplings.
I made these after I found out from Favorite Asian Dumplings from Scratch that you should always have some of the holes/slits exposed when you steam your dumplings.
I don't have a perforated pizza pan yet so I just made sure my bamboo steamer was on top of a medium pan of boiling water, all nice and snug.
I let them steam for 10 minutes and they turned a beautiful golden colour.
These were just as delicious as they were beautiful! Wonderful shrimp flavour. These are quite tiny and easy to eat in one little bite.
I loved dunking this flower-like dumpling into my easy dumpling sauce. What a stunning treat just for me!
My new life in Vancouver is full of so many culinary flavours and adventures. I look forward to making more of these delicacies in my own kitchen but for today and right now? Gung Hay Phat Choy and pass the dumplings!