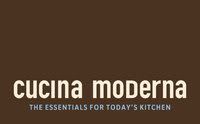 This contest is now closed! Winner will be announce soon. Good luck everyone!
Cucina Moderna is a fabulous high quality kitchen store that has graciously agreed to do a giveaway for a fantastic cookbook holder but you need to stop by their store to pick it up, so this giveaway is for my local Nova Scotia readers.
I first fell in love with this store when I stopped by one day and finally found a bench scraper! I had been looking for one forever! From cookware stores to hardware stores… but it was Cucina Moderna that had one. I also picked up some autumn leaf cookie cutters from there for a giveaway last year.

During our move to Nova Scotia my acrylic cookbook holder that my mom had given to me as a present broke! I was heartbroken and after two years of living without one could not take it anymore. I went looking and they just seemed impossible to find! So one day I wrote about my frustration on Twitter and Cucina Moderna wrote me back, telling me they were getting some in the fall. I was so excited! At the time I was using a plate holder with a piece of cardboard to hold my recipes… so sad.
I purchased the Prepara Chef's Center Cookbook Holder and brought it home. The cookbook holder I had in the past was just an inflexible piece of plastic but this holder is so much more!
There is complete flexibility when it comes to how much this little holder can prop up. It has a moveable backrest that fits into slots allowing for very little or a ton of paper and books to be held quite easily. This backrest can be removed completely so the cookbook holder can lie flat and easily be put away until future use. You even have a pull out tray with a weights and measurements chart which I use on a regular basis.
Here it is just on the second setting holding the book Professional Pastry Chef which is huge! You can actually stack more than one cookbook if you wanted to, it is that flexible.
For magazines and computer printouts of recipes, you are going to have to use a piece of board or a cookbook to support them or they will curl over. I use a large piece of cardboard and stack a ton against it which is just fine with me since I am always working on many different recipes at the same time.
The base does swivel and rotate 360 degrees which is great but often when I have tried to either swivel it or move it the back brace has fallen out and the cookbook holder has collapsed. I do love the weight and measurement chart but from day one it has curled off the little drawer and one day I will have to glue it down permanently. The "blast shield" is big but I was hoping for bigger. I am investing in more and more cookbooks that I want to protect so for the larger cookbooks that leaves a lot of space unprotected.
Despite some issues, I absolutely adore this cookbook holder! It has been my best friend in the kitchen and I love that I can throw so much into it and this little unit can take it. As much as I love that it can be hidden away in a small drawer with ease, I doubt I will ever do so. I can not imagine one day in my kitchen I will not be using this cookbook holder. It is a true foodie treasure! I give it four and a half out of five wooden spoons.
Now I know a lot of you can not participate in the contest but may want to comment so if you are in the HRM and want to participate, all you have to do is leave a comment here with the words, "I'm in!" Make sure there is a way for me to contact you too if you do not have a blog! Please leave your email address so I can contact you if you do not have a blog. Thanks!
Good luck everyone! Contest is open until Friday.