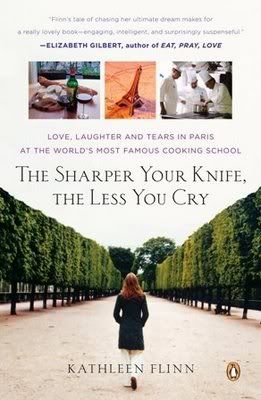 Thanks to Kathleen Flinn, I recently went on a trip to Paris and went to the most famous culinary arts school in the world. Finding herself in London, England, fired from her corporate job, she signs up to fulfill her dream of enrolling in Le Cordon Bleu Culinary Arts Program. She documents her trials and tribulations in her book The Sharper Your Knife, the Less You Cry: Love, Laughter, and Tears in Paris at the World's Most Famous Cooking School.
If you are a foodie, the book is absolutely rivetting. And at times quite horrific. Kathleen's culinary and personal journey in Paris is fascinating, painful and downright inspiring. She never gives up and evolves into being a chef before our very eyes. We learn about the most famous cooking school in the world from a student's personal perspective and see how they turn her into an artist with food.
For those of you who have always wondered what it would be like to take that huge leap of faith and go for the biggest dream you can imagine, The Sharper Your Knife, the Less You Cry
is for you. Kathleen Flinn does just that with humour and flare and also shares her recipes along the way.
Her story made me realize on quite a few levels that I do not want to go to culinary school. I may be able to get beyond the chopping off duck feet and scraping out fish eyeballs, but what I can not get passed is the use of all that cream and butter! I'm more of a healthy west-coast eating kind of person and thanks to Kathleen's story I can let go of the question, do I want to be a chef? Nope, I want to be a foodie and that's OK.
Meat-stuffed meat is not my cup of tea so now I can close that chapter and focus on the foods I want to create. There are many different versions of a culinary dream. I admire and respect Kathleen for fulfilling hers. Now I have to find and fulfill my own.