PC Cosmic Sours are an out-of-this-world-inspired bag of candies for $3.99. Yes, they are sour (which I personally love) but not too sour for Reg who had a harder time stopping snacking on them than I did. The flavours were powerful and delicious. We enjoyed these while laughing our butts off watching Wipeout and there were hardly any left when the show was over.
Vegetarians will be glad to hear they are made with pectin instead of gelatin and I was happy to see there was some natural flavouring to them as well. A little on the expensive side for candy but I think every now and then I will pick these up, we enjoyed them that much. I give these four and a half out of five wooden spoons.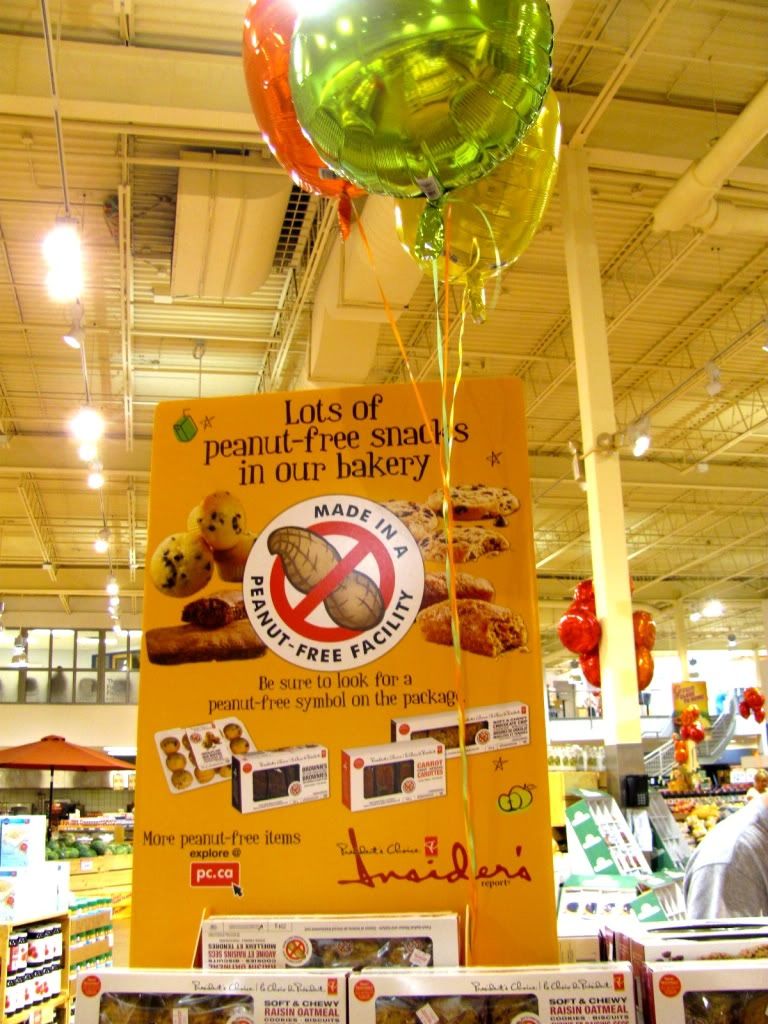 You may have noticed at your local Superstore or Loblaw that President's Choice now has a section dedicated to peanut-free snacks. I have a friend whose husband has a peanut allergy and know the stress she goes through reading all the labels and making sure what she is buying is safe. I think this is a fantastic idea and super thoughtful.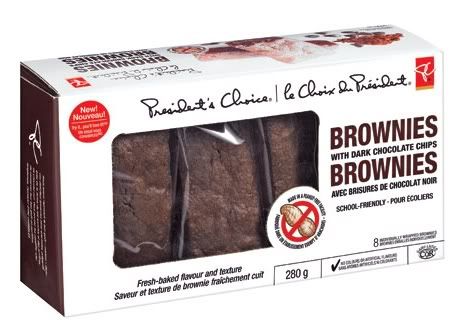 I decided to pick up the Peanut-Free Brownies with Dark Chocolate Chips and Reg fell in love with them. He found them chocolatey and dreamy. Now this is the kind of treat I rarely enjoy, it is one of the reasons I bake my own treats. I find store-bought packaged baked goods too dry and bland and sadly, that is how I felt about these brownies. The chocolate chips added a grainy texture I really did not like. Of course Reg thinks I am insane.
Just because I did not enjoy these does not mean you won't. I just never like store-bought baked goods. As a result, I will refrain from rating them myself but I am sure Reg would recommend them to those who enjoy chocolate treats but please note, they are $3.99 a box.
Sadly, the same goes for their PC Banana Bread Little Penguin Soft Cookies. Too dry! I do like that you can taste a distinct banana flavour from the dehydrated bananas but they are just too one note for this complex foodie. They remind me of Nutrigrain bars which I loathe. That said, if you like Nutrigrain bars and you want a banana-flavoured soft cookie, these would be for you.
One 300 g box is only $1.88, a truly economical treat for kids' lunches.
Remember the PC Hawaiian Coffee that I used for icing in a cake because I can't have caffeine? Now you can buy a whole-bean bag of the medium roast. And a pretty bag it is! Very eye-catching.
The only problem? I don't really have a coffee maker, not a good one for company. With Dad and Julie's visit coming up, I decided to purchase this PC 12-Cup Coffee Maker that I got for under $10! I think it weighs under two pounds and is super flimsy but did the job. It made coffee for a crowd.
Everyone loved it and I always get a kick out of grinding my own coffee beans. Yes, I am weird that way. I love how it fills the house up with the scent of coffee. Now once again I could not test this myself and did not have enough energy to bake another cake but everyone assured me it is a wonderful coffee.
You can buy the 454 gram bag for $9.99. For those looking for a great decaf-coffee though, I buy the the PC Decaf French Vanilla beans in the coffee department of my Superstore. So good!
Please note, I made a mistake about the cleaning disks. Above the directions it says to leave them in the plastic and not handle with wet hands. Which I totally did not see, of course. I guess the plastic is biodegradable which is fantastic and now I will consider getting these again.
President's Choice has a Be Clean. Be Green. theme going on right now and sent me their PC Green Express Cycle Dishwasher Detergent which came in a compostable box and lots and lots of plastic. Hmm… Now I understand why each little cleaning puck is individually wrapped but it does seem to go against their green theme.
The good news is, these do a great job. I did not had problems with cleaning out my mugs after drinking all that coffee during our family visit. (I can not say for the No Name Dishwashing Liquid that I bought which is completely useless.) I am relieved that this is a more environmentally-friendly product than I had first thought!