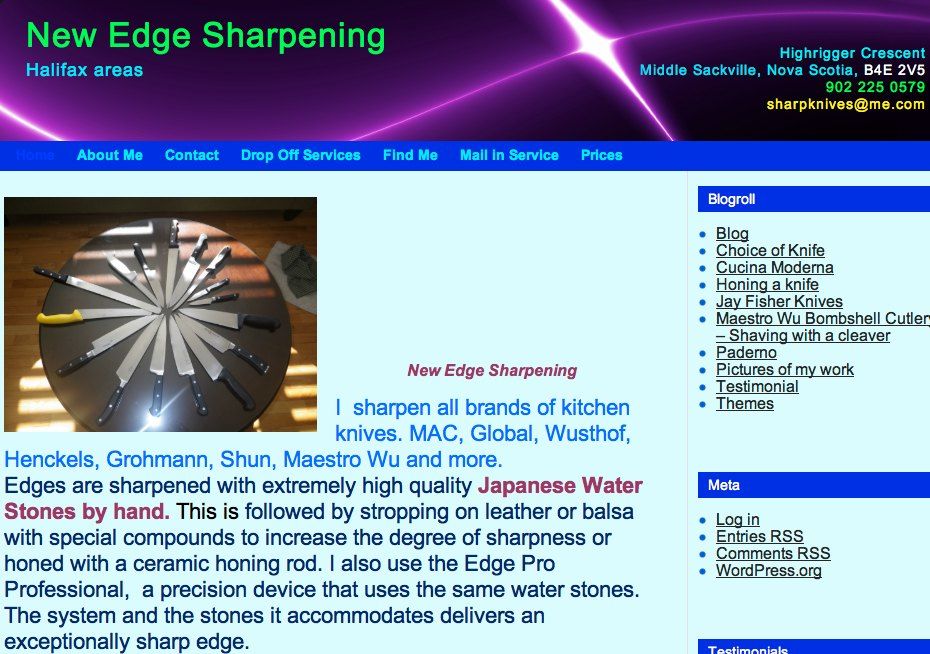 Even though the knife sharpening system I bought helped with keeping my Henckels Santoku knife from becoming so dull it would hurt me, my knife just has not been the same since I stopped getting it professionally sharpened. Henckels knives are notoriously tough which is why I wanted one but they are so strong that they are really hard to keep sharp.
When I got an email from Peter Nowlan at New Edge Sharpening who said he sharpens knives with Japanese Water Stones, I was excited but nervous. The problem is always getting the knife to the place to be sharpened but this sounded like someone who really knew what they were doing. And my poor knife really needed some help. With my health issues, I am not allowed to drive and am stuck in the burbs.
When I explained my situation, Peter was kind enough to come to my house to pick up my knife! I could not believe it.
The thought of handing a complete stranger my best and only real knife at my doorstep did seem a little strange but then I thought, hey, I like strange.
I did not have a sheath so I tried pathetically wrapping the blade in parchment paper.
When Peter arrived he handed me this fancy knife box with two knives in it to help me get through the 24 hours I was without my Santoku. Turns out it was not necessary. I had an ear infection and a fever and so Reg treated me to takeout but still, what a thoughtful and helpful thing to do when a foodie is without her knife!

Peter even gave my knife a complimentary sheath
The next day Peter returned and we had already agreed to $8 for my one knife, which was a steal. I had a $10 bill in my pocket, all ready to tip him because of the extra service of coming to my house and being so thoughtful. Then, he insisted I take my knife back for free.
FREE!
I could not believe it. He said the deal for the first sharpening is I had to tell people about my experience and he would not charge me. He knew I would be impressed with his work, I just had to share my story.
I told him, "I will tell everyone."
Which is what I am doing now. I have been using the knife for a week and it is actually, I can't believe I am going to type this, sharper than when I first bought it. I had my knife sharpened at a few place and the knife NEVER came back as sharp as it was when I sliced that first tomato in my tiny white kitchen on Vancouver Island. Now, to have it even sharper?! Pure bliss in my kitchen. My hands could not be happier. To hear it crisply slice through parsley, no bruising… Beautiful. When I use my honing steel, I swear, it sings.
I have never been so impressed or happy in my kitchen with a service. This is obviously a deep passion of Peter's and he is quite the master at knife sharpening. If you have the chance to get your knives sharpened and live anywhere near the Halifax Regional Municipality, hire Peter:
Peter Nowlan
New Edge Sharpening
8 Highrigger Crescent
Middle Sackville, Nova Scotia
B4E 2V5
www.halifaxknifesharpening.com
902-225 0579