Remember how most of you voted for the PC Black Label Fleur de Sel Caramels for me to review next? Well the stores were all out so I guess that was a hugely popular item.
As a result I received the PC Black Label Chocolate Toffee Assortment instead with the other popular product you voted for: the Umami Paste. Now that is going to be interesting to review in the new year!
Inside these pretty chocolate treats you will find handmade toffee pieces! I thought they were going to be super chewy and take forever to eat but they were quite soft with what seemed like tiny toffee pieces inside. Please note: these chocolates also do contain almonds. I think they added to the subtle crunchy sensation as the chocolate quickly melted.
This would be a stunning treat for an elegant New Year's Eve party. These are pretty as a picture with their various mottling of different chocolates and will disappear quickly. You do not get a ton in this 227 g box but they will make a beautiful impression. This small box of chocolates is $5.99 which is a little pricy for just a snack but to bring as a gift to your the host of the New Year's Eve party you are going to? High quality chocolate and toffee for under $10 sounds good to me. I give it four out of five wooden spoons.
Shrimp Mini Hors D'oeuvres Collection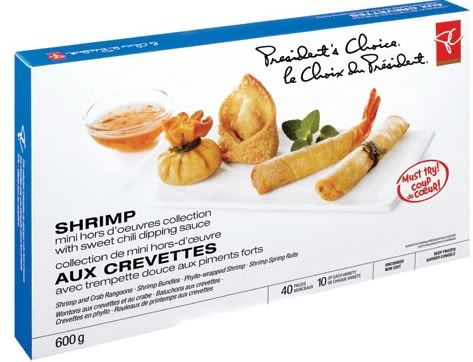 Moving from chocolate snacks to hot seafood appetizers, we have PC Shrimp Mini Hors D'oeuvres Collection for $9.99. The box is quite thin so I wondered how much product you actually get inside…
… Turns out to be quite generous AND! They included a dipping sauce for someone like me who absolutely requires one. You do not buy a product like this and then intend to make your own dipping sauce so kudos to President's Choice for that smart idea.
I put them on parchment and baked them in a preheated 400F oven for 12 minutes. They came out super crispy and golden brown! Impressive.
Overall though, I found the flavours to be quite bland, especially for seafood. They were OK and the sweet chili dipping sauce was fine but did this make me swoon with its seafood-y flavour? This did not wow me in comparison to other PC hors d'oeuvres I have had that are much, much better.
What bothered me most was the pandanus palm leaf that was used to wrap some of the bundles (which was probably entirely unnecessary). Some of them dried out and felt like a twisty tie in my mouth, totally inedible. Others were fine. Chives would be too tender but they could have used a green onion which would have added to the flavour and I doubt would dry up and turn into what felt like wire in my mouth!
As a result, I can only give this product a weak three out of five wooden spoons. If you are buying a bunch of hors d'oeuvres for your New Year's Eve party and want a seafood component, this is a good choice. On their own though…
Right away, I was impressed that PC Blue Cheese is made with 100% Canadian milk in Canada in small batches at a dairy that was established in 1879. That did add a whimsical historical touch to the cheese that impressed me which is good because this package of cheese costs $5.99.
I used half of it in Bobby Flay's Buttermilk-Blue Cheese Dressing, which is unfortunate since I really did not like the dressing. Once I "fixed it," it was a dream with my Buffalo chicken.
Above I made a simple balsamic vinaigrette salad with candied pecans sprinkled with the blue cheese. We have had similar salads in restaurants that Reg has enjoyed the blue cheese (usually he does not like it) but he found this one very strong. For me, I found it lovely. The cheese was very creamy, flavourful and strong without being overpowering. I have had better blue cheeses before but this is very comparable to ones I have picked up at the grocery store and it is Canadian! I have to give it extra points for that. I give this product four out of five wooden spoons.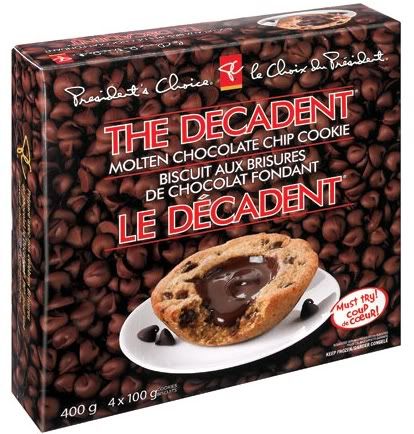 PC's The Decadent Molten Chocolate Chip Cookie is the product that seems to have been the big winner and focus of the PC holiday treats marketing campaign. I had a hard time finding it in the store though. It is a frozen treat that was found not in the frozen section but in a freezer near the bakery by the produce section. Had I not asked for it, I would never have found it!
First impressions before I put two of these "cookies" in the oven? They're freakin' huge! This is a cookie?! I had serious doubts I could finish one on my own but I could tell this treat was totally up Reg's alley. He was not going to want to share. Oh the things I do for product testing!
You only get four in one box which is $6.99 which means one cookie is more than a $1 each but considering the size…!!! I put two in a preheated 350F oven for 10 minutes.
I wanted that lava oozing effect when I cut into it with my fork but that did not happen. Also, the cookie was quite hard and crumbly. I was hoping it would be nice and soft. Thankfully dipping it into the sauce made it a more pleasant experience but not the one I was looking for. Still, the center did melt, got very ooey and gooey and overall, it was pretty good. Reg would disagree with me, he would say it was excellent but then I rarely like store bought cookies and he loves them.
I really believe you could easily serve these as a dessert, one per person, at a New Year's Eve party and thrill a lot of people with it! For me it is a novelty item, something I would buy once but probably never again. I have no doubt a lot of people will love this product and even I was impressed with it despite my issues with store-bought cookies. As a result, I give it four out of five wooden spoons.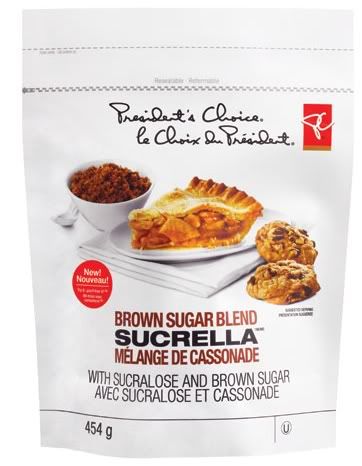 I was really surprised to see that President's Choice has gotten into the calorie-reduced sugar industry with their PC Brown Sugar Blend Sucrella. I never use anything but the real deal unless I am baking for someone who is diabetic.
I figured that if you are going to try and reduce calories with this product, a good test would be to make my favourite cinnamon buns. The recipe has white and brown sugar so I used this just for replacing the brown sugar.
This mix is twice as strong as regular brown sugar so I had to use half the recipe called for. (Very similar to Splenda's brown sugar, I might add…) If you want to make a homemade dessert for your New Year's Eve party, make sure to do these ahead of time! They do take a lot of time.
The Sucrella is much darker brown in colour that a regular "golden" brown sugar (see photo above) and you can really smell the molasses which is kind of cool. Here it looks extra dark because of the cinnamon added to it to make the filling.
Now I did also use buttermilk instead of skim when I made these which affected the texture a little but when it comes to the brown sugar flavour, I was impressed. It was a little different, perhaps a little stronger, but it did not taste "chemically" at all to me.
The big test was to make my childhood favourite sinful treat: cinnamon toast which I only allow myself to have when I am sick. It was very similar to the classic brown sugar on toast with cinnamon sprinkled on top that I grew up with. In fact it would be hard for me to tell the difference in a blind taste test.
As I said, this is not the kind of product I would use regularly but the list of ingredients was much shorter than other similar style of products: sugar, blackstrap molasses, table molasses, glycerol, sucralose, natural flavour. Please note, it still does have 10 calories in 1/2 tsp so this is not a sugar replacement. More like a sugar reducer I suppose. Flavour wise, I give it four out of five wooden spoons. One 454 g bag costs $5.49.
HAPPY NEW YEAR!
I know it isn't the new year yet but it is coming and I am so glad! On New Year's Eve I will be posting my favourite products of 2011 and, in honour of those who remember Christopher Ward's "Fromage" special on Much Music eons ago, I will be sharing the worst products of 2011. I think it will be a cool way to reminisce over the last foodie year. I hope you come and check it out!