Normally I do not post food news here, just on my Facebook group, but how can I not share the award-winning recipe and story?!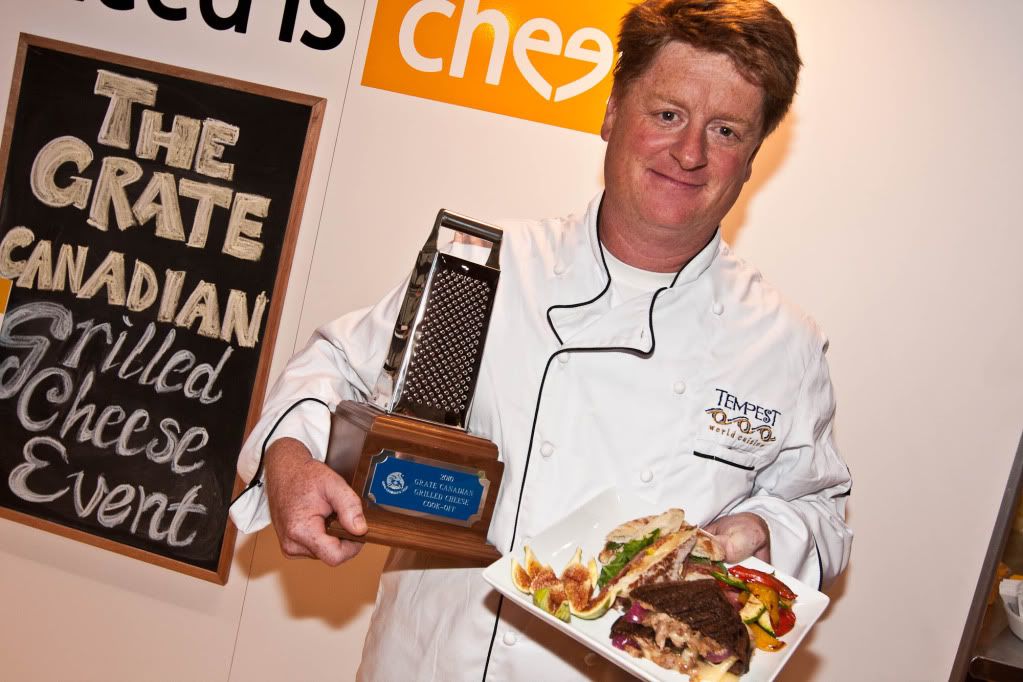 Chef Michael Howell from Nova Scotia takes top honours. Photo courtesy Dairy Farmers of Canada.
"This wonderful Cook–Off and my fellow chefs have all shown us that making a winning grilled cheese sandwich is simple – all you need is bread, your favourite Canadian cheese and some imagination."
~ Chef Michael Howell
Dairy Farmers of Canada today announced that Panini Toscano has been named Canada's "gratest" grilled cheese. Chef Michael Howell of The Tempest restaurant in Wolfville, Nova Scotia stole the show with his delicious creation at the Grate Canadian Grilled Cheese Cook-Off, which saw top chefs from across Canada put their spin on this classic Canadian favourite.
The winning grilled cheese combined the flavours of figs, prosciutto, arugula, and Canadian Gouda cheese from Fox Hill in Nova Scotia. The Cook-Off was organized by Dairy Farmers of Canada to take the grilled cheese sandwich to a whole new level and showcase the outstanding quality, variety, taste and versatility of Canadian cheese made from 100% Canadian milk. The winning grilled cheese sandwich was chosen by a jury of Canada's top food writers: Rita DeMontis, Lucy Waverman, and Corey Mintz.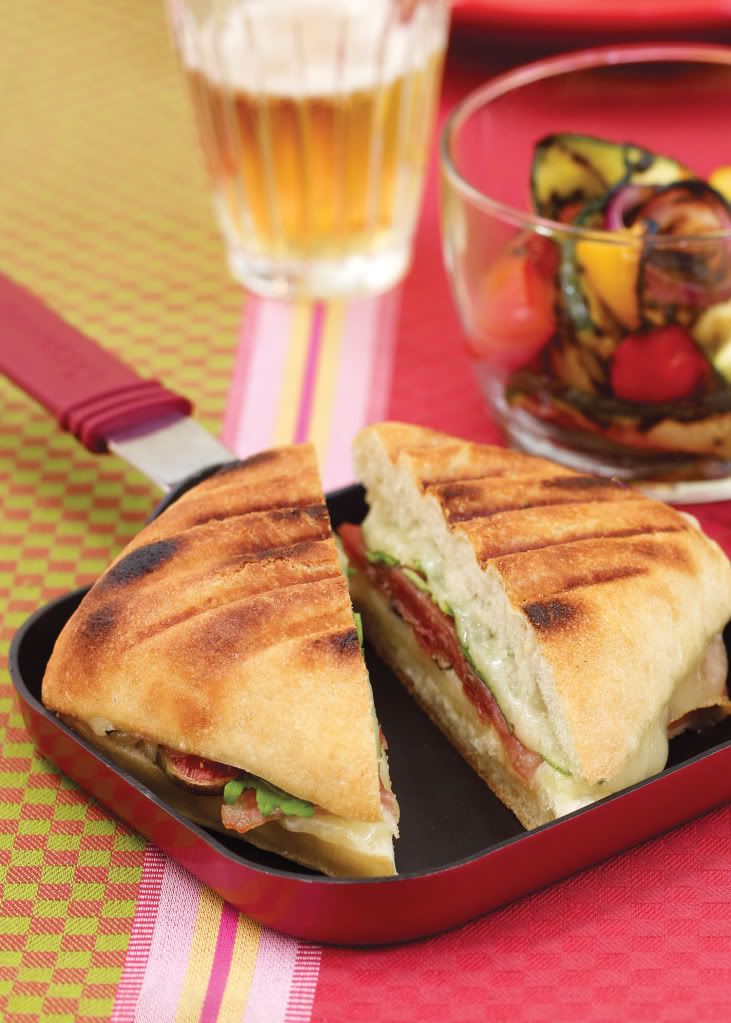 Award-winning Panini Toscano by Chef Michael Howell. Photo courtesy Dairy Farmers of Canada.
Panini Toscano
By Chef Michael Howell
Ingredients:
1 fresh ciabatta bun, about 5" (12cm) square
1 tbsp (15 mL) lemon aioli
1 ripe fig cut into 4-5 slices
2 slices of Parma prosciutto thinly shaved
2 slices 1 oz (30g) each Canadian Havarti cheese, 1/8" (2mm ) thick
1 oz (30g) fresh baby arugula
½ roasted red pepper, peeled & cut into ¾" (2 cm) slices
1 tbsp (15 mL) balsamic vinaigrette
Lemon Aioli Ingredients
¼ cup (60 mL) prepared olive oil mayonnaise
Juice and zest from ½ a lemon
1 clove garlic
Balsamic Vinaigrette Ingredients
1 tsp (5 ml) balsamic vinegar
Pinch of salt and pepper
½ tsp (2 mL) Dijon mustard
Pinch of sugar
Juice of ½ lemon
¼ cup (60 mL) extra virgin olive oil
Preparation & Cooking
Mix aioli ingredients together and let flavours mingle for ½ an hour.
Split the fresh ciabatta in ½ and brush both sides liberally with the lemon aioli.
Layer one slice of havarti cheese on the bottom of the bun, then top with the sliced figs, prosciutto, couple sprigs of arugula and finish with other slice of cheese.
Top with the other side of the bun, place in a pre-heated panini press and grill until cheese is melting and bread is lightly marked.
If using a grill or barbeque, place a weight on top of sandwich and flip halfway through cooking.
While sandwich is grilling, make vinaigrette by combining first five ingredients in a small bowl. Slowly whisk in oil until incorporated.
In other small bowl, dress arugula with 1 tbsp of vinaigrette and place on a plate.
Toss two slices of red pepper in same bowl to dress lightly and place on top of salad.
When sandwich is ready, remove from press and split in ½ diagonally.
Place around salad and serve immediately.
Lightly brush the bun on both sides with extra virgin olive oil and if using a grill or bbq place a weight on top of sandwich and flip ½ way through cooking.