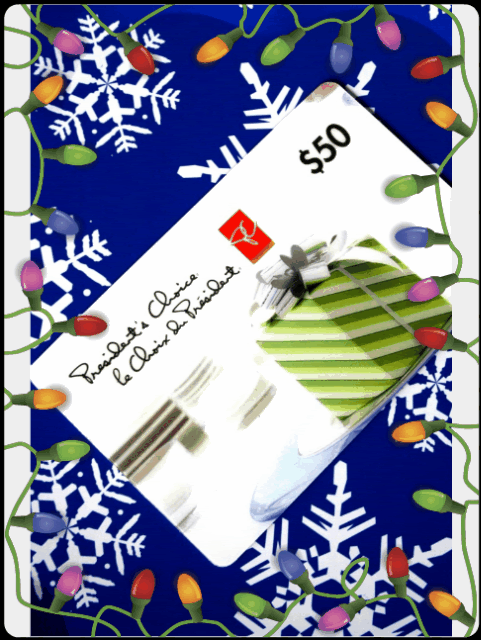 CONTEST IS NOW CLOSED!
Thank you President's Choice for donating a $50 gift card to one of my lucky readers for the holidays!
In order to be eligible, I guess you need to be living in a place where you can redeem this gift card, of course. To enter, comment about your favourite President's Choice product, preferable one that you like to pick up for the holidays or just your favourite PC product in general. I love getting recommendations!
Contest closes Sunday night and winner will be announced Monday! Now, here are some of my favourite PC things! Please note, some people have been having a hard time finding items from PC Insider Report at their stores so I highly recommend inquiring about the product ahead of time.
Big Box Chocolate & Toffee Collection
I am going to begin with the best President's Choice deal I have come across this season. PC Big Box Chocolate & Toffee Collection appears to be an unending box of chocolate and toffee classics. For $9.99 you get a 900 g box filled with individually wrapped chocolate and toffee treats. Imported from England where they use traditional chocolate-making methods, there are no artificial flavours or colours in these beauties.
"Get two, keep one for yourself." I totally agree! If you are going to a Christmas party that is a potluck and have no time to make your favourite casserole or you are a Secret Santa at work, buy this! You will save money and impress everyone. There is not a bad treat in the bunch. No, the chocolate is not Godiva quality but there was not one I did not like in the whole box.
Some were more forgettable than others but my favourites were the Milk Chocolate Covered Toffee and the Milk Chocolate Coffee Cream. The toffee takes forever to fall apart and melt in your mouth and the coffee cream is a mocha-lovers dream. Some of the colours of wrappers were so close that we were surprised here and there when we ate them. Many times I had the Orange Fondant expecting Coffee Cream but was never disappointed.
All those flavour, that volume of treats for that cheap a price? I have to give it five out of five wooden spoons. Reg and I tried, really really tried to get through the box over the weekend. Three nights of watching movies while I was sick chomping on chocolate. We did not get even close to halfway. Impressive!
100% Sparkling Fruit Juice Grape
100% Sparkling Fruit Juice Grape is the third of President's Choice's sparkling fruit juice line that I have tried and it is definitely my favourite. I can taste the white grape juice and especially the concord grape juice inside.
Best of all, it reminds me a little of the sleepovers I used to throw and we would get Pop Shoppe Pop. Grape was my favourite and all that dye would inevitably end up on our white living room carpet!
Now as an adult I can enjoy this subtle taste of nostalgia without the guilt. This is just fruit juice and carbonated water. No dyes but still a pretty natural colour and thankfully, I personally do not have a while carpet in my living room to worry about.
It is not exactly the same but it does make something that is healthier-than-pop remind me of one I used to love as a kid. I am so glad President's Choice has reduced the price of a case of four cans to only $1.99. I will definitely be buying more of this from now on. I give this product four and a half out of five wooden spoons.
Peanut Butter Chocolate Cookies
Imagine if you will a generous bite-sized Reese's Pieces Peanut Butter Cup with a shortbread cookie base, sprinkled with dry-roasted peanut pieces. That is what you get when you pick up this box of Peanut Butter Chocolate Cookies.
Now what you do not get, is a ton of them. I think you get just over a dozen cookies but! The box is only $2.99 and these decadent cookies made my knees weak and I loathe store-bought cookies!
These are so cute and pretty, people will probably assume they are homemade, making them the perfect holiday nibble to give to guests and enjoy with tea and coffee.
As much as I love peanut butter cups, one thing I do not like about them is how they melt and fall apart in my hands. These you can devour in one generous bite or two delicate nibbles. The cookie and nutty crunch contrast wonderfully with the creamy peanut butter inside.
It was hard to even photograph these because they were disappearing so quickly! We both adored them and they are totally addicting. I just wish there were more of them so I can only give this product four and a half out of five wooden spoons.
Decaffeinated Dulce De Leche Flavoured Ground Coffee
Last but definitely not least is President's Choice Decaffeinated Dulce De Leche Flavoured Ground Coffee. First, I was thoroughly impressed and pleased there was a decaf coffee that I could actually taste and review myself. Second, it smells heavenly! Third, it tastes as good as it smells…
It reminds me of those powdered flavoured coffees that Reg enjoys so much that I can not have because they contain instant coffee, which of course contains caffeine. Not only that, the one we have also contains sugar, corn syrup solids, hydrogenated coconut oil… This way I can control what goes into my flavoured ground coffee.
The list of ingredients does say "natural and artificial flavours" along with the 100% Arabica decaffeinated coffee but I would have liked to have seen a "Nutritional Facts" breakdown as well. One thing I love is that this decaf coffee is decaffeinated using the "Swiss Water Process" which is an organic and completely chemical-free way to get rid of only the caffeine, not the flavour.
I would like to know if there is a calorie count to this cup of coffee like there is for the powdered kind but nothing is listed. Regardless, this is by far the best decaf coffee I have ever home brewed and potentially ever had in my life. It is like a dream come true for me. Mostly I have to buy generic boring mediocre decaf coffee that has probably been chemically treated. As long as President's Choice keeps making this coffee, I will be buying it. I may end up stockpiling it!
This product is off the charts delicious. If I could give it ten out of five, I would. And do! Now this product seems to be one of the ones that is hard to find so if you spot it, grab it! It is a little more expensive than other coffees. The bag is only 250 grams for $4.99 but that is now much I pay for the smaller, instant dessert coffee filled with sweeteners and additives.
You need to live in an area were you can redeem the PC Gift Card (AKA Canada, LOL) to qualify. Also, I want to hear about your favourite PC product in the comments. Make sure to include contact info. If you don't and there is no email address associated with your blog or you are commenting anonymously without leaving your email address, you will not be included in the draw.
Hopefully some of my reviews will help the winner figure out what to go spend that gift card on!
Contest is open until Sunday night! Winner will be announced Monday. Good luck!