First, I want to wish Happy Turkey Day to all my American readers and friends out there! If you are looking for some help today, why not check out my traditional apple pie tutorial. Have time to learn how to make an pumpkin pie? Click here. No time for pie but want to make an apple crisp? Go here! Looking for healthy Thanksgiving recipes? Go here to Fave Diets Blog. Lots of great ideas and you will find my sweet potato recipe with candied pecans there too!
Now, to all my Canadian readers out there, the President's Choice Insider's Report Holiday Edition continues!!! So exciting!
I was scared to leave my house yesterday. I did not want to risk missing the package being delivered! Thankfully I was home and within earshot of the doorbell to receive this heavy box of frozen treats packed with dry ice. I love that! Thank goodness I am now an owner of a deep freezer which is now finally almost full of fabulous treats!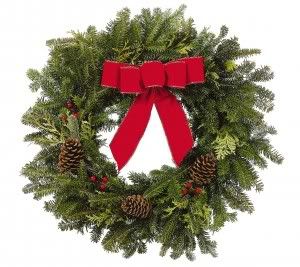 I also wanted to mention that on the first day of this journey I did get one of their fantastic $10 Christmas wreaths. I was shocked at how beautiful and affordable the wreath was and love that it has made my house smell like pine trees.
I took this photograph a week ago, there were holiday decorations all over the outside of the store and people must have realized what a deal they were because they are almost all gone now!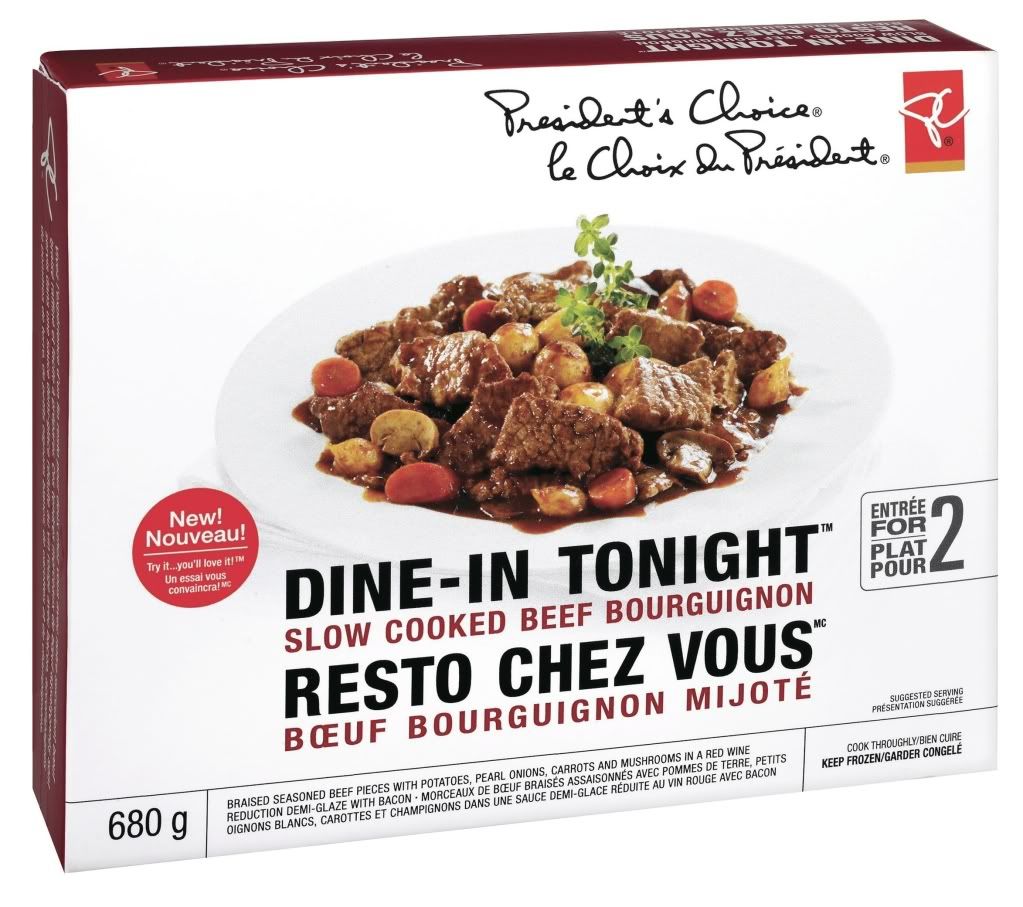 Yesterday I was working on making a lot of food for dinner and ran out of energy to make lunch so I threw in the oven the new Dine-in Tonight Slow Cook Beef Bourguignon Entry for 2 frozen dinner which is only $9. The idea behind this product is you can get slow cooked restaurant flavours at home without all the work or without spending a fortune. They have a long line of these dinners, from Grilled Coconut Curry Haddock to Creamy Tarragon Pan Seared Chicken. I thought it was a genius idea and a great price.
On the left you will see the package before it goes in the oven, I had no idea what to expect because I could not see the dish! On the right is the dinner out of the oven. I baked it in a 350F oven 45 minutes and absolutely loved the look of the sauce, dark and rich.
I put half the container of food in this small bowl. Huh, that is my dinner? Well it might fill me up but it sure as heck would not feed my husband! Maybe if I made a mound of rice and poured the entire container on it. It was quite clear, right away, this was not a dinner for two. Not in my house!
The food was not hot. My oven runs hot and this dinner was room temperature. I was starving at this point so I just ate it as-is. The potatoes were gritty, not well cleaned which is a pet peeve of mine. The carrots and mushrooms were almost non-existent. The beef was cut very thin so it was extremely tender which I liked and that gravy was very good. The pearl onions were a really nice touch. I was impressed that it was made with veal stock but for once a frozen dinner was actually under seasoned!
For a fancy dinner, it is hard to beat $9 but is this really a dinner for two? I do not think so. I love the idea of this product and think they did quite well for such an ambitious idea but there are definitely problems with it. If I had bought this dinner for me and my husband, we would have gone hungry and that is hard for me to forgive. They are very close to having a winner on their hands but fell short. I give this product two and a half out of five wooden spoons.