I have not been feeling very well, I think I have a touch of the stomach flu, so I decided to recruit my friends to help me with the taste testing of President's Choice products from their holiday issue of their Insider's Report. I needed verification and validation when it came to my foodie impressions, thanks to an unsettled stomach. I know, poor them! Forced to eat fabulous food all night.
This is only a fraction of what you get out of the box which is only $5! Considering boxes of fancy crackers start around $3 each and have a tiny amount of crackers inside, I can not recommend this product highly enough. Seriously, I now have enough crackers for an entire year and then some! What a fantastic deal, I still can not get over the price. I was sure this was going to start at $10. Only five bucks? That's crazy! One of the best deals of the night. My only complaint is there seems to be no way to latch the box closed so I had to plastic wrap that top. No big deal. I give this product five out of five wooden spoons.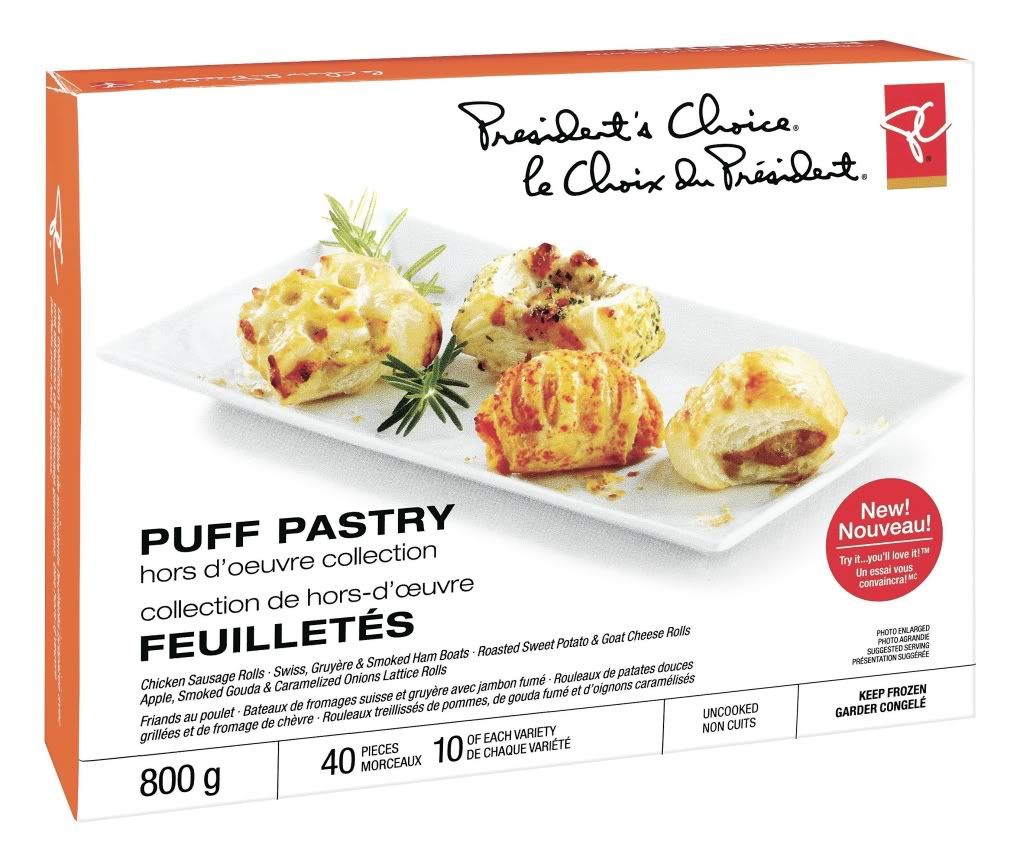 Every holiday away from home I would treat myself to the original PC hors d'oeuvres that had mushrooms, sundried tomatoes… It appears those have disappeared and have been replaced with this PC Puff Pastry Hors d'Oeuvre Collection. I was so curious to see how they would compare!
In the box you get four varieties of hors d'oeuvres separated into bags containing 10 pieces of each treat:
"These hors d'oeuvres offer something for everyone! Made with classic French-style puff pastry and filled with fabulous flavours, our sensational collection of 40 pieces includes Chicken Sausage Rolls; Swiss, Gruyere & Smoked Ham Boats; Roasted Sweet Potato & Goat Cheese Rolls; and Apple, Smoked Gouda & Caramelized Onion Lattice Rolls. The upscale look is sure to impress!"
Now when we tried these, I kept what was in each one a secret. I wanted my guests to try and guess what was inside. In general, the flavours of the fillings rang true for most, the apple and gouda was the one that eluded most of us and for me, was my least favourite because it was so sweet. Overall they were all loved by everyone and my favourite was definitely the sweet potato and goat cheese roll. I had no idea the pairing of those flavours would be so perfect, so balanced. I am now inspired to combine the two myself in my own kitchen.
My one complaint? PC claims that this puff pastry is made in the traditional French method where "fat is deposited on to the dough and then goes through a series of folds to create 84 delicate layers." When I looked at the ingredients I noticed they used modified palm and canola oil, margarine, corn syrup solids, egg yolk powder… Real puff pastry is made with butter. Period.
There is no way this is a classic French technique. I suppose that is why you can get this entire box for $10 which is shocking, we all assumed this would start at $14 but please do not tell me this is classic puff pastry because it isn't. Still, I would serve these at my dinner party as a treat so I give this product four out of five wooden spoons. BTW, I still think the original version was better and will miss them!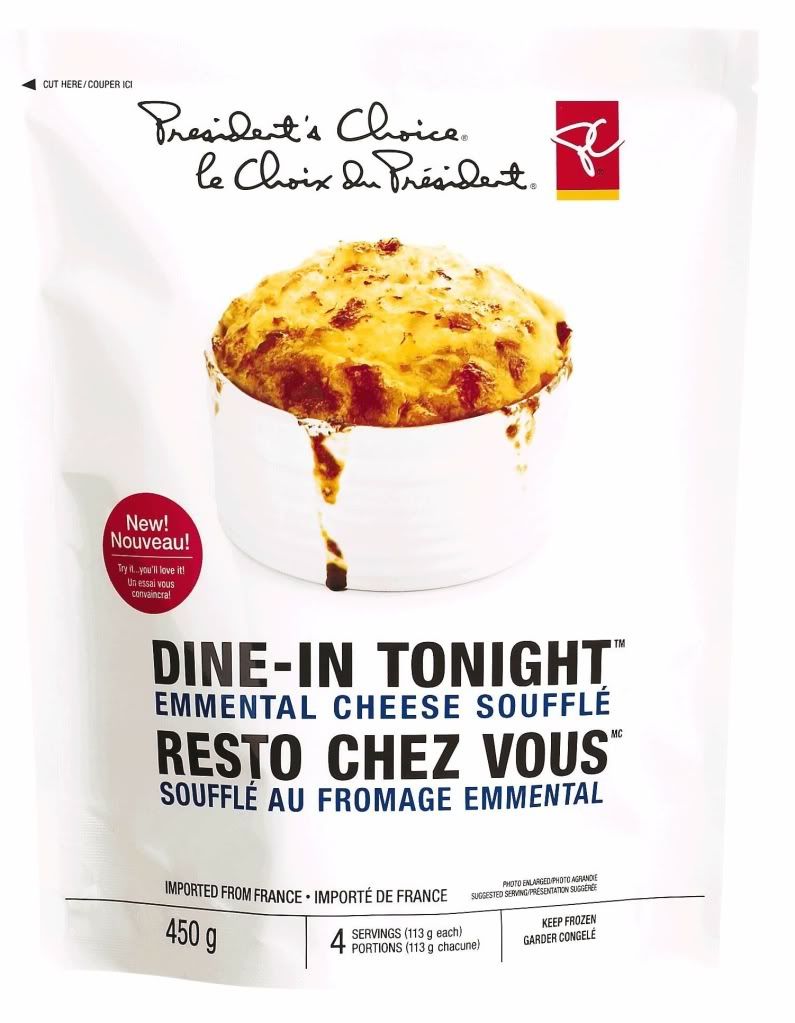 Soufflé in a bag? Really? This was going to be interesting. I love the idea of this product. People are daunted by the idea of making a soufflé but have probably wanted to try one. I had not had one myself until I made a crab soufflé when I delved into retro cooking. According to the press release, PC Dine-In Tonight Emmental Cheese Soufflés are "imported from France, so they're truly authentic." I reserved judgement. The proof was going to be in the soufflé.


Yes, this looks really authentic to me! Frozen cheese popcorn curds, yup, light and airy, just like a soufflé because it comes from France. Oh dear, I said I would reserve my judgment, didn't I?
Well it did poof up a little but because of the space around the cheese balls, it did fall a little like the package said it would. First, the flavour is wildly delicious. It reminds me of mac and cheese without the mac. You can taste each and every gram of the 17 grams of fat in every bite. The problem? This dish does not come together. You can feels those weird cheese globules in your mouth as you dig in to your ramekin. Heck you can even see them on the surface of the "soufflé". Light and airy? No way. More like dense and fatty.
As you have already guess, there is no way I would call this a soufflé and I certainly would never EVER serve this at a dinner party where I wanted to impress guests. I would call this more of a $6 novelty item to pretend that you are at a fancy restaurant. If it had not been so tasty, I would be less generous with my rating. I can not forgive false advertising. Just because something is from France, does not mean it is authentic. I give this product two and a half out of five wooden spoons.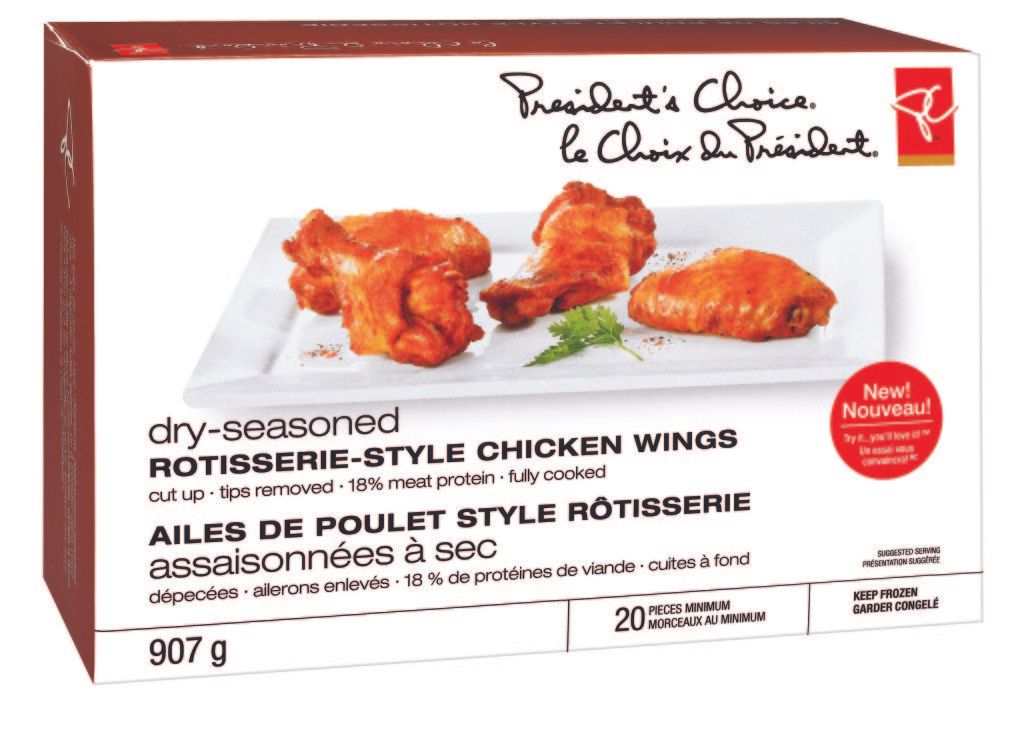 Next we moved on to PC Dry-Seasoned Rotisserie-Style Chicken Wings:
"Those of you who love the slow-roasted flavour and tenderness of a rotisserie chicken will agree our new President's Choice® Rotisserie-Style Chicken Wings are no exception. We skipped the sauce and lightly seasoned them so they cook up incredibly crisp and flavourful."
I was the only one who picked up on the rotisserie element of this chicken. Sadly, it was the only real flavouring to these wings. All of us found them to be OK but none of us felt they had any real flavour. My friend Eric suggested they are good for people who do not like saucy fingers, that they are good for sauce dipping which make sense but I have had dry-wings that are very flavourful and these just aren't.
Toss them in your own sauce? I am sure they would be great. As is, even at just $10 a box, they were pretty disappointing even though they look so darn good. I give this product three out of five wooden spoons.
Beautiful. Absolutely beautiful. The cake exterior is super moist, the crumb base delicious (normally I really dislike crumb bases but this tasted like a crunchy chocolate cookie) and the cream cheese icing seemed whipped to perfection. My friend Jen who loathes cheesecake tried it and actually liked it and took some home with her!
My only issue is it says it serves six guests and I just do not believe that. I put the cake on a small dish when I took the above photograph and I would say that because it is so darn good, maybe this would feel four people. You do not want to be stingy with this dessert so if you are throwing a large party, I suggest getting more than one! I give this product five out of five wooden spoons.
What a fantastic evening! My only complaint? Everything seemed to need to go in to the oven at a different temperature so it literally took all night to get through all the treats but in a way, that turned out perfectly. A little bite here and there was such an indulgence and we were all in a carb coma by the end of the evening.
Yes, the results were kind of all over the map but it was so much fun! We loved every second of it. I am so grateful for this opportunity, there are now so many new products I will try because overall I really was impressed, as usual, with President's Choice.
Thanks also goes out to my friends even though they said they felt like Hansel and Gretel being fattened up by the witch in the woods. I was very happy to play that part but am relieved to report they all went home full, happy and very much alive.