Earlier this year President's Choice launched their new ice cream shop, re-introducing us to classic flavours. On Monday July 26th product developer Sita Kacker was in Halifax, along with Sandra Da Silva from Dairy Farmers of Canada, sharing the joys of the new ice cream line all over downtown.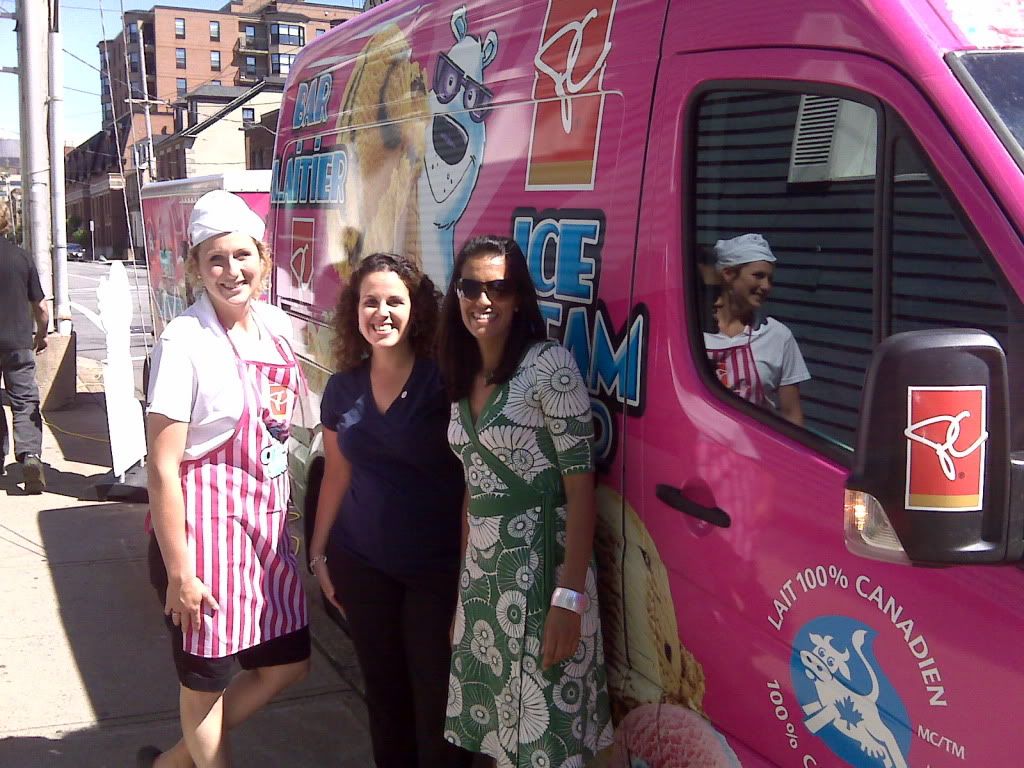 Katie-the-official-ice-cream-scooper, Sandra Da Silva from Dairy Farmers of Canada and Sita Kacker from Loblaws. Photo courtesy Holly Dunn.
I got a chance to speak with both women via cell phone while they were on location on a stunning Monday afternoon in Halifax. Apparently the Sprinkle Party Cake Ice Cream was a huge hit that day with the children who were being treated to free ice cream!

Sandra informed me that this line of ice cream is made with 100% Canadian dairy and not only that, the factory is in Nova Scotia! Talk about a local product! She also told me that most "frozen desserts" that appear to be ice cream in grocery stores are actually made with palm or coconut oil instead of cream. Not even close to what I personally would consider real homemade ice cream.

I have still yet to find the courage to try the infamous Tiger Tail ice cream: orange ice cream with a swirl of black licorice, can you imagine?!
Sita agreed to answer a few questions I had about what is was like to eat for a living and where her ideas come from.
INTERVIEW WITH SITA KACKER: Product Developer for Loblaws
You must love your job, always being on the cutting edge of the foodie world. What is it like being a product developer for such a big food company as Loblaws?
It's basically my dream job, I get paid to eat! (See below question 7 has more detail).
What is your typical work day when it comes to working with food?
Each day is different which keeps it interesting. As a product developer you split your time with being in the office, or at a manufacturing production plant or hunting around for the next big idea.
Out of all the new flavours of President's Choice Ice Cream Shop product line, what is your personal favourite?
Tough question, that's like asking which parent you love more! My go to "classic" favourite flavour is Chocolate Mint, but I have a soft spot for Sprinkle Party Cake. The development of Sprinkle Party Cake was challenging and it actually almost didn't make the launch but we really believed in the idea so we kept working on it. I just love the flavours and it reminds me of being a kid and having your cake and eating it too!
Where did the idea to come from to go back to old-time ice cream classic flavours like Tiger Tail?
Tiger Tail has a funny story… our senior management team remembered the flavour as a childhood favourite. I had never had it as a child, and they joked around that I was too young. So we nicknamed it the Old Man Flavour! I had to hunt around to find a good reference and it was worth it. We've got great feedback about this flavour! Apparently, it was a long lost treasure.
Do you prefer to go back to traditional flavours or are you also open to new and unusual combinations?
My school of thought is that there is room for both… I love retro and classic flavours because they are comforting and transport you back to your childhood. The foodie in me loves the idea of using ice cream as a canvas for interesting cutting-edge flavour combinations.
What is the most bizarre food product you have ever tried?
My last trip to NYC I had "Thai jewels and fruit with crushed coconut ice" dessert. It was wildly different!
Where do you find inspiration when it comes to new products?
Inspiration comes from anywhere… As a product developer I'm always on the hunt for the next new trend, ingredient or recipe. The pursuit of new food ideas has taken me on expeditions to far-off countries, and allowed me to feed my appetite for learning about new places and people. After all, food is the gateway into the culture of a land. However, sometimes you don't need to board a plane to uncover a new food idea—you simply need to glance around the corner, turn on the television, pick-up a new ingredient at the grocery store, hit up a local farmer's market or take a trip off the beaten track to a hole in the wall restaurant! Grab your foodie passport and let your senses lead the way.
What is the next big promotion or product we can expect from Loblaws, or is it a secret?
Oh, it's a secret but you can expect big things!
I should have known she was not going to give away even a hint as to what is to come but knowing President's Choice, I bet it will be exciting for us Canadian foodies.