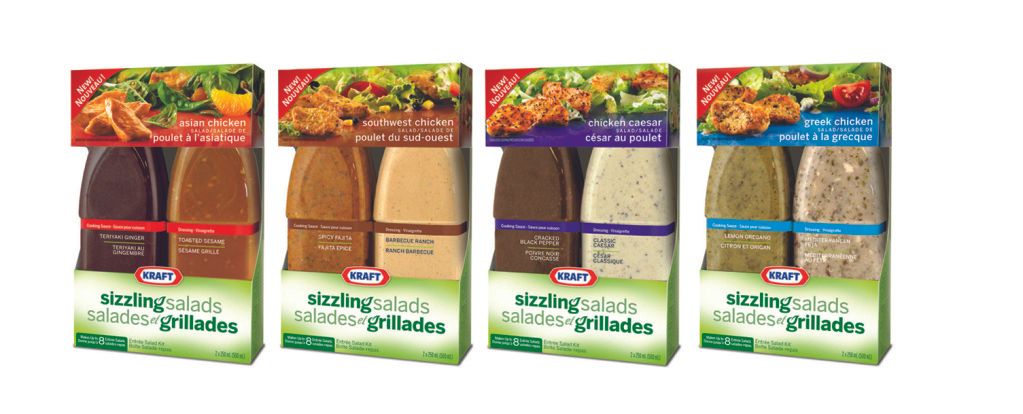 Thanks to all the spam I've been getting since I opened up my blog to anonymous posts, I have decided to close the contest a little early. Winner will be announced tomorrow! Good luck everyone!
Kraft Canada asked me to review their new Sizzling Salads product as well as do a giveaway for coupons to my Canadian readers (excluding Quebec, sorry!)… How exciting! I love the idea of this product, it was made for someone who likes sauce like me.
(A note my American friends, I have a BIG Christmas giveaway that will be coming up on my blog open to you too. If you want to hear about it first, don't forget to sign up for my newsletter.)
It comes in a kit with two bottles of dressing: one to use while you are cooking and the other to dress the salad. I decided to try out the Chicken Caesar Salad on a day that was crazy busy with no time to make food from scratch.
First I cooked the chicken which had cut up into bite-sized pieces.
Then I added the black peppercorn cooking sauce. I also decided to add some cooked pasta which was another part of my test. Usually when I add pasta to a salad the sauce seems to vanish.
The second bottle is for the salad which you dress and then top with the cooked chicken:
I made this salad after coming home from an appointment so famished I could barely see straight. It was not difficult to make and fed me when I was too tired and hungry to cook from scratch.
Now is it as good as My Version of Jamie Oliver's Proper Chicken Caesar Salad? Absolutely not! My flavours are much more bold. I checked the ingredients, no anchovies or even Parmesan was listed! Still, it did have a very light Caesar flavour to it. Much more subtle than a traditional Caesar, it was surprising how good it was. I was impressed and loved that even though it is winter, a warm salad like this was very comforting.
I tested the Greek Chicken Sizzling Salad out on my friends and we all sat there, shocked at how much we loved it. Light, refreshing, not too harsh like a lot of bottled dressings are… we all loved it! I am not a huge fan of chicken, as you know, but this product really gave it some zing!
The big test though was my husband. He hates vinaigrettes and vinegar in general so when I gave him this salad he confessed later that he was prepared to hate it. He was shocked, he loved it. I think he even used the word, "Fantastic!" I could not believe it. It even passed my husband's taste test!
I was also amazed at how many times I made large salads for people with these two tiny bottles. I really thought I would make three salads and be done but no, this product really lasts.
I wish this was available when I was first teaching myself how to cook! It is perfect for the novice foodie. I personally will keep these around for those days I just do not have time or energy to make a meal myself. Usually I would prefer to make food from scratch but there are days that doing so just is not possible. For those days, I will be turning to my pantry for these mixes. I give this product four and a half out of five wooden spoons.
Want to try these yourself? Well just leave a comment to enter my giveaway for a coupon so you can try this product for free! I have FIVE coupons to give away so if you are in Canada (but not Quebec) you just need to leave a comment with your email to enter. Great way to try something new for free the next time you do your groceries! Contest closes Friday.