---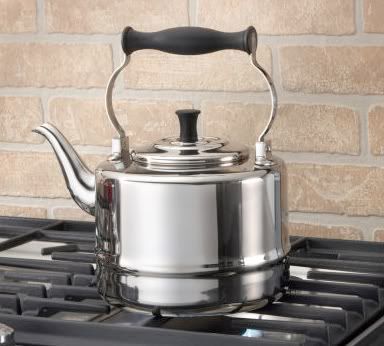 Click here to check out the product
CSNStores.com
, which is made up of various online stores including
AllBarstools.com
(
Home Bars
) and
Cookware.com
, contacted me a little while ago regarding a giveaway. At first I was going to focus on Rachael Ray's cookware but I changed my mind and decided to order from
the Paula Deen's line instead
.
The kettle I have is the less-healthy version of electric kettles, the heating coil is in the base of the kettle heating the water directly which apparently might not good for you. I have many health issues and want the healthiest kitchen I can possibly have so I have been on the hunt for
a more traditional stove-top kettle like Paula Deen's
. I like that it is stainless steel so it is much healthier to work with, is super shiny
and
dishwasher safe. My electric kettle is none of those things.
It is difficult to figure out how far to fill the kettle. The waterlines are on the outside where you can not see the water levels. To be safe, I fill it up just under the spout line. It does not make a ton of water like the giant electric kettles do these days but in comparison to other stovetop kettles, it makes a decent amount of boiling water. It is very light weight, no heavy-duty copper bottoms to weigh it down but as someone with strength issues, that is just fine with me. The spout was getting a little dull from much use so I put it through the dishwasher and everything was back to being pretty and shiny. The lid fits nice and snug, no issues of leaking were detected.