President's Choice continues to play Santa with me and boy did their presents ever keep me busy this weekend! There was lots of baking going on!
On Friday I opened the package to discover these four Baker's Gift Square Pans complete with ribbon, a square version of the loaf pan I viewed the day before.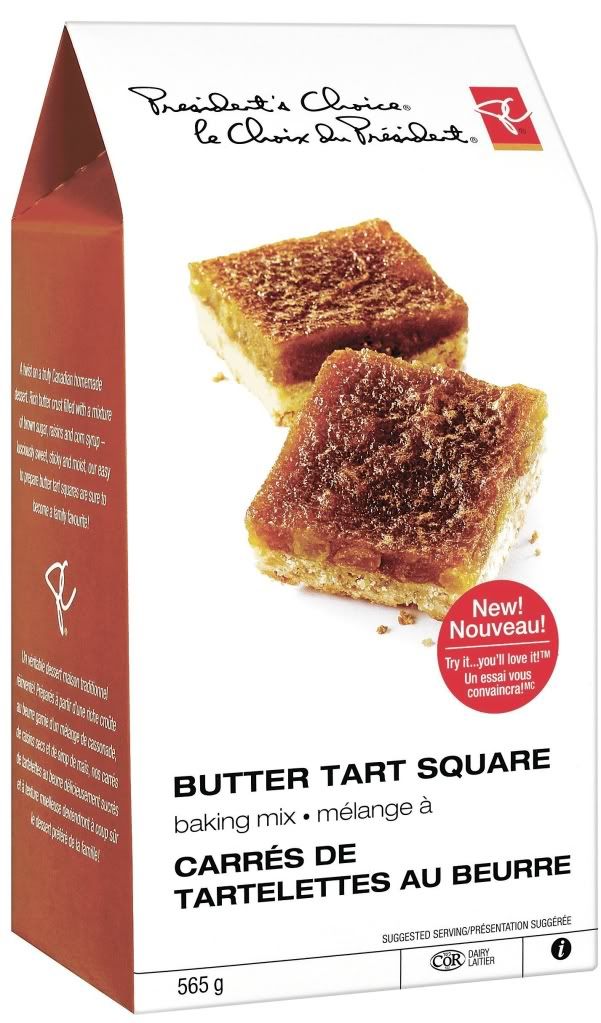 Then on Saturday I discovered this: President's Choice Butter Tart Squares Mix. Interesting. Now I occasionally "cheat" in the kitchen but it is very rare. This one was going to be a tough sell.
In the box you will find packages for: filling, crust and raisins.
You begin with the crust. You put that package into a bowl and add 1/3 cup of softened butter that you need to cut in until the mixture is crumbly. I was happy to read on the list of ingredients that this package contains pretty natural items but you could do this yourself with just flour, salt and butter. No modified milk ingredients or wheat starch required.
Then you need to press firmly into the pan. I like to do this with a measuring cup, it does a great job of getting into the corners. You bake the crust at 350F for 10-12 minutes. The square pan is actually an inch larger than the recommended 8×8 pan so I only baked it for 10 minutes but kept an eye on it since the crust was thinner and would require less baking time.
While the crust was baking I worked on the filling. I added the package to a bowl with 2 eggs, 1/3 cup of water and 1/3 cup of melted unsalted butter. Now here is my question. When you make traditional butter tarts, the filling is usually comprised of butter, eggs, sugar, vanilla and maybe sometimes corn syrup and/or cream. So what is in the package for the filling other than sugar?
If you look at the list of ingredients, the package also contains corn syrup solids, potato starch, flavouring, oil and salt. The good news is, it is almost all natural. The bad, you are already bringing so much of your own pantry here that you could easily add some sugar and make these from scratch. This has me scratching my head.
You whisk everything together and then stir in the impressive beautiful plump golden raisins. Pour on top of the crust, return to the oven and bake for 30 to 32 minutes. Again, I baked for only 30 minutes and kept an eye on the pan to make sure they did not over bake.
Flavour-wise, they are impressive. My friends helped me taste test them and we agreed, they tasted good enough for a bake sale. I think it is very clever to get that fantastic homemade butter tart flavour without having to do all the work making individual tarts.
Overall, this baking mix is perfect for the new baker. You do not need many measuring utensils, just a way to measure out the water and if you buy sticks of butter, you are good to go. If you also do not want to fill your kitchen up with a heavy package of flour that will sit there being unused for the rest of the year, this is a very good choice for your kitchen. People will love these and for the most part the ingredients are impressively natural.
If you are a home baker like me who has sugar, flour, corn syrup, measuring utensils and cups… it kind of feels weird. I could easily make this recipe without paying $3 on the baking mix. For me, it ends up not being a very good deal. For someone who is a beginner baker and does not want to invest in the ingredients and the tools but really wants to wow family and friends this holiday, this is a fantastic product. Taking everything into account, I give this product four out of five wooden spoons.
The Baker's Gift Square Pan held up pretty well, like the loaf pan did, but the real test was going to be when I re-used it when I made President's Choice Belgian Chocolate Squares.