---
For those of you who do not live in Canada and do not know
President's Choice
, let me introduce you! You may have noticed their products in many of my food photographs because I find that they are high quality for less price than large brand name companies. I do not buy pre-packaged food very often but I do trust this company and was excited to have the opportunity to review many of their exciting brand new products!
The PC Thick Cut Ballpark Hot Dog Flavour Rippled Potato Chips
were exciting for me to try. Chips are one of my favourite things in the whole world and I allow myself to eat some once or twice a year. Tangy! Savory! Smokey! These really do taste like hot dogs but with the works, including relish. There is a distinct dill pickle tang which made my knees weak. I absolutely love these chips but then I love big and bold flavours. My husband liked them too but later got a stomach ache from the MSG. I eat pre-packaged food so rarely I forgot to check the ingredients. Sorry Sweetie!
I was really excited to try the
PC New World EVOO Extra-Virgin Olive Oil
. I usually use
their Splendido brand of olive oil
and we love it in
our favourite salad
. I figured that would be the perfect way to test the olive oil since I make this salad almost every week:
This spinach and strawberry salad
felt like there was something missing. I believe the olive oil is so neutral that it just does not have the depth of the
Splendido olive oil
. For people who do not like strongly flavoured olive oils but want that single and cold-pressed quality, this is the olive oil for you.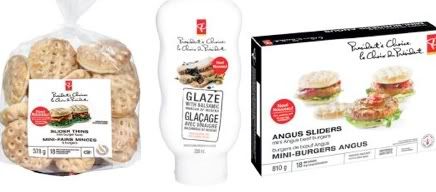 I have never had sliders before. Those trendy mini burgers I see on foodie shows all the time look fabulous but who needs the hassle of figuring out what to do about those mini buns? Well President's Choice has taken care of that issue. Their
Slider Thins Mini Burger Buns
are a stroke of genius! They even have some whole wheat in them so you can feel less guilty about indulging in some carbs. I was very excited to get out my grill and start making some mini burgers and grilled veggies for dinner:
The PC Angus Sliders – Mini Angus Beef Burgers
looked way too big at first for the buns. I was also worried they would not cook all the way through from frozen in three minutes per side. So I cooked them for four minutes and they just kept looking juicier and juicer. I added some seasoning with the
PC Barbecue Seasoning Grinder
on top:
It took me forever to figure out how to use this thing! I saw that you could twist the top like you would a grinder but how did it work, really? After a while I saw that you could flip off the very top and then it made sense. You turn it upside down with that off and then turn the knob. It may seem obvious to you but not to me at all. The seasoning was lovely but that frustration? Not a lot of fun.
For my grilled vegetables I drizzled on some of the PC Glaze with Balsamic Vinegar of Modena and it was fantastic! Just enough flavour to bring out the fabulous summer flavours of the vegetables and add that tang I am always looking for. Even my husband who loathes all things vinegary loved it. I put less on his veggies in case he hated it and it turned out he wanted more. High praise indeed!
And the sliders? We LOVED them! I mean, LOVED them. They were so deliciously moist, perfectly cooked and the flavour so fantastic, I wished I had made myself more than just two! That is OK because I am going to make them again tonight, I loved them so much. These are a real treat that I will be indulging in this summer for sure. The burgers shrunk enough in size to perfectly fit in the buns and are just so darn cute!
So concludes part one of my PC product review and so far, in general, I am very impressed. And relieved! As much as I love cooking and baking from scratch, there are days my health will not allow me to do so and President's Choice has made my life much easier.