Congratulations Melaney Gleeson-Lyall, Recipe to Riches' week 4 contest winner for her Savoury Bannock-topped Pie. It is nice to see representation from the west coast on the show, not just from the person but from the recipe which is inspired by Melaney's First Nations' roots.
THE PRODUCT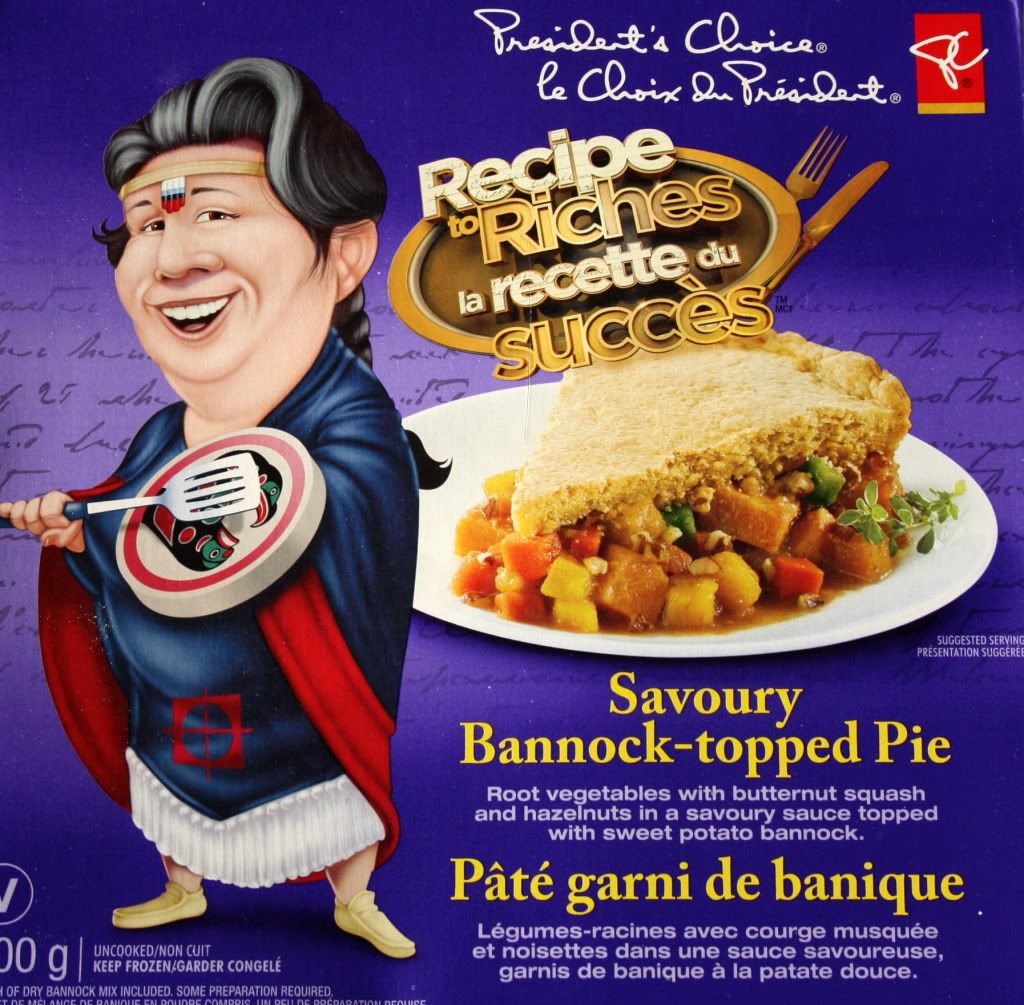 It was quite moving to watch Melaney's journey on the show and see her as an adult re-connect with the culture she lost growing up in a foster family.
Later on in life she had the chance to reconnect with her family and heritage. She also went to cooking school and brought her love of food together with her culture in this unique savoury pie you will not find anywhere else.
This is what you will find in the PC Savoury Bannock-topped Pie box at your grocery store for $7.99. You have the complete savoury pie in what appears to be a round paper cooking vessel covered with plastic film. You also get a package of the dried ingredients for the sweet potato bannock topping. Interesting! There is some work involved in this recipe!
Pull plastic film off the tray of the pie base, put on a baking sheet and bake in the middle of a preheated 425F oven for 30 minutes.
MAKING BANNOCK TOP CRUST
In a bowl you combine the contents of the pouch with 3 tbsp of water. Mix with fingers or spoon until just combine. Form into a large ball and put on plastic wrap. Press the ball flat with the palm one one hand until it is big enough to sit on top of the pie base. Transfer crust on top of the heated pie base. Return to oven but bring temperature down to 375F. Bake for another 30 minutes.
I love the idea of making the bannock myself. It was like I was taking part of a sacred food tradition which warmed my heart. What did not warm my heart was my crust would not come together. As usual, I needed more water. I tried to use the plastic wrap to help bring it together. No way. I needed more water.
I suggest President's Choice add a note to the packaging that more water may be required. Some people follow directions religiously and if their crust does not come together because it also requires more water, they will either think they did something wrong or there is something wrong with the product.
PRODUCT REVIEW
When the Savoury Bannock-topped Pie was cooking in the oven, our house smelled divine. Reg came home and immediately got hungry and wanted a bite. I told him it was vegetarian and he did not care. Neither did I!
My first reaction? Too sweet! Butternut squash, sweet potatoes, carrots… are all very sweet. Yet! When I had it with a little bannock, it balanced out. Also, the texture of the tiny pieces of hazelnuts is so wonderful. I could really taste that beautiful hazelnut flavour and the bannock was downright delicious.
This is an unusual savoury pie. It will be unlike anything you have ever had before which I think makes it very exciting. It may take some time adjusting to at first but Reg and I ended up fascinated with this dish. I think this is a vegetarian's dream no-cook dinner. So many vegetarian entrees have very little protein, this one feels like a complete meal. I also like that the cooking vessel appears to be papery, not made out of plastic or metal. It feels a little healthier and safer, hope I am right!
Unfortunately, if you read the reviews, it is clear this is a love or hate product. It certainly is not for everyone but it is one we loved. My only complaint is it is a little too sweet for me but I loved everything else about it. I give this product four out of five wooden spoons.
THE RECIPE
If you want to try making Melaney's recipe yourself, you can find it here. If you want to hear more about the recipe, check out Recipe to Riches official blogger Mardi's post here.