"Unlike anything else, the soft and chewy candy combined with a rich and creamy coating provide the perfect dessert experience in a bite sized piece."
I think The Allan Candy Company came up with a fantastic and completely new idea for candy: Dessert Bites. Imagine, an apple pie in one bite! Pieces of strawberry shortcake in a bag. A chocolate raspberry cheesecake with zero effort. Key lime pie without squeezing all those dang little limes!

As usual, Allan delivered their new product to this foodie in style. I love it!
These packages of a dessert-in-a-bag are around $3.99. They are "… a soft and chewy bite-size candy combined with a creamy coating in four dessert-inspired flavours that taste just like dessert." Imagine! The flavours of classic desserts in one bite with zero effort.

Currently found at WalMart and Sobeys Ontario stores, Dessert Bites will land on shelves at Loblaw, Giant Tiger, London Drugs, and more in the near future.
This past weekend I was so exhausted, I slept most of it away. Life has been rough and getting to me. Baking was not on my agenda, sadly.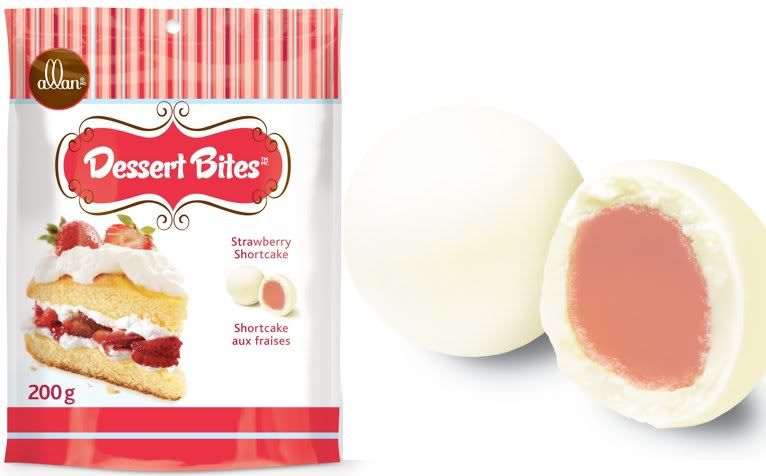 So we snacked away! The Strawberry Shortcake is wonderful. Lost of strawberry flavour that dissolves into the creaminess of the yogurt coating. I give this candy four out of five wooden spoons.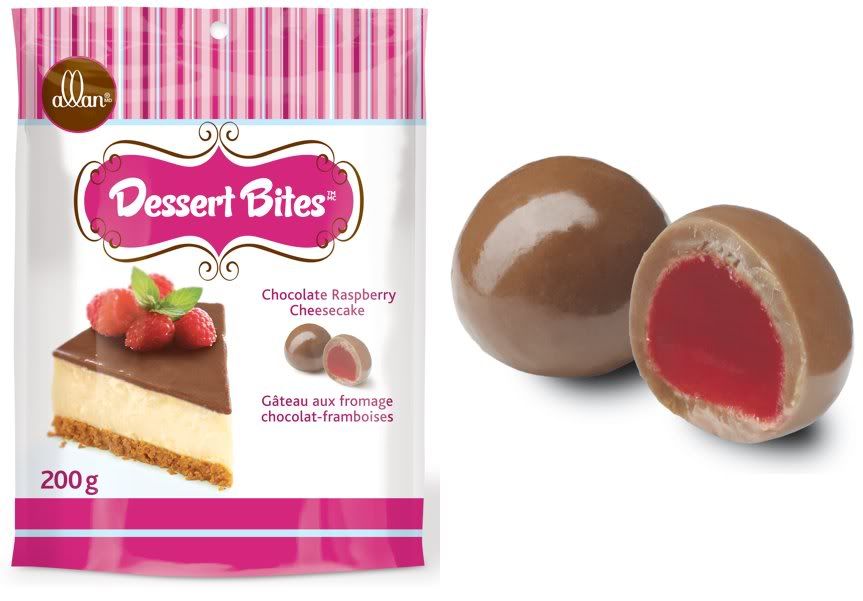 The Chocolate Raspberry Cheesecake was absolutely our favourite. Lots of strong flavour, especially the raspberry and to have it meld with the chocolate? Dreamy! I am not sure I got the cheesecake element to this candy but did we like it? Hell yeah! I give this candy four and a half out of five wooden spoons.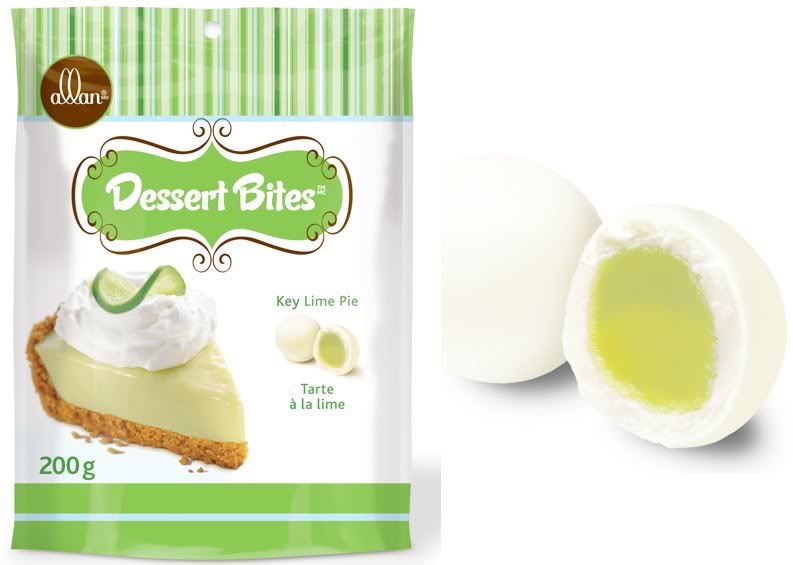 The Key Lime Pie was very subtle. I was expecting more "pow" from the lime but it was more creamy and dreamy than "limey" so that was a bit of a disappointment, personally. Although it did stay true to the "pie" idea I was just hoping for more with this one. I give this candy three and a half out of five wooden spoons.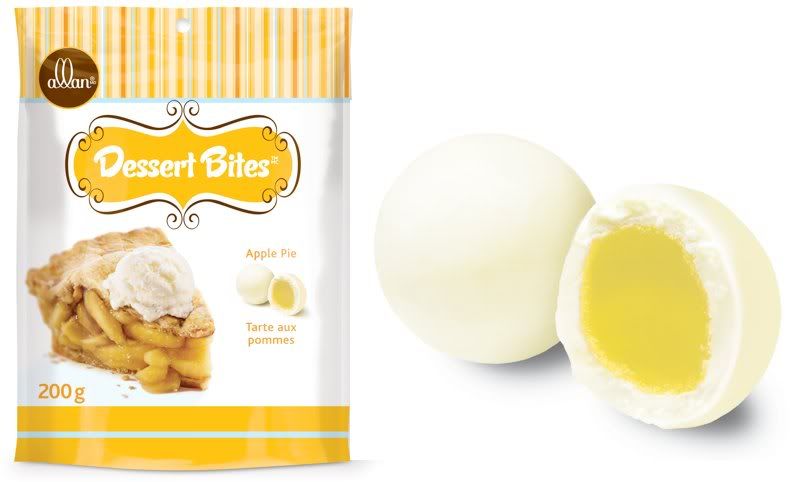 The Apple Pie bite was my least favourite. It seemed to taste fake to me. The others tasted like they had some natural flavouring to them. So I checked and I was right. This one is not naturally flavoured (except with vanilla).
All the others have "natural and artificial flavour" on their packaging but not this one. Just "artificial flavour" and we could tell immediately. Reg took one bite and that was it for him. I give this candy two out of five wooden spoons.
A gluten-free treat delivers an entire dessert in one bite is a pretty darn cool idea:
"We pride ourselves on developing products that are delicious, innovative and convenient. Our consumer will love the authentic dessert flavor and bite-size portions of Dessert Bites." ~ James Benson, Director of Marketing and Innovation, The Allan Candy Company
It truly is a smart and original idea and I am honoured to be one of the few bloggers chosen to write about The Allan Candy Company's Dessert Bites. Every night after dinner I brought a new bag down to have a completely new treat as we relaxed watching TV with no effort on my part at all. Yes, some are definitely better than others but overall, I love this idea for candy.
Very clever, fun and something nobody else has done before! I give Allan five out of five for effort!