---
CSNStores.com
, which is made up of various online stores including
AllBarstools.com
(
Home Bars
) and
Cookware.com
and offers just about everything a foodie could want, contacted me regarding a giveaway! How lucky am I? How challenging was it for me to figure out what one cool thing to pick out among so many other cool things
on the site
? What did I want to test in my kitchen and secretly dream of owning?
I know, a lot of people do not like Rachael. They find her voice abrasive and she is goofy, but perhaps that is why I can relate to her so much? When I saw her show
30 Minute Meals
for the first time years ago, I was so inspired. It was actually kind of healing for me to see a "real woman" and self-taught cook, creating meals for regular people. Wearing jeans and a cotton top, laughing and talking to herself, she was so real and down to earth. So was her food! I do not like all of her meals but many are tasty including her
Lime Chicken Sandwich on a Cheese and Chorizo Biscuit
from her book
Rachael Ray 365: No Repeats
. Dare I say, "Yummo?!"
So when I saw that I could try out
Rachael Ray's Casserole Dish
thanks to
cookware.com
I jumped at the chance. I got this goofy geeky feeling inside over the idea of owning a Rachael Ray product! I have actually never seen one in real life before, it is not something you find around here. I did struggle between choosing this casserole dish and
Paula Deen's
. I am also a huge fan of hers but when I thought of how heavy a 5 quart cast iron pot was going to be, me and my weak hands knew Rachael Ray's would be easier to lift in and out of the oven, as well as keep sparkling clean.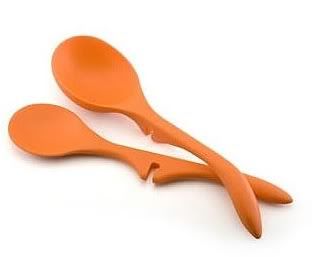 I will also be receiving
Rachael Ray's Lazy Spoon and Ladle
set, so curious to see if I like this one. I am a little bit more dubious, might be more gimmicky than helpful but if it works how happy I will be not to have to use a spoon rest all the time. I am looking forward to testing them out. Hope I like them! I must admit that I do love the fact that they will match the casserole dish. Is that silly?
From this experience I have concluded that I am a bit of a kitchen geek and still a big a fan of the Rachael Ray of the past. The new fashionista Rachael Ray is more of a stranger to me. When these items show up and I cook fabulous dishes in my kitchen I will commune with the old Rachael. The one who talked about how she thinks the ladies on Desperate Housewives should eat more food because they are too skinny. Yup, that's my kind of gal.