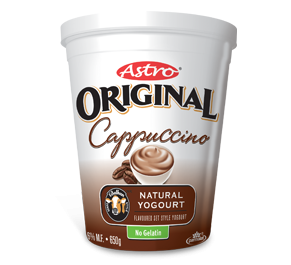 I have not done a foodie review for a while and have come across some real winners I just have to tell you about. Number one is Astro's Original Balkan Style Flavoured Cappuccino Yogurt.
There is nothing Reg loves more than cappuccino-flavoured yogurt so we picked this one up one day with our fingers crossed. Most of these yogurts are too bitter for me… but not this one! As well, it is so super thick and creamy, it is almost as if you are eating soft ice cream which I adore. So now we are both enjoying this healthy treat together, loving every second. Seriously, so good! I give this product five out of five wooden stars.
PC 70% Cocoa Dark Chocolate Orange Thins

Pin It
One night at the grocery store I had to go all the way back to the entrance to pick up something I had forgotten. Our cart was so laden with food, I asked Reg to stay where he was and find me a treat in the cookie aisle he thought I would like that was under $3. By the time I got back he had chosen three excellent options. I chose PC 70% Cocoa Dark Chocolate Orange Thins.
Am I ever glad I did! Imagine a dark chocolate After Eight but filled with orange flavour instead of mint? And the chocolate is crunchy so you get the two textures together which was fun to eat.

Pin It
The dark chocolate with the orange is classic and one of my favourites. A more grown-up version of Terry's Chocolate Orange Ball, which I also love. There is something about the dark chocolate with the orange though that works so well. Man, I loved these!
When my personal cookie jar of treats is empty, having one of these with tea after dinner is a beautiful thing. Love the price, love the flavour. I give this product five out of five wooden spoons.
PC Black Label Taste #5 Umami Paste

Pin It
When so many of you voted for PC Black Label Taste #5 Umami Paste for the next Black Label product for me to review, I must admit, I kind of cringed. But like you, I was curious!
My findings so far are very preliminary. I did not want to make a big bowl of pasta without knowing I might like this or not. Thankfully a Twitter friend told me she had used it as a spread on her grilled cheese and loved it, so that is exactly what I did. And…. I liked it! It did add that umami pizzaz so many of us are looking for. The positive experience has given me confidence to make that big bowl of pasta and report back to you soon.
Would love to hear about any foodie discoveries you have made lately, good or bad! So go for it, comment away!