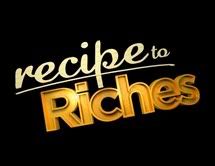 Imagine: Canadian Foodie Idol! That is right! Think you have a recipe that is worth $250,000 and want to be on TV? Then the Recipe to Riches Contest and future reality TV show is the perfect opportunity for you to blow people away.
Shaw Media's Food Network Canada and Temple Street Productions have announced their new competitive reality television series Recipe to Riches and they are taking open casting calls. If you are in the Halifax area (or aren't but are willing to brave the winter roads to compete) on February 5th, "come on down" with your favourite treat, dinner, snack… and copies of the recipe for the judges.
Not on the east coast? No worries! There will be open casting calls in Vancouver on February 12, Montreal on February 19 and Toronto February 26. Find out more here. If you end up one of the finalists of the seven categories you will win $25,000, as well as a chance to have your dish developed into a President's Choice product. You know how much I love their products!
Yes, I myself would LOVE to participate, alas, I can not. My blogging for Food Network Canada makes me ineligible BUT! I will try my best to be there and cover the auditions at the Halifax open casting call. I hope you come visit me, as well as compete!
What a very cool opportunity to share your favourite recipe, potentially win a ton of cash AND get to participate in a foodie reality TV show. I can't be a part of it but you can! I hope you audition and strut your foodie stuff.