Contest is now closed! Thanks for entering! Winner will be announced Monday January 28, 2013.
It is my birthday!!! To celebrate, I have decided to do an awesome Wilton giveaway to a lucky foodie friend out there. This contest is open to everyone, everywhere.
To enter you must subscribe to my YouTube Channel and leave a comment on the video post. The video will show you all the cool Wilton stuff that is up for grabs.
Happy Birthday To Me!
With any money I make I am going to put it towards this Le Cuistot Vieille Dutch Oven at Kitchen Stuff Plus as a birthday present to myself. It is time to invest in my foodie dream.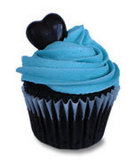 Good luck with the contest everyone!