The winners are: Tracy (sorry I ripped your name by accident!), Manda, cluebyfourgirl and Kenora! I will be putting your coupons in the mail soon but remember, we have a postal strike right now in Canada so I have no idea when they will get to you but enjoy them when they do.
CHANGES
I had some shocking news yesterday that is going to impact my life and my foodie blog immensely. After days of torrential rain and a leak in our ceiling, we found out we need to get a new roof. We are absolutely unprepared financially for this and are sickened by the news.
As a result, I will not be doing giveaways for a while. Most of my giveaways are mailed by me and I can not afford to do that anymore. I also won't be doing any more shopping therapy. My recipe testing is going to have to be cut down significantly as well.
I still have a few posts about food created on a more generous budget but after that, my life is going to be very lean. So the timing for this book to show up in my mailbox could not be more perfect: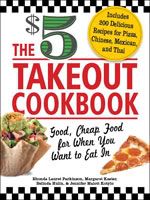 The $5 Takeout Cookbook: Good, Cheap Food for When You Want to Eat In
I will continue posting, coming up with ideas and recommendations for you but I hope you understand that the recipes may be a little more modest and potentially less exciting but I will never make food I don't like. I have been extremely poor before and refuse to eat crap, it just may not be super exciting. Hope you understand.
Reg and I live a very modest life anyway. This is going to be a very tough time for us. I will try and continue to be positive but each day it gets harder and harder. At least the sun finally showed up. Maybe now my ceiling will dry out. Yeah, that is the best I can do being positive right now.