Sometimes we all just need a little cheese in our lives.
Way back when I used to live with my family we would all gather in front of the TV on New Year's Day and watch Christopher Ward's Fromage special on MuchMusic. Quite hysterically, he would share the worst and cheesiest music videos of the year. This year I intend to share the worst foodie products (with respect) and moments of 2011.
Fromage Moment #13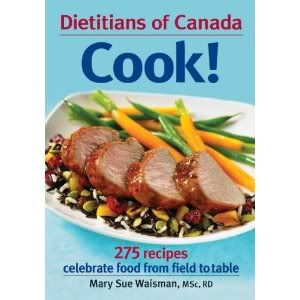 Dietitians of Canada Cook! cookbook is filled with different recipes by many nutritionists across Canada. As a result, this proved an impossible book to review. I did have one great foodie experience but called it quits when I made the green-hued tasteless orange cranberry flax muffins. The worst was getting criticized for not following instructions perfectly so of course it must be my fault they looked so bad and tasted like cardboard. Or that the broccoli in the broccoli cheese soup turned to dust, and the soup was sweet and insipid.
As a result of my experience with this cookbook, I no longer will review cookbooks with many different collaborators or ones whose focus is solely on "healthy" cooking. In my world, if you make food from scratch you are already eating better than 90% of the people out there and with recipes like these, all that work in the kitchen with those kinds of results are going to make people want to go back to McDs!
Fromage Moment #12
PC Memories Of Argentina Chimichurri Sauce was such a letdown. I really like a good chimichurri sauce but this one really disappointed me. The acidity was offensive and the more I ate it, the less I liked it and soon I could not stand it. It was so thin too and I did try and use it as a marinade and I think for the first time on my blog I said, "I hated it." Definitely cheese worthy!
Fromage Moment #11
PC Dine-In Tonight Creamy Mascarpone, Ricotta, Butternut Squash and Spinach Lasagna was not necessarily horrible but my expectations for a creamy mascarpone-y vegetarian lasagna were quite high. How sad that under seasoning and lack of any textural interest made this product fall flat. I could only get Reg to have leftovers because of how much salt, pepper and Parm that I added before reheating to give it some flavour. Boring flat food is a foodie sin in my world. One that will not be forgiven!
Fromage Moment #10
How to put the head back on a decapitated Kitchenaid mixer was one of the worst disasters in my kitchen last year. I totally did not realize the neck bolt was falling out and then the head came off. I had to wait until Reg got home from being away before trying to get it put back together. Getting it fixed was one hell of an odyssey. I totally deserve a fromage award for that one. Now I always lift the head up and make sure the bolt is securely inside the machine and thank my lucky stars we figured out how to fix it!
Fromage Moment #9
Three Farmers Camelina Oil is one of the sadder fromage stories of 2011. I really, REALLY wanted to like it. Made by Canadian farmers, creating something all their own, kind enough to send me samples… But after awhile the smell of it started to make me sick to my stomach. Way too earthy and grassy at the same time, my body just did not like it (especially my nose). The good news is there are a lot of different tastes out there so I know this product will be good for other foodies, just not me.
Fromage Moment #8
I can sometimes be forgiving if a recipe is kind of bland amongst other winners but after the pizza dough debacle and then the curried noodle nightmare above that almost made me sick, The $5 Takeout Cookbook was so unpredictable and questionable that I was actually afraid to make anything else from the cookbook for fear of wasting food, time and energy. Not worth it!
Fromage Moment #7
PC Thins Multigrain Bagels sounded like a good idea in theory but in practice, they were pretty miserable. They were so thin they would barely toast and when they did, they kind of tasted like cardboard. No moisture, just kind of dried out crusts with a hole in the middle, I would rather eat half of a real bagel than a whole thin bagel. Isn't the point of a bagel for it to be thick and wonderfully chewy?
Fromage Moment #6
The Peanut Butter Brownie Disaster was all my fault! I made it look pretty but a lapse in being able to divide the recipe in half when it comes to eggs meant I wasted a ton of food and it was all because of my fibro brain.
Fromage Moment #5
PC Red Velvet Cake Baking Mix is not horrible when it comes to flavour but it is guilty of being pretty much just like all the other baking mixes out there, none of which I like. One note, no strong flavour and the fact they did not include a pack of icing to help with the whole "give yourself the gift of time" holiday idea, this product totally let me down. I would much prefer to bake a cake from scratch which would not take that long and have something divine than just add some water, eggs and oil to a batter that comes out dry and dull and then have to make my own frosting from scratch anyway. I was expecting so much more from President's Choice and feel they let me down with this one.
Fromage Moment #4
Cavena Nuda Naked Oats was perhaps the most bizarre and laborious of products for me to review all year. None of the recipes really worked and the product always seemed to need more liquid than required. The recipes that came with the product were filled with errors and/or lack of instruction resulting in popping oats jumping all over my oven! The best results I had were after I pulverized the oats into a flour but it was laborious and put my blender's engine in danger of over-heating. This was one product test I was thrilled when it was finally over! Health enthusiasts may love it but for us? No thanks!
A major mis-communication with my mom resulted in The Blueberry Pie From Hell!!! I can't even go back there, that was one terrible! It totally deserves a stinky cheese award!
Fromage Moment #2
I do not think I have ever been so shocked than when I made some Teatulia Ginger Tea. The name of it sounded tasty enough. The packaging was impressive. The tea looked beautiful…
It was horrifying. Absolutely horrifying! Turns out that it was not just ginger inside the tea, there was also organic vasaka leaf which apparently goats refuse to eat because it is so bitter. For once I can say, goats have good taste! Because this was disgusting and should have come with a warning about the vasaka leaf, I can easily say this was the worst product test for me in 2011.
2011 FROMAGE "WINNER"
I give myself first place for being a fromage foodie thanks to my Homemade Stovetop Smoker Attempt. Here I was oohing and aahing (and videotaping the reveal) of my "smoked chicken" only to discover after I put my camera down that it was completely raw inside! I was devastated. It took me months of building the courage to make this attempt, as well as coming up with my own way to smoke meat only to have it be inedible when I was done. I did end up cooking it through but I felt the queen of cheese that day with everyone on Facebook encouraging me on and waiting for the results. I will wear the crown proudly and try and redeem myself next year!
Hope you had fun looking back at the top foodie disasters of 2012!