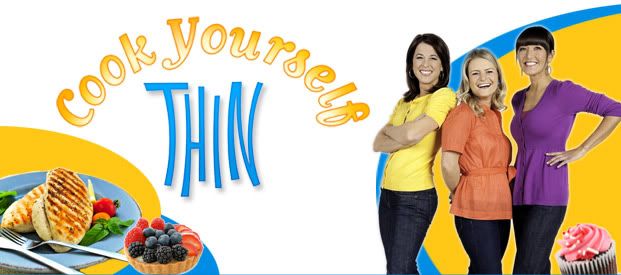 Yes, because I was still an optimist at this point about making a treat with peanut butter… I tried again. I thought it was fate. All grumpy from my peanut butter brownies turning into saturated sugary hell I sat down in front of the TV and watched the show Cook Yourself Thin for the first time. I thought it was fate that they were making a treat with peanut butter.
One thing I love about their approach is that they do not preach eliminating all this or that. They are usually about boosting goodness into regular treats like adding vegetables, fiber, fruit… an approach I wholeheartedly love and agree with. The woman who was getting a calorie makeover loved to dip chocolate into peanut butter as a snack so they came up with an alternative: Peanut Butter Dream Bars. I was confused and intrigued at the same time but decided to give it a shot. It was a no-bake treat which I always appreciate in the summer so if I loved these they were be fabulous months from now.
You combine ground low fat cookie crumbs with oats, sugar and a bit of salt. Then you add in melted butter. Yes, I said melted butter. Three tablespoons of it!
Then stir in one tablespoon of peanut butter and transfer to a parchment-lined loaf pan:
I used a measuring cup to really push down the crumb crust so it would come together. Then I put it in the fridge and worked on the filling.
You are supposed to use an electric mixer for the filling but I used my food processor which I find for so little filling works better. In it you beat together room temperature cream cheese until it is light and fluffy. Um, it is only 1.5 oz so it did not really get light and fluffy. I tried, had it in there a while. Then you add a little salt, some peanut butter and vanilla and whip together for seven minutes (a little excessive!) until it doubles in volume:
Well that did not happen, not really. I watched this episode, they were not working with huge amounts of filling so I just used this.
Spread evening over cookie crust. OK, the crust absolutely would not stay together. It kept lifting up and became a huge mess, mixing in with the peanut butter. Now I put it in the fridge for 10 minutes, not the freezer, which is my bad. At every other point in the recipe you put it in the fridge so I got confused.
While the bars are chilling melt chocolate chips. On the show the chocolate was used as drizzle over the bars but without adding butter, shortening or whipping cream I knew what was going to happen.
Yup, a big clump that sticks together. It is interesting that the recipe says to spread over the chocolate over the dessert in a thin layer because that is not what they did on the show!
Everything just wanted to fall apart and stick to my spatula so I did my best to cover the evidence with the chocolate. I put it in the fridge for hours, even though the recipe said it would be done in ten minutes, hoping it would stay together.
Nope, it all crumbled apart! I lifted the parchment paper and smooshed everything back together and put it in the freezer for hours…
This was the best piece I could salvage and when I lifted it up to eat it, the entire cookie crumb base fell off. Not only that, when I gathered some of the crumbs in my hand with the filling and tasted it just so I could see what it would have been like had it been a success, it tasted weird! I did not like it at all. My husband thought "it wasn't bad" but then he likes almost all desserts that involve chocolate. Me? I would not eat another bite if you paid me.
I am not sure whose fault this peanut butter nightmare is but I do know one thing. It seems a tad ridiculous to me that making a treat with additional cookies, cream cheese and butter is supposed to be healthier for you than chocolate dipped in peanut butter. Yes, add more fat and carbs with some token oats and it is much better for you!
I think the issue for the woman on that episode was portion control. I would have suggested she allow herself to have two pieces of a high-quality dark chocolate bar filled with dried fruit dipped it into a jar of all-natural antioxidant-rich peanut butter once a day. That would be her treat for the day rather than making this monstrosity that just does not make any "health sense" to me.
Has anyone else watched the show Cook Yourself Thin? Are there recipes from it that you love? Please, let me know and I will give the show a second chance. Perhaps their cooking is better than their sweet treats? I really do like their approach to eating well, too bad this was such a flavour and logistical nightmare of a dish!