I have been working hard personally researching and financially investing in the PC Plus points program for quite a while now. When I first signed up, I was so confused! Mostly because they gave me a PC Points Card but I have a MasterCard with them. I successfully connected the two of them online. The problem? When I went to the store, I would give them the PC Points card at the beginning of the sale and then pay with my MasterCard. Which is apparently wrong, wrong, wrong! I was not getting my PC Points.
One day the cashier finally told me to just use the MasterCard as the PC Points Card at the beginning of the transaction and then to pay for it at the with the same card. In other words, the original PC card was now useless to me.
Initial Technical Issues
To be sure, I called (1-855-672-7587) for clarification and I also emailed and received this response:
"Because you signed up with your PC Financial card, you just have to swipe your card twice. Once for PC Plus and once for method of payment."
So yes, I no longer had to hold on to the original card. Because I used the PC Card first instead of my MasterCard, my additional points were NOT added to my account. I was not saving money yet and was extremely agitated about it. Also, every time I called the number for help I was on hold for around 20 minutes.
So here is the deal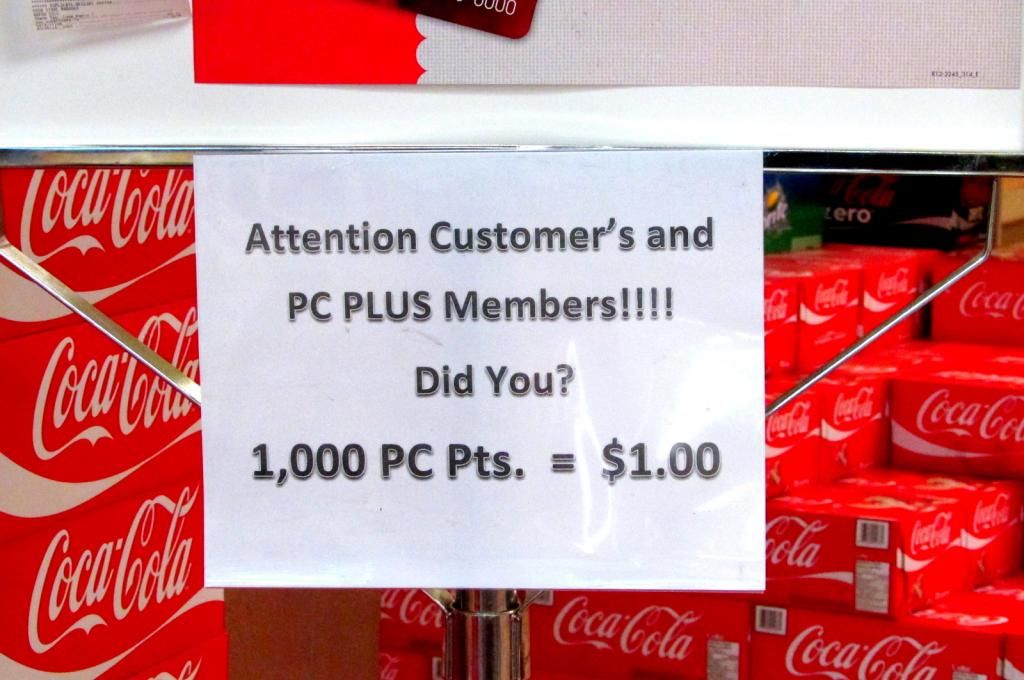 This information came directly to me in response to my inquiry:
The PC Plus program lets you collect even more PC points for buying the food you love. It's a truly smart rewards program that adapts to you over time with personalized weekly offers, recipe suggestions and even an intuitive shopping list manager. Best of all, the PC points you earn through the PC Plus program will be over and above the ones you collect already!
The PC Plus program works right through your existing card. And your current PC points program won't change at all – you will just earn points even faster. When you shop the PC Plus program remembers what you buy and provides you with personalized offers on the things you enjoy. The PC Plus program will also give you dinner suggestions based on what you buy and what's on sale in your weekly offers for bonus PC points.


Weekly Offers & Recipe Suggestions
When I first started receiving the weekly offers and recipe suggestions, they were very generic. Which makes sense since they did not have a lot of intel on me yet, especially since I was not using the program correctly. I did find it funny they suggested a pork roast recipe to me and I almost never buy pork. It was early on though and I was looking forward to seeing how the promotions changed and developed. When it came to the extra bonus points I could get, again, nothing seemed tailored to me at all but I waited.

Weeks later after using the card correctly and getting into the habit of ALWAYS uploading all the offers to my card every week they came out (seriously, just do it or you will miss out) I started getting some offers that made sense: olive oil, yogurt bars, PC mayo, No Name mustard…
They are now adding high points products in addition to the regular foods I pick up (see on the right). I suppose as a way of trying me to buy something new in order to add more points to my account. Unless it is something I really want, it is not going to happen but for strategic shoppers out there, you could probably save even more money.
The truth is, I need to save money right now and make the most of this program. Offers like this one where I get $20 free groceries for every $100 I spend makes a huge difference to us. Just remember, you have to upload that offer to your card to get the points!
Since taking this foodie shopping research project on, I have almost made $100 in free groceries. Reg and I just started our descent into a dark and difficult journey and those groceries are going to make a big difference to our lives. Yes, at first it was confusing and annoying but is it worth it? I think so. I just wish I had understood more in the beginning so I had gathered even more points by now.
I am grateful for this program and if you shop at a store that offers it, what do you have to lose? Even if you do not have a financial business relationship with them already, you can still collect points and save money… For free! Yes, they know about your shopping habits but to be honest, maybe some of the products we love won't disappear because they know we're buying them? I am willing to give up a little privacy to save some money and the more the offers are personalized to me as a shopper, the happier I am.
It was a rough grumpy start but in the end, I will happily continue to shop for my groceries at my Supersore with my PC MasterCard and rack in the points.