I turned to my baking guru for inspiration on this cold, dark and rainy day. I made Anna Olson's Classic Chocolate Chip Cookies as a special treat for when Reg comes home from a long and gruelling day of working on film set. I just hope that it was not outside! I wanted him to come home to a special chocolate treat, especially since it is National Chocolate Day!
I chose this recipe because I saw it on Bake, I LOVE that show! I love that it only requires one stick of butter. Economical! I used my mixer for this but you really do not have to have one to make these fabulous cookies. Please note, chilling of the dough is required!
Ingredients
You will need ½ cup room temperature unsalted butter, ½ cup packed light brown sugar, ½ cup white sugar, 1 large room temperature egg, 1 tsp vanilla extract, 1 ¼ cup flour, 1 tbsp cornstarch, ½ tsp baking soda, ½ tsp salt and 1 ½ cup chocolate chips. She also suggests putting in 1 cup lightly toasted coarsely chopped pecans but I choose to omit them to keep these very traditional. And cheap!
BTW, I put warm water in a mug and an egg in it to bring it up to room temperature!
Directions
Cream butter, brown sugar and white sugar together well.
Beat in the egg and vanilla.
Sift flour with the cornstarch, baking soda and salt. I learned from this episode of Bake that cornstarch ensures you have a crispy cookie on the outside that is soft and gooey on the inside. Nice!
Normally I just whisk these days but if Anna says sift, I sift!
Add to the butter mixture and stir until blended. Do not over mix!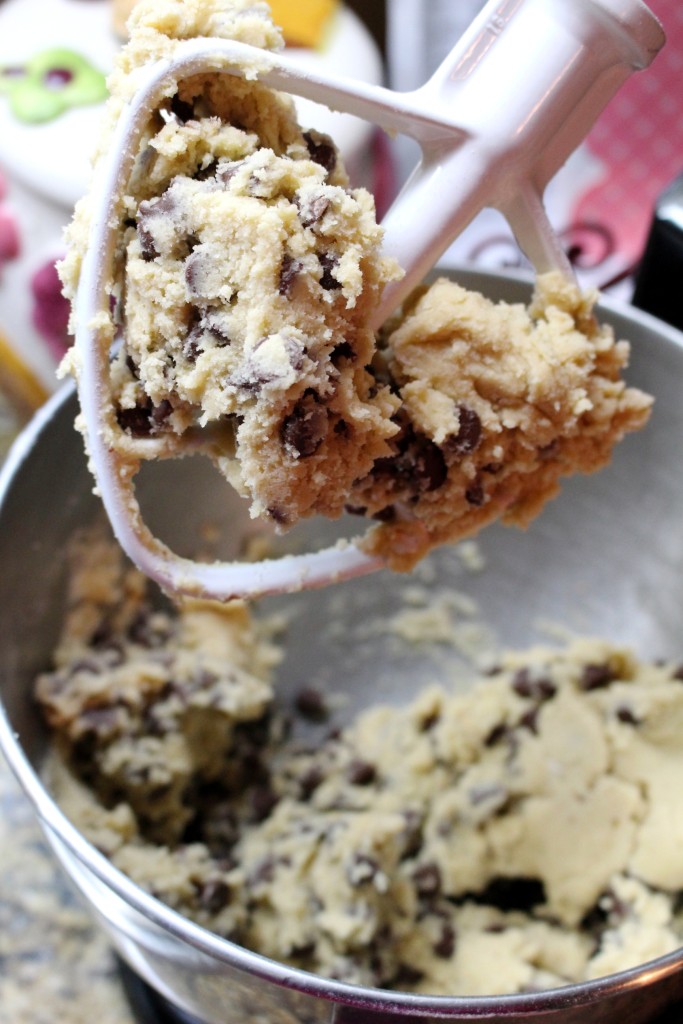 Add chocolate chips. And pecans, if using.
Using an ice cream scoop, divvy dough (about 2 tbsp) and shape into balls.
Place onto a parchment-lined baking sheet. Chill for at least an hour.
Bake in 325F preheated oven, leaving a nice amount of space between the cookies. Bake for 15-18 minutes, until browned around the edges. Cool on the baking tray.
Foodie Results
Exactly as advertised!!! Reg is going to LOVE these! They truly are crispy on the outside and soft in the centre. Wonderful right out of the oven, after having a few minutes to cool. Anna actually uses these to make ice cream sandwiches but this is indulgent enough for me!
Thank you Anna!