Right now in Toronto Hot Docs is showing Ramen Heads, a documentary dedicated to those who are mad about ramen and lucky me, I got to watch it online from my home in Vancouver!
The Film
"Osamu Tomita, Japan's reigning king of ramen, takes us deep into his world, revealing every single step of his obsessive approach to creating the perfect soup and noodles, and his relentless search for the highest-quality ingredients. This is a documentary record of 15 months in the lives of Japan's top ramen masters and their legions of devoted fans."
It is absolutely true! Ramen Chef Tomita takes us into his kitchen and shows us how he makes his ramen. It takes all of his time and attention, working non-stop all day for all the MANY people who come to his restaurant. People who begin waiting in line for his particular ramen before the crack of dawn.
His transparency and willingness to share all the work that goes into his ramen is astounding. That said, it is clear to me that it is so complicated, even watching him step-by-step can only reveal so much of his ramen magic.
Seeing just how much work goes into making this dish exhausted me! All that for a dish that costs under $10. Clearly this is about a passion for food mastery and not just a food trend.
Other Ramen Chefs
Tomita is definitely the star of Ramen Heads but the documentary also speaks to many other ramen chefs about their take on what ramen means to them.
It was surprising to see so few women in the film overall so I was relieved that they did have one female ramen expert whose personal approach to ramen is to add miso to her broth. Not only that, she uses FOUR types of miso!
The History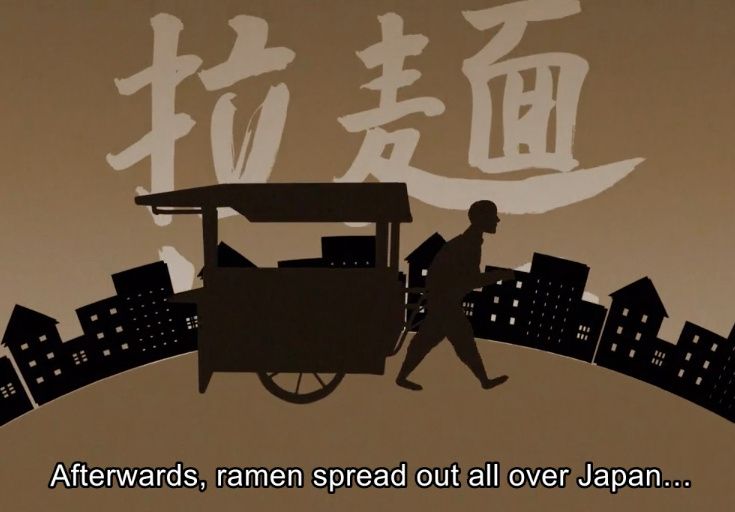 I love that they also included the origin story of ramen and how Japan has taken this dish and brought it to new heights and interpretations. From low cost comfort food to, quite literally, foodie magic.
Foodie Impression
Ramen Heads is poetic, masterful and completely respectful of the subject of the film: ramen fanatics. It showcases the lengths (in particular line lengths) ramen heads will go to in order to get the best ramen and how dedicated the chefs are to creating their own version of the best ramen. It succeeds in making us hungry for that slurping noodle goodness in that magical broth.
I honestly do not know if anyone could do a better job covering the topic of ramen as a whole. I learned so much and sharing Chef Tomita's story made it personal and quite unforgettable. I absolutely love that he spends his days off going out and eating ramen!
I give this film five out of five wooden spoons. I loved every second of it. My only complaint is the lack of female ramen heads involved in the film but perhaps that is just a reflection of the foodie reality in Japan. I, for one, can not wait to become a ramen head in Vancouver.