e
Warning! Lots of foul language and meanness ahead!
For almost every celebration, we always seemed to have chocolate cake growing up. Especially for my birthdays when I was really young. My mom did an amazing job with cakes. Took classes and everything even though she loathes to bake. She really made an effort so aren't I a horrible person for complaining?
The problem? As a kid, I was not a fan of chocolate. Or cake. I found it too dry and boring. And chocolate? Completely unoriginal. My mom did make me a layered strawberry cake once that we had at the bowling alley and it was filled with coins. I will always remember that cake, it meant so much to me. One of my favourite foodie memories ever.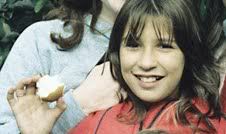 Yes, I was a picky foodie from the womb. My mom used to have to add Strawberry Quick to milk formula to keep me alive. Even as a baby, I would rather eat nothing than something I did not like. Funny, I did not mind fruit and veggies and I was definitely not one of those kids that had to separate her food and not let it touch. Those were weirdo kids! Give me a lasagna please!
I will admit, I hated canned peas and probably always will. My dad used to not let me leave the table until I finished eating them. I ended up falling asleep at the table while he read his newspaper every night we had peas.
YEARS LATER…

I am not going to talk about where or when I took the Wilton's Cake Decorating Class because this is not a review of the school.
Years ago I asked my friend Colleen if she wanted to take a class at a baking school I had discovered. I was thinking of a chocolate molding or candy making class but she was so excited, she immediately signed up for the Wilton's Cake Decorating Class. Oh… my… god… I thought to myself. Cake?! Oh no, cake!!!
Of course I didn't say anything to her (she is such a sweetie) and her foodie enthusiasm was so infectious, I ended up being excited as well. So, I signed up too. We had no idea what we were in for.
Starting off making an icing clown should have been foodie foreboding for me. I am terrified… I mean TERRIFIED of clowns. I almost couldn't put the head on top, it freaked me out so much. Why did it have to be clowns?!
Now the problem was not the Wilton's Cake Decorating Class. It was the teacher. She really did not seem to care less what we learned. She loved to go on and on about how she is a better decorator than Duff Goldman because all her cakes are edible. Let's just say she thought a lot about herself.

Here is one clue when it comes to time period. I was known as Sacred Suzie back then (before I turned into a foodie which after this class, is kind of a miracle).
Now I thought the class was just going to be to learn how to make flowers out of icing and the basics of cake decorating. No. I looked at the itinerary and saw that by the end of the course we were going to be making a wedding cake. WTF?! Are you serious? I thought to myself. What the hell had I gotten myself into?! And with THIS teacher? Fuck!
OK, OK… don't panic Suzie. Just play around, see what happens and don't take it too seriously. Which was next to impossible after the first class.
Now I did love learning the basics. How to do a crumb coat, using a giant spatula and having as much REAL buttercream icing to use as I wanted. Boy, did she like to gloat about her REAL buttercream (which I thought was disgusting).
We learned all about pastry bags, what the tips are for, how to score the edges and got to basic decorating.

I have to say, Colleen's I Love You Mark cake was adorable and that chocolate icing, was delicious.
So this all happened basically in the first class. After that, everything went so fast! I just could not keep up.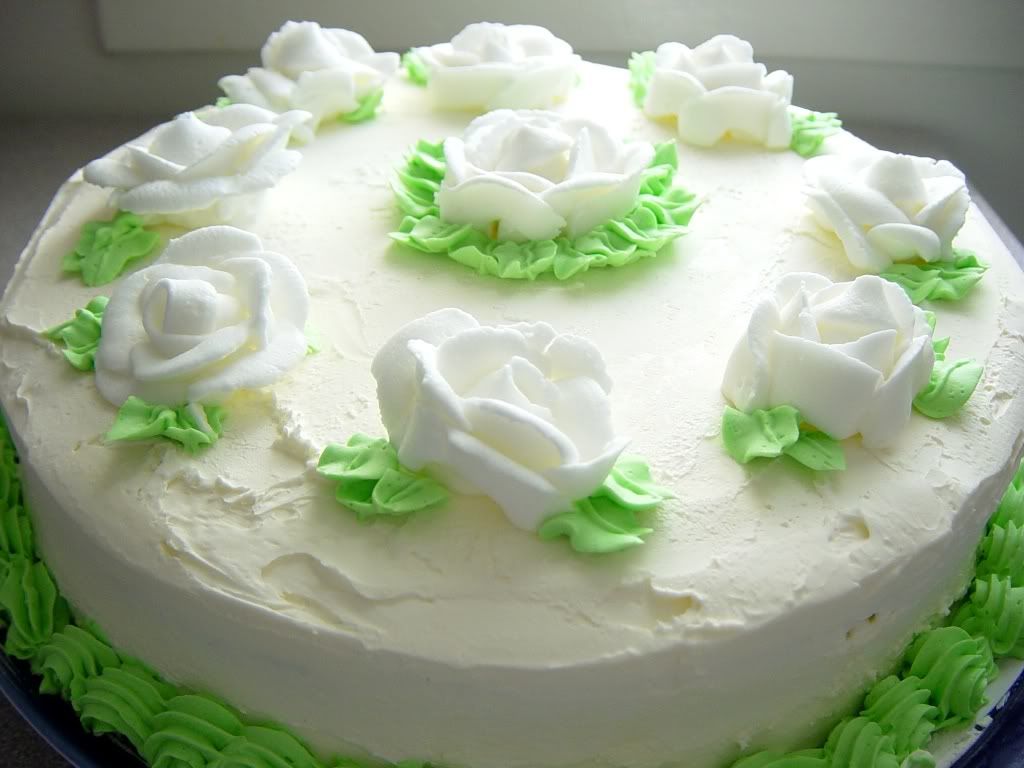 I could not believe I had made this cake! I had a decorative bone in my body? No way!
This cake was very edible too. I think I made one of Ina Garten's chocolate cakes for the first class. The only problem? Making a cake every week is not good for the diet (we got sick of cake so fast, even when it tasted good) which resulted in using boxed cake mixes. Which I swore I would never do.
So? The cakes over the months that we took this course ended up in the garbage. Ugh! Foodie sacrilege! And I was the perpetrator. And, I started to associated cake with garbage, LOL.
Going to a class, expecting to know how to do stuff that we didn't with a teacher who was so self-absorbed and wanted to talk about anything other than the class (mostly herself) was hard enough. I mean, I tried. Look at this cake! I REALLY tried.
The Final Straw
Then, it happened. There was a woman in class who always brought her pre-teen daughter with her. I guess they were taking it together. She apparently also had fibromyalgia but worked full time and had a lot of children. Now there are people with fibromyalgia who can do this, especially if they get the illness later in life.
I have lived with a sleeping disorder my entire life. My pain, my injuries, my exhaustion and being on chronic medication does not allow for me to any of that sort of thing. I barely made it through the one class a week without wanting to scream with pain. In fact, the piping from the class resulted in mornings with me barely being able to move my hands and wanting to cry, it hurt so badly.
For some reason, this woman fixated on me. She started asking me all sorts of personal questions and when she found I was a non-Mom, she attacked. She kept telling me how I should have kids. How sad it was that I didn't. She told me I was going to end up dying alone.
That is the abbreviated version of the story. It went on a long, long time. Everyone got really quiet and I sat there, taking it. Why? Because of her daughter who looked at me scared of what I was going to do. To be honest, if she wasn't there, I might have gone over to that woman and attacked her. I am not one for being bullied but for her daughter's sake, I took it. And I have regretted ever since. And every time I take a bite of cake, I think of myself as dying old and alone, thanks to that fucking bitch.
And the teacher? Did nothing. Said nothing. She probably didn't even notice anything was happening.
My friend Colleen was absolutely shaken. She didn't know what to do which I understood perfectly. It was a horribly embarrassing nasty thing to have happened in front of all those people. I knew it was on my shoulders to handle it but it wasn't that girl's fault her mother is a horrible human being.
It was almost impossible for me to go to the class after that. She didn't always show up (if she felt bad, I would be shocked) so it was always Russian roulette. Needless to say I never spoke to her again and just ignored her and tried to have fun with Colleen. I knew the women in that class looked at me differently from that point on. Being a non-Mom is hard enough without being publicly outed. I felt like I had the plague.
On top of that, the course got harder and harder and we just could not keep up. And… after that encounter and putting up with the worst teacher in the world, Colleen and I no longer cared. That event soured everything so badly, Colleen and I decided we would not go to the last class to make a wedding cake together. Neither of us regrets it either.
Recently she told me she had packed away all the cake decorating equipment in a storage box and had not looked at it since. Funny thing? I had done the same thing. Only now, am I considering caring about food and aesthetics again.
It has been a long time and I do hope that I have healed and can make my own cakes now without remembering all the crap that happened before. If I do, it won't be from a mix and it won't be chocolate! And I will enjoy every bite and hope that woman goes to hell.